Rajnish Kumar
BBC correspondent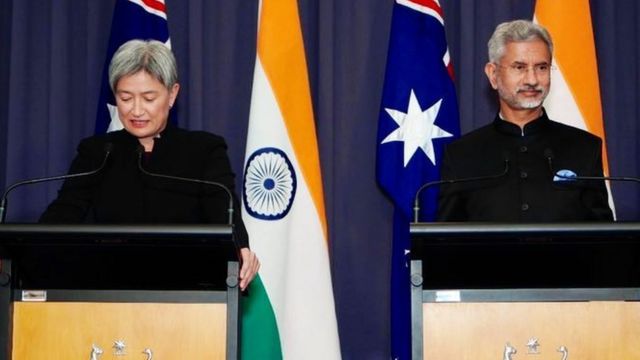 Are recent developments a setback for India? Is,
US announces $450 million package for F-16s to Pakistan
US Ambassador to Pakistan sends Pakistan-administered Kashmir ,Azad Jammu and Kashmir, Told
Germany's foreign minister said that she also has a role and responsibility in Kashmir
G-7 has decided to impose a price cap on Russian oil
The statements that have come about India from western countries in the last few weeks are being seen as a setback for the Modi government.
The most recent comment came from Germany's foreign minister. German Foreign Minister Annalina Baierbock said in a press conference in Berlin on October 7 with Pakistani Foreign Minister Bilawal Bhutto that Germany also has a role and responsibility in the Kashmir issue.
The German Foreign Minister said that the Kashmir problem should be resolved under the UN resolutions.
This statement of the German Foreign Minister was seen against India. India considers Kashmir a bilateral issue and has been rejecting the intervention of any third country.
On the other hand, the Foreign Minister of Germany said that her country also has a role and responsibility in this matter. This statement of the German Foreign Minister was seen as a diplomatic victory in Pakistan.
Abdul Basit, who was Pakistan's High Commissioner to India, praised Pakistan's Ambassador to Germany Dr. Mohammad Faisal, saying that he deserves congratulations for Germany's stand on Kashmir.
Abdul Basit said, "There is a lot of anger in India about Germany. What Germany said about Kashmir, India's irritation is bound to happen. Just before this, US Ambassador to Pakistan Donald Blom called Pakistan's Kashmir Azad Jammu and Kashmir Was.
Abdul Basit says that this attitude of Germany can also reach the European Union. Basit says, "After a long time, there has been a statement in favor of Pakistan in the matter of Kashmir from the West."
India's objection
India reacted strongly to the remarks made by the foreign ministers of Germany and Pakistan regarding Jammu and Kashmir.
India has asked Germany and Pakistan to focus on combating Pakistan-based extremists, who have been targeting Jammu and Kashmir for a long time, instead of the Kashmir issue.
The Foreign Ministry of Pakistan also issued a statement regarding India's objection. In this statement, India's objection was described as 'unnecessary'.
Former Foreign Secretary of India Kanwal Sibal has strongly objected to the German Foreign Minister's remarks on Kashmir.
Kanwal Sibal tweeted, "Who has given Germany the right to its alleged responsibility in Kashmir? Germany's foreign minister openly says that she also has a role and responsibility in Kashmir, this is the stand of America and even Britain. There is an even further comment. America no longer mentions the role of the United Nations in Kashmir. No European country interferes in this way. France has distanced itself."
It is being said that the countries of America and Europe are angry with India's stand on Russia's attack on Ukraine. The reaction of western countries on Kashmir and Pakistan is being seen in the mirror of this anger.
On February 24, Russia announced military action on Ukraine, since then India's oil imports from there increased. The countries of the West do not want India to import oil from Russia at all.
The countries of the West want to completely shut down Russia's international business so that it can be weakened economically. But India's and China's oil purchases have not affected Russia's energy exports much.
Disappointment over stance on Russia
On the other hand, India distanced itself from voting on the number of resolutions presented by Western countries against Russia in the Security Council of the United Nations. There was pressure from the western countries that India should vote against Russia, but India did not do so.
India's argument was that this would not solve the Ukraine issue. The friendship between India and Russia has a historical background. Pakistan was with America during the Cold War, but India did not put itself in any camp.
However, India was ideologically considered along with the Soviet Union.
The foundation of India's foreign policy was laid by Nehru in the principle of non-alignment. But now it is being said that there has been a change in India's policy. Now instead of non-alignment, there is an emphasis on being in all factions instead of multi-engagement i.e. non-alignment.
For example, India is also in the SACO with BRICS led by China and Russia and also in the US-Japan-led quad.
But when the world is being divided into two poles, it is not easy to live with all the groups. India is also under pressure to choose one camp, but India is still not ready for it.
Once again the world seems to be two polar. There are China and Russia on one side and western countries on the other. India does not want to spoil its decades-old relationship with Russia under pressure from the West.
Jaishankar's target on western countries
External Affairs Minister of India S Jaishankar is on a tour of Australia. He has gone to attend the annual 'Foreign Ministers Framework Dialogue'. Speaking to reporters during his tour of Australia on Monday, S Jaishankar fiercely targeted western countries.
The Indian Foreign Minister said that Western countries have been providing weapons to Pakistan, a country with military dictatorship for years, but did not give it to India. S Jaishankar fiercely defended India's defense ties with Russia. He said that the favorite partner of Western countries has been a neighboring country with a military dictatorship.
S Jaishankar said, "Western countries have been supplying arms to Pakistan for years, but have not done so with India for years. Now they are saying that India should stop buying arms from Russia whereas Russia in the past used to supply arms to India. We have a long standing relationship with Russia and this relationship has been vital to the interests of both.
The neglect of Western countries in expanding our relations with Russia is also one of the reasons. The military dictator country of our neighborhood has been more important than the western countries. In international politics, we take decisions based on the interests of the future and the present situation.
Derek J. Grossman, Defense and South Asia specialist at RAND Corporation, has praised Indian foreign policy saying, "I think we are living in the golden age of Indian foreign policy. For the first time India is everywhere and as a force. It is working as it is. India can soon become a superpower on its own."
Sanjay Pandey, professor at the Center for Russian and Central Asia Studies at the Jawaharlal Nehru University in Delhi, says the growing West's love for Pakistan is not surprising.
He says, "Pakistan is America's old partner. America's or the West's relationship with Pakistan should not always be seen in India's mirror. The West does not want Pakistan to go completely into Russia and China's camp. America also wants to keep Pakistan engaged with it.
Sanjay Pandey says, "The West is not happy with India's stand on Russia and is trying to send a message by increasing friendship with Pakistan. But India has also shown this time that it is not a follower of the West. India has told that Russia is its tried-and-tested partner and it cannot compromise on its interests.
In 1971, there was a 13-day war between India and Pakistan. This war was caused by the humanitarian crisis in East Pakistan. It was only after this war that East Pakistan became Bangladesh. Earlier, India was trying to convince the whole world about the hegemony of West Pakistan in East Pakistan.
foundation of foreign policy
A large number of refugees were coming to India from East Pakistan. There was no hope of a political solution between West and East Pakistan. Then the Soviet Union was the only country which listened to India.
In August 1971, the then Prime Minister of India Indira Gandhi signed the 'India-Soviet Treaty of Peace, Friendship and Cooperation'. Under this agreement, the Soviet Union had assured India that it would provide both diplomatic and weapon support in the event of war.
Stanley Johnny, the international editor of the English newspaper The Hindu, wrote an article on the editorial page on April 8.
In this article, he has told that when the Soviet Union intervened in Hungary in 1957, then Prime Minister Jawaharlal Nehru told Parliament why he had decided not to condemn the Soviet Union for this.
Stanley wrote in his article, "Nehru had said that many things are happening in the world year after year and day by day and we dislike them completely. But we do not condemn it, because when there is a problem If you are trying to solve the problem, then taking someone's name and condemning it does not help."
Stanley wrote, "This policy of Nehru still serves as a guide to India in difficult times. Especially in times of confrontation when only two of India's partners are fighting. Whether it was the Soviet Union's intervention in Hungary in 1956 Or in 1968 in Czechoslovakia or in Afghanistan in 1979 or even when the US attacked Iraq in 2003, India's position remained neutral. Was out of voting in the nation.
Governments kept changing in India, but in the matter of foreign policy, Nehru's policy of non-alignment has been the foundation and it has been followed by all the governments.