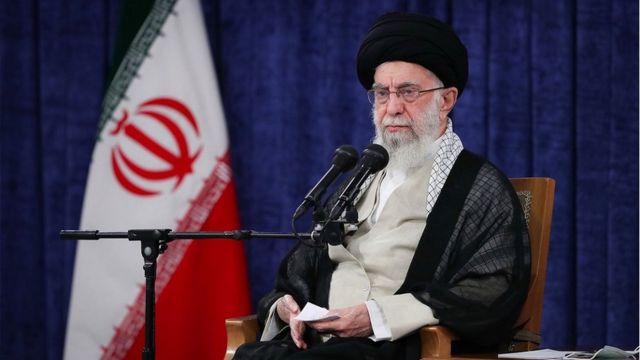 The Supreme Leader of this country, Ayatollah Ali Khamenei has once again issued a warning regarding the protests against the hijab in Iran. This time he has appealed to Islamic countries to show solidarity with a strong message.
In a speech given on the state TV channel where he said that Iran is a mighty tree, which no one can shake. On the other hand, on Twitter, he has appealed to Muslim countries to come together.
According to the news agency Reuters, Khamenei said, "The tree that had sprouted is now a mighty tree and someone can uproot it, he should not even dare to think about it."
Mass protests are taking place in Iran after the death of Kurdish woman Mahsa Amini. Mahsa Amini was detained by the Morality Police for not wearing a hijab, after which she died.
After the Islamic Revolution of 1979 in Iran, these demonstrations have become a big headache for the government, after which even the supreme leader of Iran has to make a statement.
what did khamenei say
Iran's Supreme Leader Ayatollah Ali Khamenei has appealed for unity among Islamic countries.
He wrote in the tweet, "Unity in Islamic countries is possible but work is needed for it. Our hope is not lost among the politicians and rulers of Islamic countries but our biggest hope is from its elite, which includes religious scholars, intellectuals , professors, intelligent youth, poets, writers, press etc.
A series of tweets have been posted from Khamenei's account, in one of which he is saying, "The Muslim nation that is suffering recently is because of its division. When we are divided, do not care about each other And this is what happens even when there are enemies of each other all the time.The Qur'an says- 'When you are divided, you will be humiliated.' That's why you help others to dominate you."
In the next tweet, Khamenei writes, "The enemy does not want unity among Muslims today. The Jewish regime is building cancer cells in this area to make it the center of West's enmity against Islam. They are about murderous, brutal Jews. Come and form a fake government and oppress the Palestinians."
"The enemies are working to do something so that this Jewish regime, which is a cancer cell, is never called the 'enemy' again. They want to create a lot of division between the countries of the region. These generalizations are against Muslims. One of the greatest acts of betrayal."
In another tweet, Khamenei wrote, "Unity among Muslims means uniting to protect the interests of Islamic nations. First of all during the conversation we should identify the interests of enemies and friends and the Islamic nation and what steps to take." But agree. This is a united action against the plan of the arrogant powers."
In a tweet, Khamenei has also tweeted addressing two sects of Muslims, Shia and Sunni.
He wrote in a tweet, "All the divisions that are being created in the Islamic world are working for the enemy. We have given a strong response to those who in the name of supporting Shias have instigated the sentiments of Sunni brothers. There is no doubt that some people from both sides commit excesses."
Iran's Supreme Leader Ayatollah Ali Khamenei said on state TV channel – Iran is a mighty tree that no one can shake
Khamenei has asked Muslim countries to unite by tweeting. He has said that unity is possible in Islamic countries
In a tweet, Khamenei said that the recent sufferings of Muslim nations are because of their division and do not care about each other.
Nearly 200 people have died in Iran due to the protests against wearing the hijab.
Iran says no protesters were killed in its action, while 26 security personnel have been killed
protests in Iran
Massive protests in Iran have been seen more in provinces with ethnic minorities. These include the Kurds of the North-Western region and the Balochs of the South-East. He has been placing his demands in front of Iran for a long time.
Human rights groups say more than 200 people, including minor girls, have died in crackdowns against the demonstrations.
Amnesty International says at least 23 children have died in the demonstrations.
Heavy police force was deployed in Dezful on Friday. According to Reuters, an eyewitness told that the protest was called by social workers in the oil-rich and Arab-born province of Khuzestan.
In a video viral on social media, protesters were raising slogans of 'tyrant murdabad' in Khuzestan's capital Ahvaz. During the demonstration, Basij militia forces could be seen forcefully pushing back the protesters on motorcycles.
An eyewitness said, "There were dozens of Basjis here. They were pushing the protesters, killing them. Men and women were shouting 'We are Kurdistan, we are Lorestan'."
Heavy police forces and Basij were also deployed in Zahedan, the capital of Sistan-Baluchistan province bordering Pakistan.
Iran has blamed enemies inside and outside the country, including armed separatists and Western forces, for the demonstrations in the country.
The administration has denied that the protesters were killed by security forces. State TV channels have reported that at least 26 security personnel have died in the demonstrations.
rally in support of government
Most Iranian officials are not ready to compromise on the demonstrations against the hijab.
On the other hand, America and other Western countries have condemned it for taking strong action against the demonstrations.
At the same time, he is preparing to impose new sanctions on Iranian officials. This is happening when there was talk of resuming talks on the 2015 nuclear deal.
Iran's foreign minister held talks with top European Union diplomat Joseph Borrell on Friday. Borrell called on Iran to immediately stop the crackdown on the protesters.
Iran's Foreign Minister Hussein AmirAbdullahian told Borrell that Iran has allowed the demonstrations to be peaceful and that the government has public support and is stable.
"We recommend that Europeans look at this issue from a realistic point of view," the foreign minister said, according to a state-run TV channel.
On the other hand, state TV channels have shown government-supported rallies in Tehran on Saturday on the occasion of Prophet Mohammed's birthday, in which crowds are raising slogans of 'Allahu Akbar'.