Legendary singer Lata Mangeshkar passed away on 6 February. Everyone was saddened by the news of his passing. Condolences were also pouring in from Pakistan on his death. People were paying tribute to him. Recently, Pakistani singer Atif Aslam has also given him a musical tribute in Dubai. Whose video is now going viral on social media and is being well-liked by the fans.
During a live concert, he sang the same song 'Kuch Khokar Pana Hai' by Lata Mangeshkar. On which hundreds of fans are seen dancing with him. Along with this, the picture of Lata Tai is also visible on the screen in the background. Let us inform that after this video went viral, many fans have demanded to lift the ban on Pakistani artists in India. Actually, after the Pulwama attack in 2019, the Indian government had banned Pakistani artists working in the Hindi film industry.

One user wrote, '16 years contributed to Bollywood and was treated so badly. In Dubai, he is paying tribute to late Lata ji and proved that there is no such thing as a border. Keep hating him and he will continue to spread love.' Also, in another tweet, he told that when the singer started singing, there were tears in his eyes.
Another wrote, Atif Aslam has given a very beautiful tribute to Lata Mangeshkar.
Born on September 28, 1929 in Indore, Madhya Pradesh, Lata Mangeshkar belonged to a family of artists and musicians. She was just 13 when she recorded her first song in 1942. In her seven decade long career, Lata Mangeshkar made us sing thousands of songs in different languages. The Government of India honored him with the Dadasaheb Phalke Award in 1989 and the Bharat Ratna in 2001.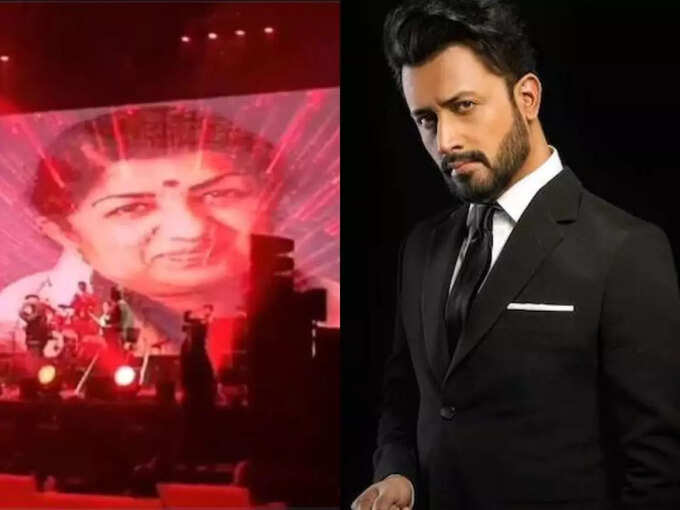 Atif Aslam