Priyanka Chopra Saree Look: Priyanka Chopra is one such actress who has made a lot of recognition from Bollywood to Hollywood. The actress is not only known for her excellent performance, but at the same time she is also very famous for her beauty. Whether it is western or desi, Priyanka works to wreak havoc in every look. The actress has shared her pictures in a desi look on Instagram.
seen wearing a sari
Priyanka Chopra is very active on social media and keeps sharing her glamorous pictures every day. October 13 is the festival of Karva Chauth in India. Meanwhile, Priyanka has appeared in a desi look. She has shared a photo on Instagram Story, in which she is seen wearing a yellow sari, along with a black dot on her forehead and is seen in open hair. This style of her looks very glamorous and she is looking very beautiful.
Sharing this picture, he wrote in the caption, "All nights." At the same time, she thanked her cousin sister Mannara Chopra for this beautiful sari. While mentioning Mannara, Priyanka wrote, "Thank you Mannara for this saree of mine."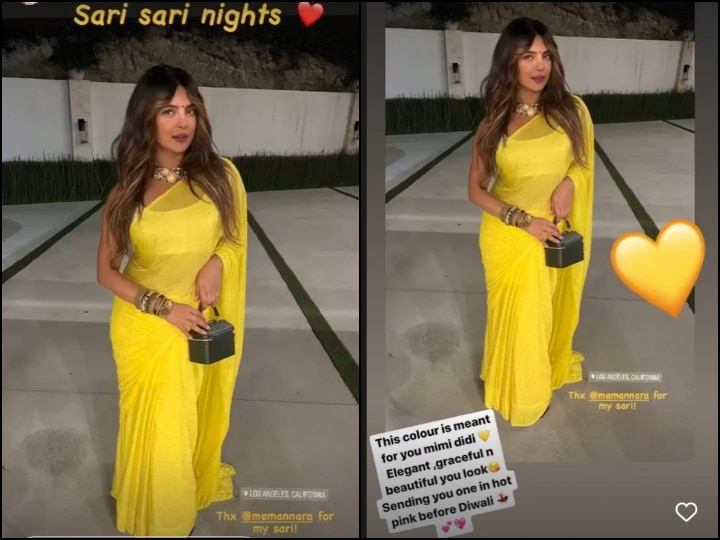 Mannara also shared the photo
This photo of Priyanka Chopra has also been reposted by Mannara Chopra on her Instagram story. Sharing this photo, Mannara wrote, "This color is for you Mimi didi (Priyanka). You look very beautiful. Before Diwali, I am sending you a hot pink color key.
However, Priyanka Chopra looks quite attractive in this desi look. At the same time, she often remains in the headlines of social media due to her glamorous style.
read this also
Is actor Mohit Malik going to become a father for the second time? spoke openly on wife aditi's pregnancy
Rakul Preet Singh reveals why he didn't hide his relationship with Jackie like other Bollywood celebs