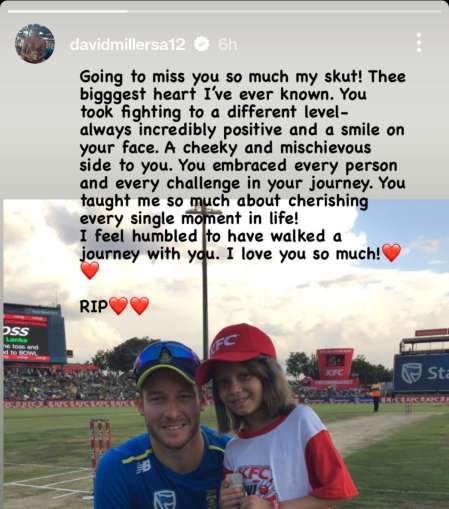 Highlights
Miller's close friend dies
Cricketer posted video
Heart breaking news on India tour
David Miller: The South African team is currently on a tour of India. In the middle of this tour, a mountain of sorrow has broken over South African star cricketer David Miller. A close friend of Miller has passed away and he has given this information by posting a video. Apart from Miller, this news is a big blow to the cricket fans around the world.
video posted information
Miller shared a video on Facebook. In this video, he has shared many photos of this girl. In the caption of the video, Miller wrote, "RIP my dear princess, love will always be there!" His daughter was battling cancer.
Miller is running in excellent form
Talking about David Miller, he is currently running in the best form of his career. He scored a great century in the T20 series against Team India on the current tour. Apart from this, he also scored a brilliant half-century in the first match of the ODI series. Not only this, he also helped Gujarat Titans to win their first title in IPL 2022.
Talking about his career, he has played a total of 147 ODIs and 107 T20 matches so far. In ODI cricket, he has scored 3614 runs at an average of 41 including 5 centuries and 18 half-centuries. Apart from this, he has scored 2069 runs in T20. He has two centuries and 5 half-centuries to his name in this format.
Latest Cricket News