Vineet Khare
BBC correspondent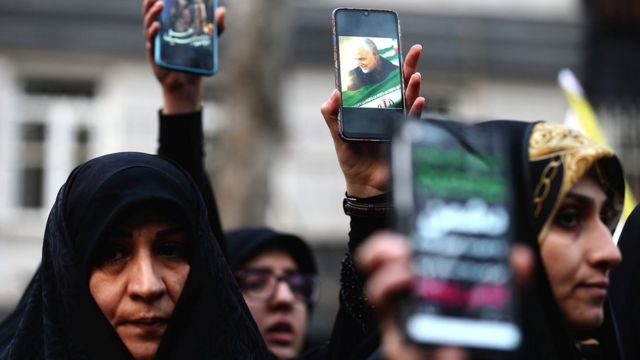 Demonstrations continue after the death of a 22-year-old woman, Mahsa Amini, in the custody of Iran's Morality Police.
The demonstrations began about a month ago when Mahsa, a Kurdish woman, was detained by the 'morality police' for alleged violation of the stringent hijab law where she slipped into a coma. Mahsa's family alleges that she was beaten up. The police denies these allegations.
According to a human rights organization, at least 201 people have died in the action of security forces so far.
In these demonstrations, women, school girls are registering a protest by removing their hijab, showing hair, setting the hijab on fire. Women all over the world have supported these demonstrations by cutting their hair. Actor Priyanka Chopra posted an Instagram in support of the demonstrations.
These protests are taking place at a time when six girls in a government college in Udupi district of Karnataka in India were denied entry into the classroom wearing hijab.
The Karnataka High Court upheld the government decision. The matter is in the Supreme Court where all the parties are awaiting the verdict. A two-judge bench of the Supreme Court hearing the hijab controversy on Thursday has recommended sending the matter to a larger bench.
The protests in Iran and the debate on the hijab in India are being seen in some circles of the Indian social and mainstream media.
A Hindi daily asked in an article, "Where did the feminists of India hide, it is a matter of shame for anyone to speak in favor of the women of Iran."
A Twitter user Anamika Pandey wrote, "Girls and women in Iran are burning the hijab in demonstrations and some people in India want to wear it."
How are Muslim women living in India looking at the demonstrations in Iran and the debate on Hijab in India? We spoke to Indian and Iranian women living in India on this topic.
Thoughts of Iranian women living in India
A large number of students and girls coming from Iran study in Pune, Maharashtra.
Sanam (name changed) does not want to reveal her real name due to security reasons. She is from Tehran.
Sanam recalls how she, like other women, was caught by Iran's Morality Police two to three times.
His fault- He was wearing a scarf, but some hair had come out of the scarf from the front.
According to Iranian law, it is mandatory for women to wear the hijab in public places, that too in such a way that not a single hair of the head is visible. After the Islamic Revolution of 1979, it was made mandatory for women to wear the hijab in Iran.
Sanam says, "They caught us and put us in the vehicles. We didn't know where they were taking us. We were asked to sign the papers. We were told that the little hair that came out of the scarf should not come out. Come out. We were told to wear nice clothes. We were not put in jail, but in other cases women are put in jail, they are harassed a lot. They are treated very badly, even rape them is done."
Sanam tells that when she was in the police station, her mother reached with her ID card. His family had to pay a lot of money to the policemen to release him. At the same time, he had to write on a government paper that "If this happens again and I am caught, then I will be thrown in jail."
On the debate on religious diversity and hijab in India, she says, "Here Christians don't ask Muslims to do anything and Muslims don't ask Christians to wear hijab. But in our country it's not like that. This is my body. It's my clothes." Huh."
'India should learn from Iran'
Sanam's friend Shazia (name changed) came here from Iran a few years ago to study in India. His parents and the rest of the family live in Tehran.
On the performance and government repression of women in Iran, she says, "Half of the population in Iran are women. They study more. They have bachelor's, master's degrees, but because of the stupid policies of the government, they can't become a judge." She can't be president, she can't fly a ship."
Shazia says, "Women here can wear whatever they want. They can do whatever they want. If you want to drink, you can drink. The police don't come after you. They don't put you in jail. Don't hit with the belt."
On six girl students in Udupi, Karnataka not entering educational institution without hijab and debate on hijab, she says, "No religion should come into politics or else it gets very bad. This is what is happening in Iran. This is a lesson for India. There is freedom in India and people are living in peace. 43 years ago, when Islam and politics mixed in Iran, people turned against each other."
She recalls that she was in Tehran when the Udupi dispute was at its peak in India.
Shazia says, "At that time government people were abusing India and Hindus and protesting in front of the Indian embassy in Iran. Now they are saying that if you do not wear hijab, you will not go to heaven. I will not go to heaven. Wanted. Who can force me to go there."
Demonstrations are taking place in Iran at a time when the economy is in bad shape due to economic sanctions.
Shazia says, "In Iran, if you wake up in the morning after sleeping at night, the price of goods increases. It has been more than four weeks, but I have not been able to talk to my family in Iran. There is Instagram, Skype, WhatsApp, Telegram It is closed. If you call directly, the call gets disconnected in two-three seconds. The Iranian government is brutally killing people. I am concerned about my family."
"Our fight is different and their fight different,
Irene Akbar is a former journalist. According to Irene, it is not right to expect reaction from Indian Muslims on any activity happening in the Muslim world.
She said in a tweet on her move to stand with Iranian women by cutting her hair, "Those who are cutting their hair in solidarity with Iranian women will be happy, or else they don't care, if the same Iranian women are in the US or any Western countries." Get killed in a bomb attack by an imperialist power, if they do an attack on their country (which is unlikely)."
She writes on Twitter, "We have seen in Afghanistan. When the Taliban curtailed women's freedom, there was outrage around the world, but when many Afghan women and girls were killed in the US attack on the same country, there was silence on it. No one shed a tear over the killing of Afghan women during the American occupation."
In a conversation with BBC, she says, "Where is the solidarity with Bilkis Bano? Why are questions not being asked on that? First clean your courtyard, then talk outside later. We have not been put in the dock on any pretext.
She says, "What is in the Qur'an and Hadith for us is a model. Saudi Arabia and Iran do what they want to do. They are not our model. We follow what is written in our book. They are ours. It's a model. They burn the hijab, throw it, what does it matter. Our fight is different and their fight is different. These are two different situations. They have theocratic state, we have a secular state."
'Indian Muslim women's fight more difficult'
According to social activist Razia Patel, the movement of hijab has not been done by women from all over India. That has happened only in Karnataka.
She says that while the Muslim women of Iran are fighting with the conservative forces there, the Indian Muslim women are fighting with the two conservative forces, Hindu and Muslim, so their fight is more difficult.
She says that in the nineties, incidents like Advani's Rath Yatra, demolition of Babri Masjid, riots happened in the country, due to which Muslim conservative forces are imposing hijab on women under identity politics.
She says, "My father and my grandfather used to wear Gandhi caps. Now people wear skull caps. Young Muslim girls are very aggressive. The kind of words they are using, those words come from conservative forces." Instead of fighting for education, she starts fighting for the identity symbol."
According to Mantasha Binti Rasheed, founder of Kashmir Women's Collective in Srinagar, women in Kashmir have not gathered on the ground because of what is happening in Iran because people in Kashmir have their own problems.
She says, "Women here are watching how activists are talking about Iran, but are silent about other issues. We have a lot of our own experiences. People who have been living in an atmosphere of fighting for three decades. Yes, they understand the developments in Iran better. Those who are cutting their hair are their way of protesting."
She says, "It is not necessarily the only way. There was an incident of braiding in Kashmir two years ago. Somebody used to come quietly and cut women's hair. Somebody in India and around the world talked about it. Why? Then no one cut our hair showing solidarity with us."
"Any form of violence against women has political reasons as well. Kashmiri women understand the pain of Iranian women very well."
According to Afshan Khan, Research Scholar of International Relations in the Turkish city of Istanbul, she sees a lot of similarities in the women's fight over the hijab in Iran and India. She says that in both the places women are fighting against coercion and their fight is against dictatorship.
Afshan says, "The fight for girls in Iran is a fight for their rights, just like some girls in India want to get education by wearing hijab, but people belonging to a particular ideology are stopping them."
"The hypocracy of those who are showing 'sympathy' with Iranian women on social media shows that instead of standing up for those women, they are only standing in favor of removing the hijab.
Women who wear hijab themselves are also protesting in Iran. The women in burqa are also standing in support of those women who do not want to wear the hijab and the government wants to force them to wear it."