New Delhi, Jnn. Drishyam 2 Trailer Release: Ajay Devgn and Tabu starrer suspense thriller film 'Drishyam' ruled the box office as well as the hearts of the audience. After seven years, now once again the case of Vijay Salgaonkar is going to be reopened. Drishyam 2 has been in discussion for a long time. The posters of Tabu and Akshaye Khanna have come out from this film so far. Apart from this, the recall trailer of the film was released on 2 October. Now keeping the curiosity of the fans alive, the makers have released the trailer of the film 'Drishyam 2'. In this trailer full of suspense, Ajay Devgan is seen getting trapped badly in the clutches of the police this time. You will not be able to take your eyes off this trailer even for a moment.
The sharp mind of Vijay Salgaonkar will lose in front of the police
This 2 minute 24 second trailer is full of suspense. After 7 years, this story of October 2 is moving forward with 'Drishyam 2'. The trailer begins with Ajay Devgn playing the role of Vijay Salgaokar, who ends up at the same place where he buried Tabu's son's body. Like 7 years ago, the police is interrogating the family of Vijay Salgaonkar in this case. But this time the entire responsibility of Vijay's case is on the shoulders of Akshaye Khanna (police officer). Akshaye Khanna looks quite powerful in the role of the cop, who is beating the cunning mind of Vijay Salgaonkar. Who is seen playing mind games with Ajay Devgan and his family in the trailer. This suspenseful trailer will take you on a roller coaster ride.
View this post on Instagram
Tabu will also win everyone's heart with a powerful character
As much as people liked the character of Ajay Devgan in Drishyam, they also liked the character of Tabu. In the upcoming series 'Drishyam 2', Tabu will be seen fighting like a mother to get justice for her son, not a police officer. In the trailer, Tabu is looking more powerful than before this time. She, along with Akshaye Khanna in the trailer, forces Vijay Salgaokar and his family so much that at the end of the trailer, Ajay is seen telling Shriya Saran that he will listen to his mind as before and go to the police. Make a confession. Although like the trailer, this film is not straight at all, but a roller coaster suspense ride.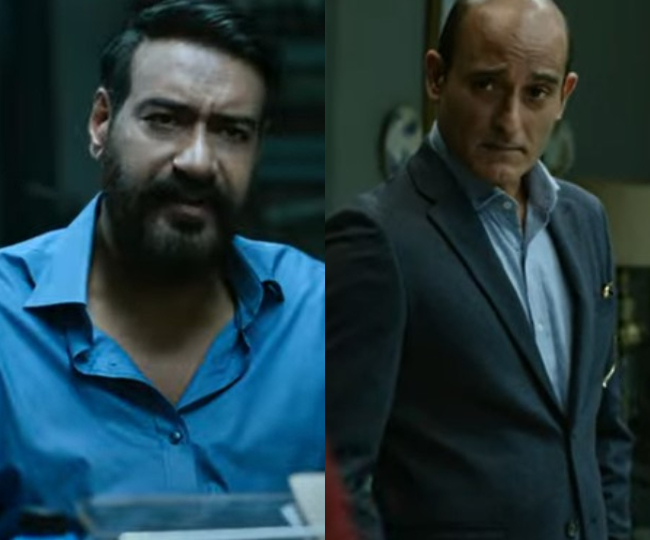 'Drishyam 2' to release in theaters on this day
Ajay Devgan starrer film 'Drishyam 2' will be released in theaters next month on November 18. Apart from Ajay Devgan, Tabu and Akshaye Khanna, Shriya Saran, Ishita Dutta and Rajat Kapoor will be seen in important roles in this film. 'Drishyam 2' is directed by Abhishek Pathak.
Read also: Drishyam 2 New Poster: Ajay Devgan's intense look from 'Drishyam 2' came in front, Vijay Salgaonkar asked the fans questions
Read also: Drishyam 2 Akshaye Khanna Look: Akshaye Khanna will be seen playing mind game with Ajay Devgan, the attitude shown in the first look
Edited By: Tanya Arora