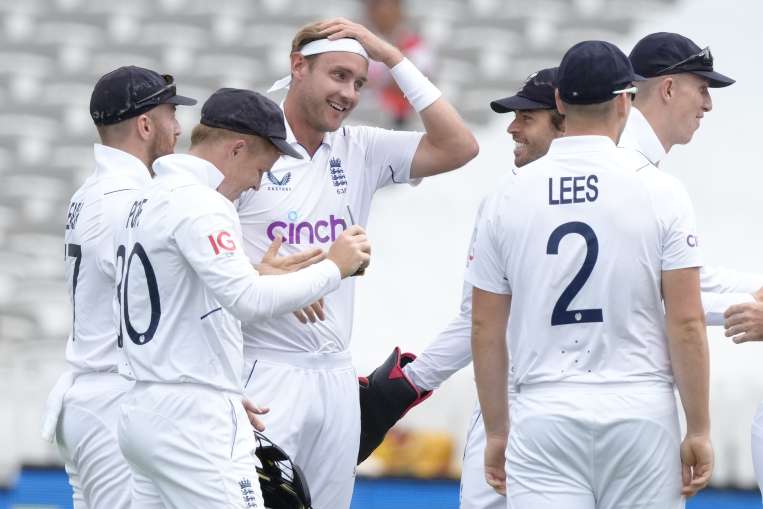 Highlights
The first Test between England and South Africa is being played at Lord's.
Stuart Broad completed 100 wickets at Lord's ground, equals Anderson
Stuart Broad caught Kagiso Rabada's brilliant catch on the third day of the match
ENG vs SA Stuart Broad : At present, a Test series is being played between England and South Africa. The first match of the three-Test series is currently going on at Lord's. Meanwhile, England's fast bowler Stuart Broad dominated the second day's play. After this, Stuart Broad dominated on the third day as well. On the second day, he bowled well and reached the figure of 100 at Lord's ground. But on the third day, he caught such a catch of Kagiso Rabada of South Africa that the world was surprised. This catch was also amazing and after his catch, there was a shower of applause in the entire stadium.
James Anderson has taken the highest 117 wickets at Lord's
Stuart Broad has become the second player to take 100 Test wickets at Lord's. On the second day of the opening Test against South Africa, Stuart Broad became the second player to take 100 Test wickets by dismissing Kyle Verne at the hands of Ben Foakes. James Anderson is at number one. Broad, becoming the fourth player to take 100 Test wickets at the same spot with a record, has entered a special club along with fellow Sri Lankan duo of Muttiah Muralitharan and Rangana Herath. Muraleedharan has achieved this feat at three venues, the Sinhalese Sports Club Ground in Galle, Kandy and Colombo. Broad is just 10 wickets away in a Test wicket from achieving another feat. Glenn McGrath is in fifth place. Broad is with 553 wickets. Broad needs only 10 more wickets to match him.
Stuart Broad surprised everyone by catching Kagiso Rabada
South Africa's Kagiso Rabada was at the crease when play on the third day of the match started. Rabada tried to play a big stroke off bowler Matthew Patt, but he could not send the ball far enough. The ball was continuing over Stuart Broad's head, in the meantime Broad jumped and caught the catch with one hand while jumping. This match was awesome. Rabada could play only ten balls and contributed three runs. Meanwhile, if we talk about the match, then the match has reached a very interesting phase. Below in this news you can also see the live score of the match.
Latest Cricket News