Abdul Rashid Shakoor
From BBC Urdu, Melbourne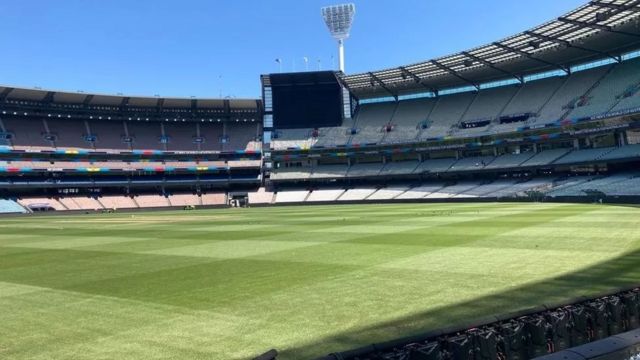 What is the political situation in Pakistan saying?
Imagine that you have T20 World Cup in your mind and you don't want to talk on any other subject, but someone suddenly starts talking to you about politics.
Something similar happened to me when I got out of Melbourne airport after a tiring 16 hours of traveling on two flights.
Despite tiredness and sleepless eyes, my mind was thinking only about the T20 World Cup. But my taxi driver started talking about politics. The driver of the taxi I took from the airport to the hotel turned out to be Saeed, a resident of Rawalpindi, Pakistan.
He raised the same topic that Pakistanis living outside the country often do, that is, where is the political situation in Pakistan going? What do you think will happen?
Seeing my no interest in politics, Saeed himself said, "Sir, I know only one thing that whoever the politician is, he is not honest towards Pakistan. My brothers and sisters live in Pakistan, but now The heart does not want to go there. If you stay in Australia and hear about Pakistan, then your frustration increases.
Melbourne Ground's Silence
After reaching Melbourne, I turned to the Melbourne Cricket Ground for the World Cup accreditation card, there was a strange silence in the ground.
There are statues of players who played an important role in Australian sporting history around the ground, which attract everyone's attention. Among them is the statue of Sir Don Bradman.
In this calm atmosphere, the ruckus was visible only in the ICC Media Center outside the ground, where many journalists had come to collect their cards.
I was thinking that it is only a matter of two-three days before the game starts, then how is there so much silence? On Sunday, these gates which are seen empty today, they will present a different view.
Waiting for Indo-Pak match
The T20 World Cup has started, but the whole world is eagerly waiting for 23rd October. On this day, the match between Pakistan and India is going to be held at the Melbourne Cricket Ground.
As always, a large number of fans from all over the world are flocking to Melbourne to enjoy every moment of this match. Whether it is a common fan or a Bollywood star or a business tycoon, everyone is eagerly waiting for this match, but everyone is worried about the same thing that the rain may spoil the color.
Ever since the Australian Meteorological Department gave rain forecast for Sunday, everyone is concerned that if the match does not take place, then it will not happen again, as this is not a match in which reserve day is kept.
People living in Melbourne are thinking of celebrating the India-Pakistan match like a festival. Shayra Andleeb Siddiqui, who lives here, not only herself, but her entire family has become passionate about sports.
Fans of both the countries are preparing
Andlieb Siddiqui is very happy to get the T-shirt of the World Cup. She also hosts programs on a local channel in Melbourne.
He wrote a song on the India-Pakistan match apart from his usual poetry and sang in his program, whose lyrics were like this-
"It is the time of the World Cup, are the days pleasant, so come with a bat."mother,
Andleeb Siddiqui said, "Melbourne and Sydney are home to a large number of Pakistani and Indian communities. They all promote their respective teams very well, but they never fight with each other."
He said that the Pakistani community has also prepared well for the match to be held on Sunday. He told that on this day Pakistani fans will gather near the Yara River in the heart of the city and from there walk together towards the stadium.
Teams of India and Pakistan have not come face to face in the World Cup yet. In other words, the atmosphere of cricket has not yet warmed up in Melbourne's cold weather.
But the Cricket Board of India (BCCI) secretary Jay Shah has started a new debate by making a statement that India would like to play next year's Asia Cup at a neutral venue instead of Pakistan.
Controversy over Asia Cup
Jay Shah is also the President of the Asian Cricket Council and is considered the most influential person in the Indian Cricket Board. The reason for this is his father Amit Shah, who holds a very important position in the current government of India.
Jay Shah has chosen a time for this statement when Pakistan and India are going to play an important match of the T20 World Cup. His statement is also surprising to everyone because there are many months left in the Asia Cup, so why did he feel the need to say this now?
Another important point is that the Asia Cup will be hosted by Pakistan, so how did the Asian Cricket Council or Jay Shah, without talking to the Pakistan Cricket Board, say that the Asia Cup would be held at a neutral venue?
The Pakistan Cricket Board (PCB) has expressed deep disappointment over Jay Shah's statement and says that it may also affect the Pakistan team's tours of India in 2023 and 2031 in which it is to play the World Cup.