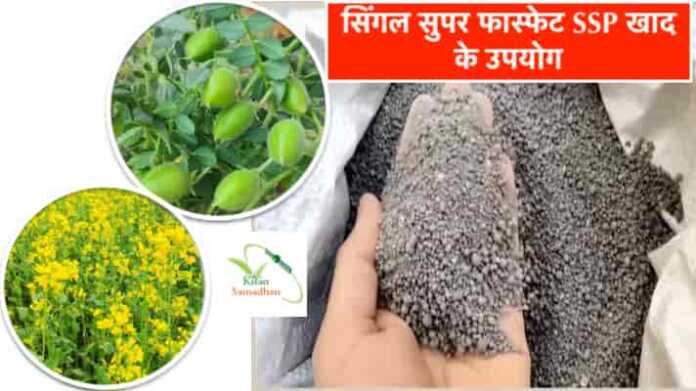 Use of Single Super Phosphate SSP
In the field of agriculture, the importance of nutrients for plant growth and good yields is very high, due to continuous cropping in the field, there is a lack of nutrients already present in the soil, due to which the farmers get these nutrients from outside. Have to do Which farmers can do through the sprinkling of chemical and organic fertilizers. Due to which the growth of plants along with the yield is also increased.
In agriculture, different crops require different nutrients from time to time, for which there are many types of fertilizers and fertilizers available in the market, which farmers use. But many times there is a shortage of different types of fertilizers in the market, due to which farmers are not able to use chemical fertilizers in the fields on time. In such a situation, farmers can do soil testing or according to the information about the amount of nutrients required for the crop.
Nowadays, there is often a lack of DAP in the market in the market. At this stage, the requirements of DAP can be met by using SSP + Urea. Along with this, it is also very economical for the farmers.
Single Super Phosphate ,SSP, In Present nutritive Element
Many types of nutrients are found in the soil of the farm, due to the lack of which farmers need to give chemical and organic fertilizers and fertilizers from outside, in such a situation, to supply some of these nutrients, single super phosphate SSP is used. is used to. These nutrients are as follows:-
Phosphorus – 16%
Sulfur – 11%
Calcium – 19%
Zinc – 1%
SSP is a phosphorus-rich fertilizer, which has 16 percent phosphorus and 11 percent sulfur content. Due to the sulfur available in it, this fertilizer is more beneficial than other fertilizers for oilseed and pulse crops.
Farmer More the gain Of For do Can Huh DAP Of location SSP+ urea
Single Super Phosphate SSP fertilizer is cheaper than DAP and is easily available in the market. 23 kg of Phosphorous and 9 kg of Nitrogen are found in DAP per bag. If SSP + Urea is used as an alternative to DAP + Sulfur to provide Phosphorous, Nitrogen and Sulfur nutrients to crops, more Nitrogen, Phosphorous and Sulfur can be obtained at a lower cost than DAP + Sulfur. For this, 3 bags SSP + 1 bag urea is used as an alternative to 1 bag DAP + 16 kg Sulphur, so more Nitrogen, Phosphorous and Sulfur can be obtained at even lesser price.
DAP And SSP of Use
Farmers can use either DAP + Sulfur and SSP + Urea fertilizers. But SSP + Urea is cheaper for farmers than DAP + Sulfur. For the difference in price of both, farmers refer to the table given below:-
DAP And Sulphur of Use How do,
1 bag DAP + 16 kg Sulfur Nutrient content and cost in
Nutrients

amount

Total expenditure

Phosphorus

23 kg

1350 Rs.

nitrogen

9 kilograms

Sulphur

16 kilograms

1600 Rs.

Total

2950 rupees
Single Super Phosphate of Use How do,
Nutrient content and cost in 3 bags SSP + 1 bag urea
Nutrients

amount

Total expenditure

Phosphorus

24 kg

(450×3) Rs.1350.

nitrogen

16 kilograms

Sulphur

20 kg

267 Rs.

Total

1617 rupees