Nandini Vellasamy
BBC correspondent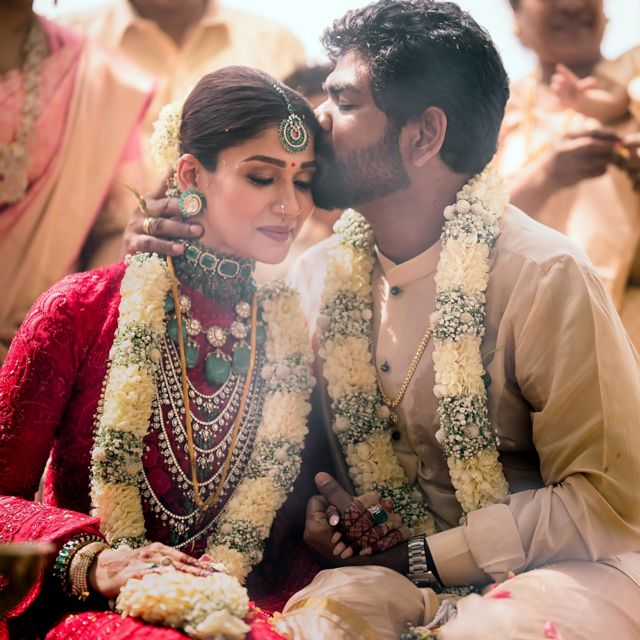 Tamil film director Vignesh Sivan and actress Nayanthara have announced the birth of their twins on October 9.
In a press conference of the Health Minister of Tamil Nadu, journalists mentioned the birth of Nayanthara's children amidst the best wishes for this on social media.
Health Minister MA Subramanian was asked the question "Have Nayanthara and Vignesh Sivan violated the surrogacy law by producing a child so soon after marriage?"
To this the minister replied, "This is a matter of debate. We will investigate the matter through the Directorate General of Medical Services."
However, the Vignesh-Nayanthara couple has not yet said anything on whether their twin sons were born through surrogacy or in a normal way. Their marriage took place in the month of June this year.
People are searching for information about the surrogacy law and related questions on the internet regarding this matter, and debate is also being done on social media.
On the other hand, who has the right to surrogacy and who is not, it is also being talked about.
People are asking whether only married couples have the right to have a child through surrogacy and whether gay couples and transgender couples also have this right?
Who are included in this law and who are excluded from its purview? Is gender equality in the Surrogacy Act?
What is Surrogacy Law?
The Surrogacy Regulation Bill was introduced in the Lok Sabha on July 15, 2019. Parliament passed it in December 2021 and came into force in January 2022 after the President's assent.
This law regulates the modalities of surrogacy in India. This law prohibits commercial surrogacy and says that surrogacy should be used selflessly.
After giving birth to a surrogate mother, the child is handed over to its parents.
Surrogacy should be resorted to only if the couple is unable to give birth to a child or has a disease that is associated with fertility.
As per the surrogacy law, only a close relative of the couple can become a surrogate mother and their age should be between 25 years and 35 years.
What does the surrogacy law say?
If the couple wanting to have a child, if the spouse has any such physical problem which is related to their fertility, then they can have a child through surrogacy.
In such cases the age of the husband must be at least 21 years and that of the wife must be 18 years.
"The law does not say that surrogacy can be allowed only after a couple has completed five years of marriage," says Shanti Rabindranath, secretary and gynecologist at the non-governmental organization Doctors Association for Social Equality.
Dr Shanti says, "Even when this law was only a bill, there were differences among people about it. We had also sent some proposals to the government. One of them was that the married life of a couple seeking surrogacy should be at least five years. Surely it should be there. This was also in the bill, but if a woman has some problem in her uterus, why should she wait for five years. That's why we urged the government to adopt a scientific approach. So when this bill was passed. If so, this rule was removed."
Dr Shanti explains that this law also gives widows and divorced women the option to become mothers through surrogacy, provided they are between 35 and 45 years of age.
Is gender equality in the Surrogacy Act?
Such questions are also being raised that whether gender equality has been taken care of in the surrogacy law? There have also been arguments that this law should have adopted a comprehensive approach.
For example, this law only talks about married couples. Couples who have not married but are living together as husband and wife cannot take recourse to this law.
Recently, the Supreme Court in one of its decisions had also given the right to an abortion to an unmarried woman. The surrogacy law should be seen in the light of this latest decision of the Supreme Court.
Dr Shanti says, "In cases such as the right of an unmarried woman to have an abortion, she should have the right to become a mother through surrogacy. That is justified."
There is also a demand that gay couples and transgender couples should also have the right to become guardians under the surrogacy law.
In July this year, DMK MP T Thangapandian said in Parliament, "Under this law, gay couples, transwomen and other people should also have the right to surrogacy. Those provisions of this law should be withdrawn which violates the rights of same-sex couples." are against."
Experts say that only by giving the right of surrogacy to single men and divorced men, gender equality in this law will be talked about.
Such a demand has also been raised that just as widows have the right to surrogacy, similarly widowed men should get this right.
Before the implementation of this law, in the year 2017, Bollywood actor Karan Johar became the father of twins through surrogacy. He also announced it publicly.
The demand for bringing single men under the purview of this law can be understood from the example of Karan Johar.
'Some Confusenor must be away'
Gynecologist Dr Shanti Rabindranath says, "The law says that divorced women and such women whose husband has died can become a mother through surrogacy on attaining the age of 35 years. If the death of the woman's husband is very less. If he is of age, why should he wait till the age of 35?
The law states that the surrogate mother should be a close relative of the couple, but on the other hand it has also been said that the surrogate mother may or may not be a relative of the couple seeking a child. This is a confusing thing. There should be clarity on this. If the surrogate mother can only be a relative, then the chances of her being ready for surrogacy are very less.
Doctor Shanti also says that so many rules and regulations have been made under this law that it has become almost impossible to follow them.
She says, "The way people's fertility problems are increasing, the demand for surrogacy is also increasing. So the rules related to surrogacy law should be simplified. Since there is a lack of clarity in the rules related to surrogacy, hence surrogacy in India Few people are able to take the help of this law, so it should be resolved and this law should be amended keeping in mind the gender equality.
According to the World Health Organization data, 3.9% to 16.8 percent of couples in India suffer from fertility problems.