Google Pixel 7 or iPhone 14, Which Phone Should You Buy?
Oct 08, 2022, 06:00 pm
read in 3 minutes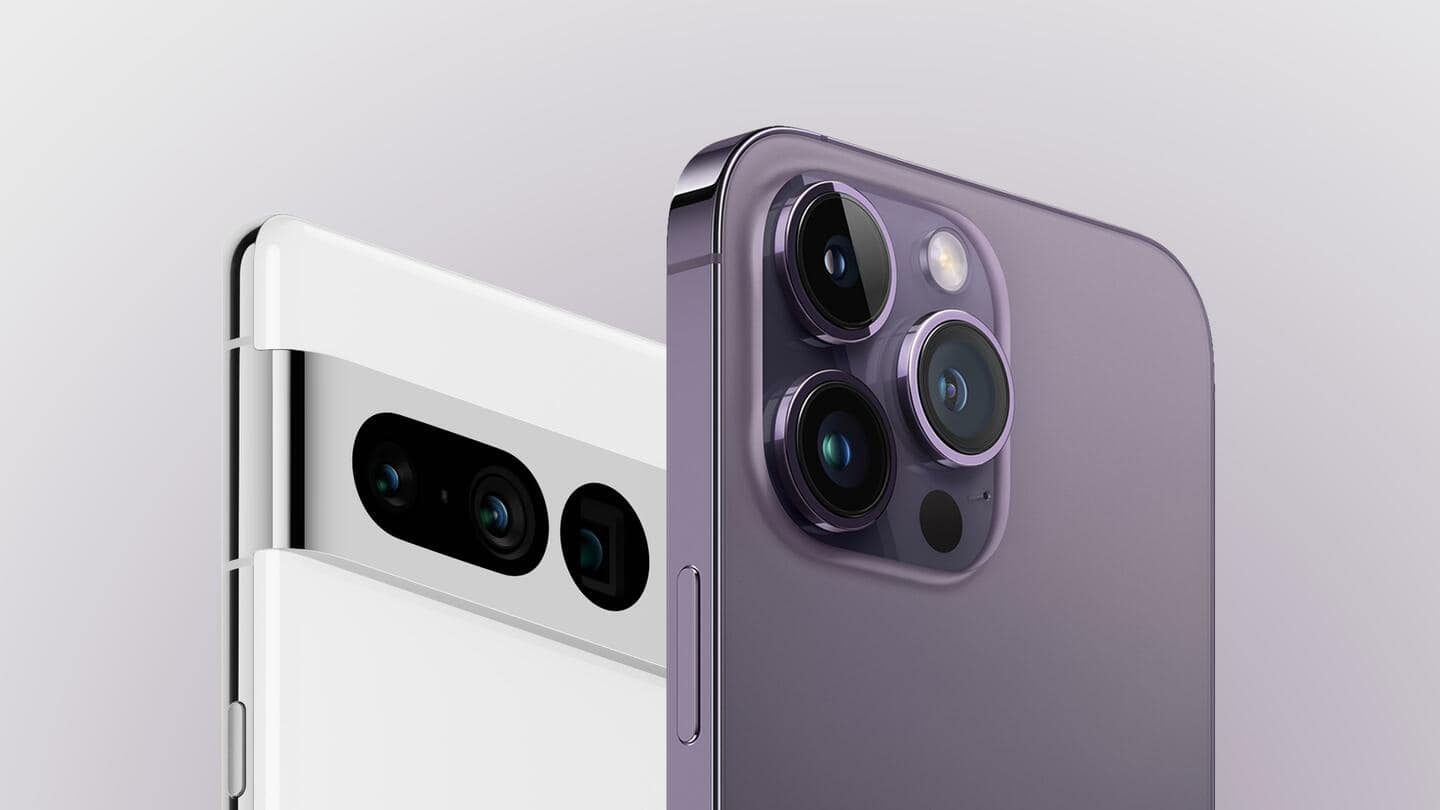 Google has introduced the flagship series Pixel 7, which is available in other countries including India. This series includes Google Pixel 7 and Google Pixel 7 Pro.

A month ago, Apple has also introduced its Flaship iPhone 14 series.

In such a situation, the question must be arising in the minds of many customers that which smartphone is better in iPhone 14 and Google Pixel 7.

Let's find out which smartphone is better.

Pixel 7 display is bigger than iPhone 14
Google Pixel 7 comes with matte aluminum finish, its camera setup is made from metal only.

No significant changes have been made in the design of the iPhone 14. It looks just like the iPhone 13.

The Google Pixel sports a 6.3-inch OLED display with 90Hz refresh rate, while the iPhone 14 sports a 6.1-inch Super Retina XDR display with 60Hz refresh rate.

Old chipset used in iPhone 14
The Pixel 7 is powered by Google's Tensor G2 chipset, coupled with 8GB of RAM and 128GB/256GB of internal storage.

At the same time, the old chip A15 Bionic has been used in the iPhone 14, which is paired with 6GB RAM and 128GB/256GB/512GB internal storage.

The iPhone 14's RAM is 2GB less than the Pixel 7, but the iPhone 14 has the advantage of up to 512GB of storage.

The Pixel 7 has an in-display fingerprint scanner, but the iPhone 14 doesn't.

Pixel 7 has a bigger battery than iPhone 14
According to Google, its battery backup is more than 24 hours, while Apple promises up to 20 hours of video playback. The Pixel 7 packs a 4,355mAh battery while the iPhone 14 packs a 3,279mAh battery with support for 30W and 20W charging respectively.
iPhone has always been better in terms of camera
The Pixel 7 and iPhone 14 have dual cameras setup on the back side of the phone. Both of them have a primary wide-angle lens, which is paired with an ultrawide sensor.

The iPhone 14 has the same camera system as the iPhone 13 Pro, which has topped lists of the best in the past year.

The iPhone 14 features recording with Dolby Vision HDR, which is not available on any other Android phone.

Pixel 7 is Rs 19,901 cheaper than iPhone 14
The 128GB variant of the iPhone 14 in India is priced at Rs 79,900, Rs 89,900 (256GB) and Rs 1,09,900 (512GB). You can buy it through Flipkart.

At the same time, the starting price of Google Pixel 7 in India is Rs 59,999. Meaning, Pixel 7 is Rs 19,901 cheaper than iPhone 14.

Let us tell you, the limited time launch offer on Pixel 7 is also included in the form of cashback of Rs 6,000.

You will also get additional exchange bonus when you buy from Flipkart.

Pixel 7 is better than iPhone 14 except for the camera
The Pixel 7 has everything you could want from an entry-level flagship. Plus, there are some extra features you won't find anywhere else.

If you're an iOS supporter and have extra money to spend, the iPhone 14 is a great smartphone.

On the other hand, if you want something exciting then Pixel 7 can be a good option.