New Delhi.
Google Pixel 7 and Pixel 7 Pro were made available for sale on 13 October i.e. today itself. The sale of Google Pixel 7 and Pixel 7 Pro phones was held on Flipkart. Google Pixel 7 and Pixel 7 Pro are out of stock within a few hours of going on sale. In such a situation, it can be assumed that the demand for both these phones is very high. Not only this, both these phones also became unavailable a few hours after its pre-order day.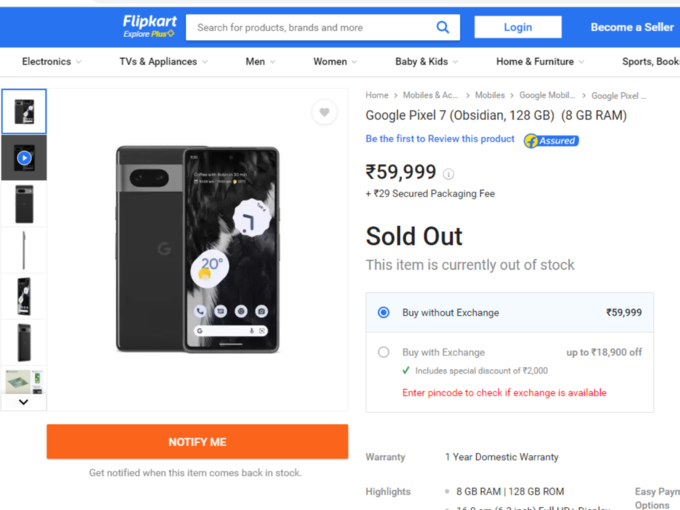 Let us know that the exclusive partner of Pixel 7 series in India is Flipkart. Now out of stock is seen written with the phone here. It is believed that Pixel 7 and Pixel 7 Pro will be made available in stock soon.
However, the device being out of stock is disappointing for those looking to buy the Pixel 7 or Pixel 7 Pro. Also, it is a good sign that the demand for Pixel 7 series is very high. Google's new flagship Pixel phones have been launched in India after a break of three years. The last flagship Pixel series launched in India was the Pixel 3a, but after that, the company did not release its high-end pixels here due to some reasons. Let us know that the company's Pixel 4 series was not launched in India.
Buyers have got a number of benefits by pre-ordering the Pixel 7 and Pixel 7 Pro. Along with bank card offers and exchange offers, the Pixel 7 was available for the lowest price of Rs 49,999 and Pixel 7 Pro for Rs 69,999. However, at the moment it is not clear when the stock will be back on Flipkart. Now users will have to wait for a while.

View Full Specifications