Madhu Pal
For BBC Hindi, from Mumbai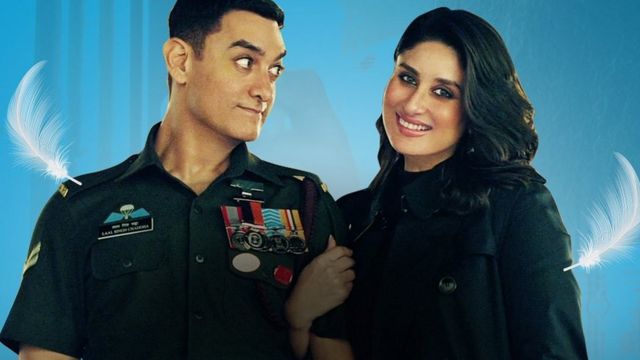 Aamir Khan's film 'Lal Singh Chaddha' and Akshay Kumar's film 'Raksha Bandhan' were released on 11th of this month.
Both these films with big starcast had high expectations at the box-office but both the films could not show any good.
Both the films proved weak in attracting the audience from day one. While Aamir Khan's film 'Lal Singh Chaddha' got an opening of Rs 11.50 crore on the first day, Akshay's 'Raksha Bandhan' earned only Rs 8 crore on the first day.
Despite being on holidays for four consecutive days, both the films could not garner the love of the audience in the way that was expected.
film industry sleepless
Referring to the earnings of both the films, well-known film analyst and critic Girish Wankhede says, "The total earning of 8 days of 'Lal Singh Chaddha' is 51.08 crores, while 'Raksha Bandhan' Rs 37.30 crores. But his last two films 'Bachchan Pandey' and 'Samrat Prithviraj' also didn't work.
He says, "Aamir Khan's film has come after a full four years, despite this, he could not create magic in the theatre."
Girish Wankhede adds, "Aamir's super-flop film 'Thugs of Hindostan' also did a business of Rs 52 crore on the first day but 'Lal Singh Chaddha' has not been able to cross this figure even in eight days. "
He says, "Other film-makers are also very sad because these films do not work. If the films become a hit, then people's hopes rise for the upcoming films. New films are made. Whereas if the condition of the films is like this, then Hopes will be broken a little bit."
Wankhede says hopeful, "There are also big budget films like 'Brahmastra', 'Vikram-Vedha', 'Pathan' in the coming days. Maybe they can fill this gap."
'Brahmastra' stars Ranbir Kapoor, Amitabh Bachchan, Nagarjuna and Alia Bhatt. While Hrithik Roshan is working in 'Vikram Vedha', Shahrukh Khan is in the lead role in 'Pathan'.
Are both 'Lal Singh Chaddha' and 'Rakshabandhan' hee Movies have flopped?
When is a film called a flop? Is there any criteria for this? Is it measured by the earnings of the film?
Film critic Girish Wankhede says, "Yes. A film flop happens when it earns less than its cost i.e. cost of production. In such a situation it is called a flop."
He says, "The rights of OTT i.e. Digital Rights, Satellite Rights for TV, Overseas, Theater are seen together from all four places. They say."
Will 'Lal Singh Chaddha' be considered a flop? Wankhede says, "The film 'Lal Singh Chaddha' cost Rs 180 crores to make. But till now its collection has been only 50 crores. The trend is that in the coming days it will be more than 80 crores and more. In such a situation, if the film removes the distributor's share and reduces the GST, then the filmmaker will get hardly Rs 40 crore."
"Now if the box office collection alone gets you Rs 40 crore, then it's not a big loss."
He says, "The film 'Rakshabandhan' has also been made around 70-80 crores but the earnings have been very less. After removing the distributor's share and GST, very little collection will come in hand."
"So considering their earnings so far, both the films are flops."
Why is this happening Aamir? Khan's film boycott
Aamir Khan's film 'Lal Singh Chaddha' was surrounded by controversies even before its release. A section on social media was running the #BoycottLaalSinghChaddha hashtag for this Aamir Khan film. Some people were re-sharing some old 'controversial' statements of Aamir Khan.
Actually, Aamir Khan once made a statement that his wife is afraid of living in her own country due to the growing intolerance in India.
On this issue, people were trolling Aamir Khan on social media by calling him a traitor and appealing to boycott his film.
Apart from this, some people are also accusing Aamir Khan that he is 'anti-Hindu'.
Fear among the general public of 'Boycott'
Does boycott-trending for a film affect the film?
On this, film critic and senior journalist Ramachandran Srinivasan says, "This boycott trend was not taken seriously by people earlier. The appeal has been there in the past also. Be it the film Padmavat or Deepika Padukone's 'Chhapaak'…"
Srinivasan says, "If we talk about 'Chhapaak', then because of the reason it was boycotted, it did not become a hit and its business was also not that good. On the same lines when the boycott for 'Lal Singh Chaddha' And when there were calls for boycott, people thought that this was just a hoax. So initially it was not taken seriously. But the truth is that if the quality of the film is even a little bad and the trend of boycott starts. So it definitely has an effect."
He says, "There is also this fear in people's mind that if they went to the theater and someone created a ruckus…somebody made a riot…then what would they do in such a situation. So that created an atmosphere. Even because of that fear in the country, many people did not go to see this film.
Along with this, Srinivasan also says that the film was made for multiplex-audience.
He says, "Some people did not like this film. This film is not made for the mass. 'Lal Singh Chaddha' is made for the multiplex audience. That too for the big multiplexes and national chains where the film has about 60 percent. Percentage business is done."
There have been protests against the films of Aamir, Shahrukh and Saif.
On this Ramachandran Srinivasan says, "Not only Aamir but there have been protests against the films of Shahrukh Khan, Saif Ali Khan. The films or web series they are doing are being protested against it. These are now social media and the country. the mood."
Do people have no money to go to theatres?
Ramachandran Srinivasan says, "On the one hand, 'Lal Singh Chaddha' and 'Rakshabandhan' are being boycotted because of the statements of the actors associated with them. There is a lot of resentment in the minds of people. Where they feel that people associated with a film They are doing such work which is not in the interest of the country, then they start boycotting. If you look at the environment of the country, in the same way, the thinking has changed, which will have little effect.
Along with this, Srinivasan also says, "You have to keep one thing in mind that along with Boycott, people also do not have money. People used to spend as much in theaters, in hotels, they are not doing it now. The business of hotels, restaurants has come down. But I am not saying that boycott did not make any difference.
Bollywood away from films depicting casteism
Some people on social media say that while caste discrimination has been properly depicted in the mainstream cinema of the South, Bollywood films are far from it. Even the actors of the South films have been able to show the problems related to them by playing the character of the Dalit caste in their story.
Has Bollywood cinema and its associated actors also managed to do the same? On this, film critic and senior journalist Ramachandran Srinivasan says, "This kind of effort is very rare here. Prakash Jha made an attempt in his film 'Aarakshan'. But that film did business of only 50 crores, which is a lot. It was less. There was a film Shekhar Kapoor's 'Bandit Queen'. Anil Kapoor's 'Chameli Ki Shaadi' was also on caste discrimination.'
"Here came Satyajit Ray's films, Shyam Benegal's Ankur, one film Sujata. Except for these films, if you see, Hindi cinema has never touched this subject."
He says, "Prakash Jha's 'Reservation' is counted only in mainstream cinema, the rest of the films that came are counted in parallel cinema or art cinema."
"Actor Vicky Kaushal shone with his first film 'Masaan' but that too would be called parallel cinema. Its director Neeraj Ghaywan keeps Dalit protagonists in all his films because he believes in this subject. To make a film like this, Two things are important. One is the confidence of the filmmaker and the other is the commercial business."
He does not shy away from making films on Dalit subjects in South India. Film Karnan, Dhanush Ki Asuran, Sarpatta Parambarai, Madathi: An Unfair Tale, Periyaram Perumal, Jai Bheem, Erandam Ulagaporin Kadisi Gundu, Sani Kaidham etc all show the pain of Dalits.
Ramachandran Srinivasan says, "The films there tell the story of a common man, their sufferings are depicted. From the day multiplexes were born in Hindi cinema, according to the audience, films started being made there. Except for the single screen audience. given."
He says, "You stopped showing his story, so he stopped watching your cinema. After a few years, when you started the story of small towns again, those films played. People saw it because you were making films for them. But You have again taken a turn and are making big films. In which there is no story, only VFX. Why would a common man watch such films in which there is no connection to his life."
"Since Corona, those who do not have a job, nothing is going well, in such a situation, they take out their anger on Twitter. People just need a chance to correct the mistake of your film. After Aamir, now Ranbir is behind In a song of his film 'Brahmastra', if he does not remove shoes in the temple, then some people are boycotting it."
Film makers do not talk about caste in their films because they are afraid that they will talk about the cast and if any cast gets hurt by it, they will not watch the film. The reason behind this is the box office.
"You take the matter of Marathi film Sairat. The issue of cast has been shown very well in this Marathi film but when it was remade in Bollywood, there was no talk of cast while changing it. However, Film makers have agreed to show such subjects on OTT. They will now show poverty, casteism, but on OTT, the rich want to come and watch mainstream movies in the theatres."
Everyone affected by OTT – be it Bollywood or South films
Trade analyst Amod Mehra says that a lot has changed with the advent of OTT. OTT is entertaining the whole family in less money. You get to see here not only movies but also web shows of your choice.
He says, "Earlier people had only television and theater. Now there is OTT to watch movies too. Recently released movies are also coming soon on OTT. Due to this people think that when in some days If these films themselves will come on OTT, then what is the need to go to the theatre.
He says, "This situation is not only in Hindi films. The situation is similar in other languages ​​as well. We say nowadays that South's cinema is doing very well but it is not like that at all."
If 40 films are released in the South in six months, then only three are discussed. This is also something to think about.
Amod Mehra says, "The craze of films 'Pushpa', 'RRR', 'KGF' was already there. 'KGF-2' also worked. We talk about only those South films which work. Those that do not work Nobody talks about him."
English speakers making Hindi cinema
Recently, during a media event, well-known producer director Anurag Kashyap, while explaining the reason for the failure of big Bollywood films, said that our Bollywood films are not land connected.
He had said, "When you watch Tamil films or Telugu, Malayalam, their films are related to the culture there. Those who cannot speak Hindi here, they speak English, they make Hindi cinema. It is related to culture, they definitely go on."
read this also