This is the preparation for T20 world cup
A big tournament in front of India is coming after two and a half months in the form of T20 World Cup which will be played in Australia. Prior to this competition, the Indian team is also starting a campaign against arch-rivals Pakistan from August 28 in the Asia Cup. After this, India has to play two more series before the T20 World Cup which will be against Australia and South Africa at home. Rohit Sharma is present in India and has said that 80-90 per cent of the World Cup squad is done and we need to make a few changes depending on the conditions in Australia which may be hardly three or four.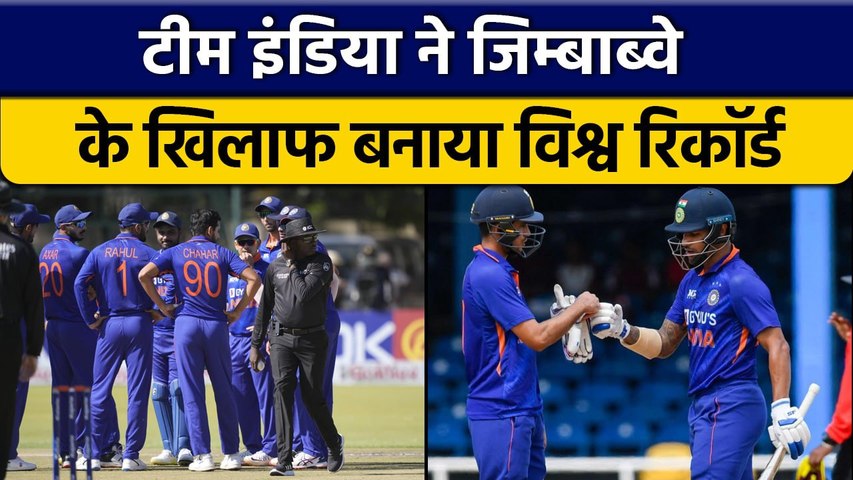 IND vs ZIM 2022: Team India beat Zimbabwe to set world record Oneindia Hindi *Cricket
Deepak Chahar is one such good option
The story of the Indian team is such that the seniors are seen being given chances in the World Cup in any case. They can be selected automatically. Despite this, there are some places where Rahul and Rohit can place their bets. According to Sanjay Manjrekar, former player of the Indian cricket team, Deepak Chahar is one such good option.
He is your today Bhuvneshwar Kumar
While doing the daily sports show of Sports18, Sanjay said that, I think the Indian cricket team is trying a lot to try Deepak Chahar because of his fitness. They are playing a 50-over series in Zimbabwe and if they do well here they can do very well in T20 cricket as well.
Bhuvi himself can stop playing T20 World Cup
Manjrekar further says that Deepak Chahar, the younger version of Bhuvneshwar Kumar, can swing the ball both ways. Although he may not be that consistent in the death overs but he will get better as he bowls. Yes, if there is one thing that stops Deepak Chahar from playing the T20 World Cup, it is his being exactly like Bhuvneshwar Kumar and Bhuvneshwar Kumar is looking very good at the moment. So maybe the team management will try to find other types of fast bowlers. But Deepak Chahar is also someone you should keep in your mind and he has demonstrated that he deserves to be in the mind of the selectors for selection in the team.
The Super 12 stage of the T20 World Cup is going to start from 22 October.