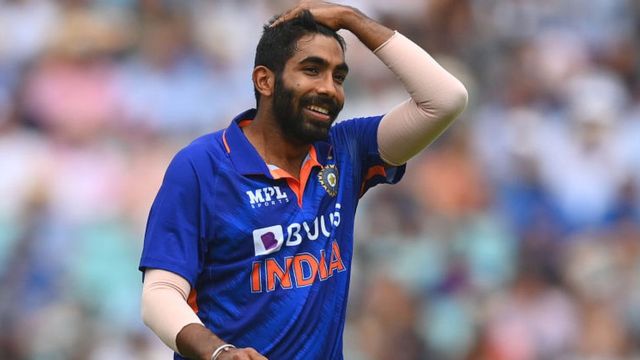 Indian fast bowler Jasprit Bumrah has been ruled out of the T20 series against South Africa.
The Board of Control for Cricket in India (BCCI) has replaced Bumrah with Mohammad Siraj in the team.
One match of the three T20 match series has been completed and two matches are left.
The Indian team is playing this series in connection with the preparations for the T20 World Cup to be held in Australia in October.
Earlier, India had also played three T20 matches against Australia and won it 2-1.
The BCCI had named Jasprit Bumrah in the team for these two T20 series and T20 World Cup.
Now the question is arising that if Bumrah remains injured like this, then his playing in the T20 World Cup is doubtful.
In such a situation, who will replace him in the Indian team?
The fast bowlers who have been named by the BCCI in the T20 World Cup squad are – Jasprit Bumrah, Bhuvneshwar Kumar, Harshal Patel and Arshdeep Singh. Also, the board has kept Mohammed Shami and Deepak Chahar in the reserve players.
Let us know that if Jasprit Bumrah is not able to play in the T20 World Cup, then which player can get the place.
Mohammed Shami
When it comes to India's fast bowling, Mohammed Shami is also named among the top two bowlers in this era.
But for some time he is also troubled by injury and is out of the team.
Mohammed Shami was included in the team in the T20 series against Australia. But due to Kovid, he could not play the match.
In his place, Umesh Yadav was given a place in the team. Two days ago, Mohammed Shami himself has given this information that he has become Kovid negative.
Mohammed Shami's name is also in the list of reserve players in the team for the World Cup. By the way, one concern about Shami is that he stays away from cricket matches for a long time.
Will Shami be able to become the leader of the Indian attack after being fully fit before the World Cup, the question remains.
In July this year, Mohammed Shami played in a Test match against England. He also played an ODI match during this series and since then he has been away from international cricket. He has not played any T20 International since the T20 World Cup in November last year.
Although he did play IPL this year.
Looking at the Australian pitch, Mohammed Shami is a strong contender for a place in the Indian team. But staying away from matches for a long time can go against him.
Mohammed Shami, who has commanded Indian fast bowling in Tests and ODIs, has rarely played international T20 matches. He has played only 17 international T20 matches so far and took 18 wickets.
Whereas in 60 Test matches, he has 216 wickets in his account. Talking about ODIs, Shami has taken 152 wickets in 82 ODIs.
Mohammad Siraj
Mohammad Siraj has been named by the BCCI in the Indian team for the series against South Africa.
It is also being speculated that instead of Bumrah, he is being groomed for the World Cup.
Right-arm fast bowler Mohammad Siraj's specialty is to create speed and bounce in his balls. Sometimes he shows amazing performance even on such pitches, where the fast bowlers get very little help.
Former Australia cricket Tom Moody likes him very much. Australian pitches can support Siraj.
If we talk about IPL, then many records are in favor of Siraj, but he has played less in T20 International matches.
This thing can go against them. So far, Mohammad Siraj has played 13 Test matches, 10 ODIs and five T20 Internationals.
In IPL, Mohammad Siraj has represented Sunrisers Hyderabad and later Royal Challengers Bangalore.
When Mohammad Series was with the Hyderabad team, coach Tom Moody was very impressed with him. He also bowled excellently for Hyderabad many times.
He later moved with Royal Challengers Bangalore. At that time, Virat Kohli made good use of Siraj in the death overs.
Deepak Chahar
Deepak Chahar took two wickets in the first T20 match against South Africa. But the best thing about T20 is that they are very economical.
He took two wickets for just 24 runs in four overs.
Deepak Chahar is one of the two fast bowlers who have been kept in reserve players by the BCCI for the T20 World Cup.
It goes in favor of Deepak Chahar that he has played more T20 International matches than many contenders.
Deepak Chahar has played 22 T20 matches for India and has taken 28 wickets.
He has not played a single Test match, but has played nine ODIs and has also taken 15 wickets.
This year he has also played five T20 matches for India.
Coming from Agra, Uttar Pradesh, Deepak Chahar started his cricket career playing for Rajasthan.
But his career has been greatly affected by injury. Because of this, he has been coming and going in the team.
Deepak Chahar doesn't bowl very fast, but he is accurate.
In T20 matches, be it the IPL or the national team, he has proved useful many times.
Deepak Chahar also bats well. For this reason, they have been considered more suitable for T20 matches.
Umesh Yadav
Umesh Yadav got a place in the team due to the absence of Mohammed Shami in the series against Australia and then against South Africa.
But Umesh Yadav has not got a place in the World Cup team.
Umesh Yadav did not get a place in the first T20 match against South Africa.
Whereas against Australia he proved to be very expensive.
Against South Africa, the team management made their priority clear by giving Arshdeep and Chahar a chance.
But Umesh Yadav's experience goes in his favor. However, if we talk about T20 only, then he has played only eight matches for India.
But he has represented India in 52 Test matches and 75 ODIs.
By the way, talking about ODI matches, Umesh Yadav has not played any ODI match since 2018.
He definitely got a chance to play against Australia in T20 recently.