azizullah khan
bbc urdu.com, Peshawar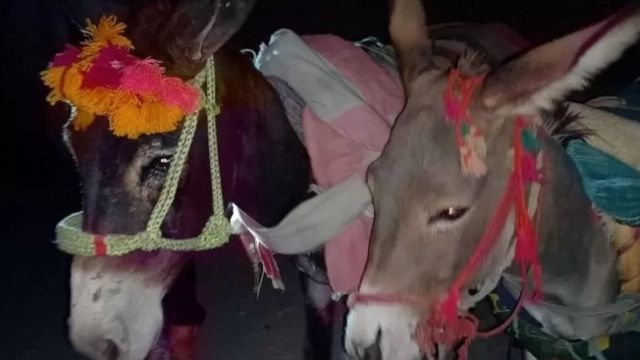 Human beings continue to be produced in the courts of Pakistan, but on Thursday, October 20, donkeys were also presented in a court.
Questions have also been raised about what these donkeys were accused of, whether they were used as a facilitator or were part of the case property.
This production took place in the court of Assistant Commissioner (Darosh) of Chitral district and it was told that these donkeys were mainly used for timber smuggling.
There are reports of smuggling of timber from Chitral and other northern areas of Pakistan and the government is trying to stop it, but the timber forests are fast depleting.
Five donkeys were produced in the court of Tausifullah, Assistant Commissioner of Darosh. These donkeys were accused that they were involved in the smuggling of timber in the Darosh area of ​​Chitral.
These donkeys were summoned as case properties in this case and after production they were handed over to the forest department officials.
The Assistant Commissioner of Chitral told that he wanted to ensure that donkeys are not being used again for smuggling. The court has ensured that the donkeys are in the custody of the concerned authorities.
Why were donkeys produced in court?
The story has been told that in these areas of Darosh, the administration had received information about smuggling of timber, on which action was taken. Smuggling time is before dawn when the timber is brought into the saw machine.
Acting at that time, Assistant Commissioner Tousifullah caught three donkeys, with whom four sleepers of timber were tied. He told the BBC that during the operation one accused was arrested and two escaped, while the donkeys were handed over to the forest officer.
According to him, he had handed over these donkeys to a local person so that he could take care of them.
Two days after the incident, another complaint was received that smuggling was still going on, which was acted upon once again and three more donkeys were confiscated, along with the sleepers of the timber.
Later it was reported that perhaps these three donkeys are the same which were given in superdari, but later it came to know that two of them are new and one donkey is the same.
In this regard, the court ordered the forest officials to produce all the donkeys in the court that all those donkeys who were caught should be produced before the court. So that it can be found that how many donkeys are there in total. Is it not that the same donkeys are being used again for smuggling.
The Assistant Commissioner told that these donkeys were seen in the court and one of them was the same, but this donkey was caught by mistake. This donkey was not used for smuggling for the second time.
He said that the area where action was taken to stop smuggling was dark and in the same area this earlier donkey was also tied which the officials had brought along by mistake. An explanation was submitted by the forest officials, on which the court expressed satisfaction and handed over the donkeys to the forest department officials.
Why donkeys?
On behalf of the forest department, forest officers and other personnel had appeared in the court.
Tausifullah said that keeping these donkeys in government custody is difficult. Their care and dosage has to be arranged. That's why the people of the forest department usually give donkeys on superdari to a responsible person, so these donkeys were given to the owner of a saw machine on superdari.
These donkeys and timber sleepers are case property and they will remain in custody till the decision of this case and when this case is decided then the case property will also be decided accordingly.
Basically it's the hard way. Smuggling of this timber is done from mountains, forests and river channels. And when this wood is brought down from the mountains, then it is cut into pieces. Smuggling of timber in this area is difficult with vehicles, so donkeys are used.
One thing is also important in this that when the donkeys know the way, they go on their own, there is no need for any human to be with them, and they reach their destination on their own, Therefore, donkeys are often used for smuggling or other such works.
Who are the Smugglers?
There is conflicting news about this. It is said at the official level that big smugglers can be behind this. And they use poor laborers to make smuggling possible.
But on the other hand, local people say that this area is located near the Pakistan-Afghan border in Darosh and it provides some income to the poor people.
The local population says that in reality one or two pieces of wood are tied on donkeys, but there is no smuggling on a large scale. He said that smuggling on a large scale would have taken place in trucks, for which other routes could be used.