New Delhi, Jnn. Sacred Games 2 actress Elnaaz Norouzi on Iran Hijab Controversy: The fire that broke out in Iran regarding the hijab has now spread all over the world. Protests are taking place from place to place regarding the Hijab movement. Till now many celebrities have also supported this movement. Recently, actresses Priyanka Chopra and Mandana Karimi reacted on the issue of hijab. Now actress Elnaaz Norouji has also jumped into this controversy. Elnaaz is best known for working in Netflix's hit series Sacred Games.
Elnaaz in support of hijab movement
Supporting the hijab movement, actress Elnaaz Norouji has shared a video of herself, in which she is seen taking off her clothes. In the beginning of the video, Elnaaz is seen wearing a burqa. Then she takes off her clothes. Under the burqa, Elnaaz was dressed in a variety of clothes, ranging from jeans, dresses, salwar kameez to skirts. At the end of the video, Elnaaz is seen in a two piece bikini. The purpose of this video of Elnaaz is to give a message that wearing clothes is one's personal choice, which cannot be questioned.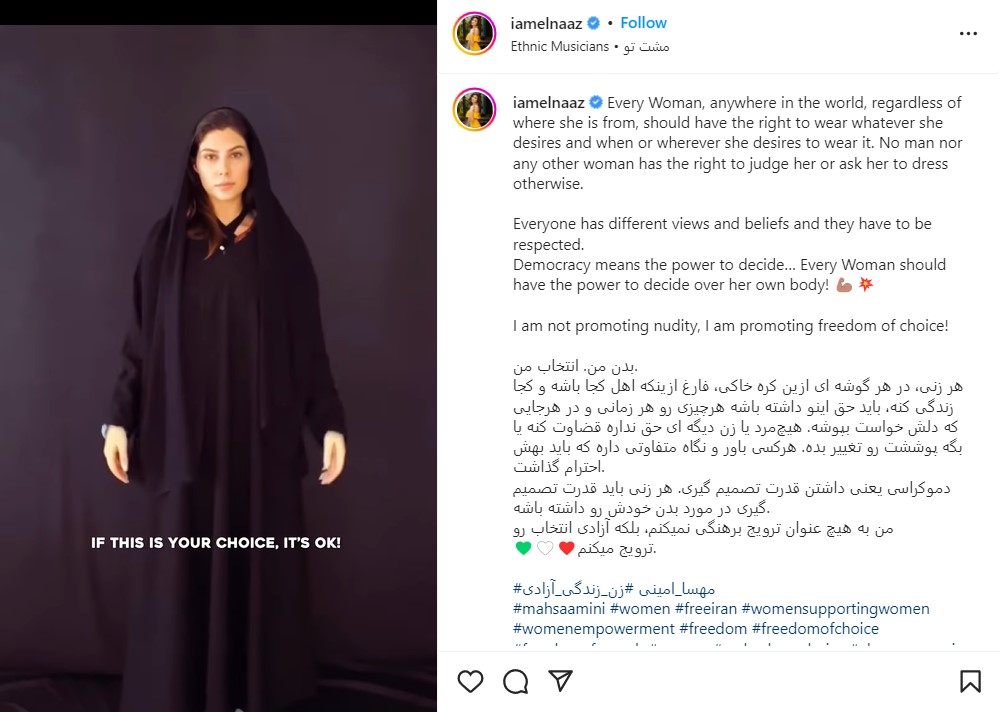 Not nudity, it's about freedom of expression
While sharing the video, Elnaaz has also written a strong caption, in which she said – Everywhere in the world, every woman should have the right to what she wears when and where. Another person has absolutely no right to tell him what not to wear. Everyone has their own point of view, which should be respected. Democracy means the power to choose. Every woman should have the right to wear her body. In the end, Elnaaz also clarified that she has not posted this video to promote nudity, but I am talking about freedom of expression.
Edited By: Vaishali Chandra