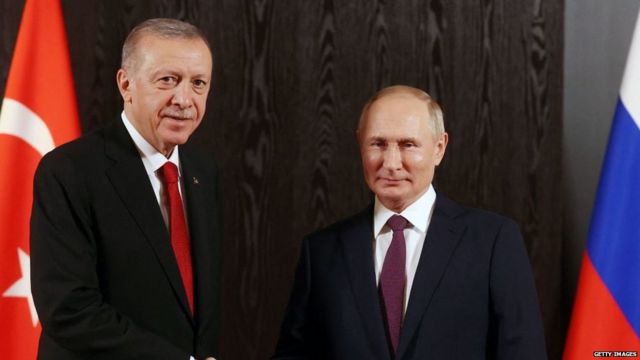 Russian President Vladimir Putin met with Turkish President Recep Tayyip Erdogan in Kazakhstan on Friday.
During the meeting, Putin suggested that Turkey could be used as a gas supply hub in Europe. He said that sending gas to the European Union via Turkey is proving more reliable.
The gas supply of the Nord Pipeline between Russia and Germany was interrupted at the beginning of the Russia-Ukraine war and then completely stopped after the blast under the Baltic Sea. It is believed that the blast was done deliberately.
Putin said that the damage caused by the blast could be compensated by the Black Sea region, and Turkey could be made Europe's biggest supply hub.
The Turkish president said he would strengthen the deal signed in July under which Ukraine's grain could be taken from the Black Sea to the international market. At present, this deal is till mid-November, which can be extended with the approval of Russia and Ukraine.
Erdoan said Russia and Turkey can decide which low-income countries can send paddy and fertilizers.
Putin said the countries getting the grain should be grateful to Turkey because it played a key role in reaching the deal.
Ukraine did not talk about resolving the dispute – Russia
Russian spokesman Dmitry Peskov said President Putin and Turkish President Erdoan did not talk about resolving the Ukraine dispute. Peskov said, "There was no talk on resolving the Russia-Ukraine dispute."
Before the meeting, there were indications from Russia that Erdogan could "officially" mediate a peace deal between Russia and Ukraine.
What was the role of Erdoan in the first place?
Despite the ongoing war on 23 July, a "mirror" agreement was reached between Ukraine and Russia, under which the export of grain from Ukraine via the Black Sea began.
This decision marked the beginning of the export of millions of tons of grain lying in Ukraine in the midst of the war. Russia has said that it will not attack cargo ships carrying grain by sea. He will also not attack the ports from where food grains are being supplied.
The United Nations called it a historic agreement.
diplomats According to this agreement, these things were agreed upon Was,
Under the agreement, Russia and Ukraine have agreed to provide safe corridors for grain-carrying ships in the Black Sea.
Russia will not attack cargo ships carrying grain by sea. He will also not attack the ports from where food grains are being supplied.
In order not to get in the way of these ships, Ukraine's security squad will accompany them. This squad will help to avoid the landmine laid in the sea. If the landmines laid on the way have to be removed, then a third country will do this work.
In view of Russia's fear of supplying weapons, Turkey will investigate these grain-carrying ships with the help of the United Nations.
– The export of Russian grain and fertilizers will be facilitated through the Black Sea.
Putin's wish to end the war
After this, on August 5, Erdogan and Putin met in Sochi. Both countries said that they talked on many issues.
On 20 September, Erdoan said he believed Putin was looking to end the war and that an "important step" would be taken soon.
He said that he felt he wanted to "end this as soon as possible" from talks with Putin in recent days.
Ukraine took back some areas of Russian occupied last month. Erdoan said it was a "trouble" thing for Russia.
Earlier, Erdoan accused Western countries of "instigating" Russia and said the war "won't end soon". On the same day, he also said that 200 prisoners would be exchanged between the two countries, although he did not give any further information related to this.
Erdogan's tough stand before the attack
In a statement issued on February 22, President Recep Tayyip Erdogan told Russian President Vladimir Putin that his country does not recognize Russia's move against Ukraine's territorial integrity.
According to the news agency Reuters, the President of Turkey called Putin and said that the military conflict will not benefit anyone. He also reiterated his offer of help to solve this problem.
Erdoan said he understood the value of Russia's cooperation on regional issues. He wants Russia's role on these matters to continue. Erdogan said that Ukraine-Russia conflict could be averted by diplomatic efforts rather than military conflict.
BBC correspondent Atahulpa Amerisse wrote in a report a few days ago that Turkey is playing a two-sided game, Turkey was an ally of the West at the beginning of the war, but now it seems to be moving closer to Russia.
Turkey is a member of NATO (Western Military Alliance) and has traditionally been an ally of Ukraine.
Turkey was against Russia when Russia announced a "special military operation" against Ukraine in February this year. He was a supporter of Ukraine's claim on the territory of Crimea and Donbass. Both these areas are occupied by Russian-backed separatists and Ukrainian President Volodymyr Zelensky says that he will liberate these areas one day or the other.
Although it is also true that Turkey's support for Ukraine was not only diplomatically but it was also helping Ukraine at the military level. He unrelentingly supplies TB2 drones to Ukraine, which have proved to be a threat to the Russian military.
Will Ukraine be ready for a deal?
The BBC's Kiev correspondent Hugo Bachega writes, "Turkey tried to be a mediator. With the help of that Ukraine was able to export wheat and also helped in the exchange of prisoners between the two countries."
"Turkey is a member of NATO and has good relations with both Ukraine and Russia. But it is not only difficult but almost impossible for Ukraine to agree to a deal."
Officials say Russia will now try to stop the dispute here, at a time when the Yuken army is trying to reclaim Russian-held areas and Russia is withdrawing from places where it has been fighting for several years. Was occupied for days.
In addition, Russia is facing criticism at home, and they are also facing anti-war demonstrations amid mobilization. From there the exodus of people of the age of enlistment in the army has also been faced.
Russia has started attacking residential areas of Ukraine and civilians are the target. Several buildings have also been damaged. Ukraine says that Russia is reacting in such a way out of its defeat. Missiles have been fired continuously in many cities of Ukraine.
Last week, President Zelesky formally described the prospect of talks with Putin as "impossible". However, he has kept the doors of talks with Russia open.
With the help of weapons from the West, Ukraine has now resolved that it will take back all the occupied territories. These include areas occupied before February. And it is also getting support from the people of Ukraine.