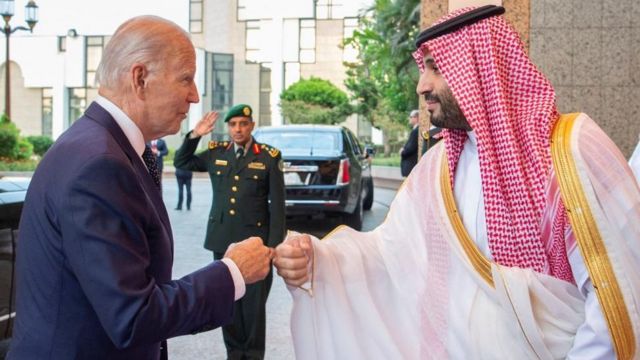 United Arab Emirates Energy Minister Suhail Al-Mazrouei said on Tuesday that the decision to cut oil production belongs to OPEC+ countries and it is a deliberate step.
According to the news agency Reuters report, the UAE's Energy Minister also said that this decision has nothing to do with politics.
Before the UAE, countries like Bahrain, Iraq and Kuwait have defended the decision to cut oil production.
Prior to these statements, the US had alleged that Saudi Arabia was pressurizing other countries for this. However, Saudi Arabia denied these allegations.
Suhail al-Mazrouei said the decision to cut oil production was taken to keep prices stable and not increase them. He says that investors were turning away due to volatility in prices.
Chronology of Changing Relationships
15 July 2022: Joe Biden said during his visit to Saudi- "Saudi has understood our needs and hope that steps will be taken towards better relations in the coming weeks."
3 October 2022: Ukrainian President Zelensky thanked Saudi Arabia for releasing 215 people from Ukraine.
5 October 2022: The OPEC Plus meeting decided that oil production would be reduced by two million barrels per day.
5 October 2022On this, the US response came like this, "It is clear that OPEC Plus is with Russia."
6 October 2022: Biden described Saudi Arabia's decision as disappointing.
9 October 2022: Russia thanked OPEC Plus for agreeing to cut supplies and fighting against "bad" US policies.
America's accusations
Opposing the decision of OPEC plus countries, the US had said recently that it would increase Russia's foreign income. He has also said that Saudi Arabia has done this for political reasons.
Saudi Arabia has also denied allegations that it is supporting Moscow in Russia's attack against Ukraine.
President Joe Biden has warned Saudi Arabia of dire consequences. The Biden administration appears to be in favor of alternatives in Congress to take steps against Saudi Arabia.
US National Security Council spokesman John Kirby said last week that more than one member of OPEC believed Saudi Arabia had pressured it to vote in favor of cutting oil production.
He said that Saudi Arabia knew that doing this would increase Russia's earnings and help it to reduce the impact of sanctions imposed due to the attack against Ukraine.
Democrat Senator Chris Murphy, a longtime critic of Saudi Arabia, has said that the US should deliver medium-range air-to-air missiles to Ukraine instead of Saudi Arabia.
At the same time, he also said that the US should remove the security of its Patriot missiles from Saudi Arabia and give it to Ukraine or NATO allies.
He said that by doing this, the relationship between America and Saudi Arabia would be able to come to a reasonable level.
Saudi Arabia's response
Saudi Arabia has denied all the allegations of America. He says that the decision of OPEC Plus countries is a purely business decision.
Saudi Arabia's Defense Minister Prince Khaled bin Salman tweeted on Sunday, "Saudi Arabia stands with Moscow in Russia's fight against Ukraine, we are shocked by these allegations."
OPEC+ countries have decided that from November they will reduce the production of 2 million barrels of oil per day. The leadership of OPEC Plus countries is in the hands of Saudi Arabia and Russia is also a part of it.
This decision has increased the pressure on the prices of crude oil. Prince Khaled bin Salman has also said that these allegations have not been made by the government of Ukraine.
He said, "OPEC plus countries have taken this decision by consensus and for purely economic reasons. Saudi Arabia has been accused of supporting Russia. Iran is also a member of OPEC, does it mean that Saudi Arabia is a member of Iran? Also standing with you?"
Saudi Arabia's Sultan Salman bin Abdulaziz Al Saud said in a speech to the Shura Council on Sunday night that his country was working hard on its energy strategy to maintain stability and balance in the global oil market.
Saudi Arabia and America Relations
The US has also said that it will review its relations with Saudi Arabia. But this has created problems for President Biden on the domestic front.
Congress elections are to be held in America and at such a time, increasing oil prices is like a diplomatic setback for President Biden.
Saudi Arabia was badly hit in the Western world after the murder of journalist Jamal Khashoggi in October 2018.
Despite this, Joe Biden visited Saudi Arabia in July. She and Crown Prince Mohammed bin Salman were also seen greeting each other in pictures.
But now the picture has changed.
US National Security Adviser Jake Sullivan made it clear on Sunday that President Biden has no plans to meet the Crown Prince at the upcoming G20 summit in Indonesia.
Is the conflict deepening over the oil issue?
President Biden may have warned Saudi Arabia of the consequences, but it is not that easy.
Saudi Arabia's supporters warn that rising tensions with the US could bring Riyadh closer to Russia and China, reports AFP news agency.
But on the other hand, some experts are skeptical that it will be easier for Saudi Arabia to do so after eight decades of partnership with the US.
Jack Sullivan said on CNN on Sunday that Biden will take diplomatic steps carefully while reviewing US-Saudi relations.
Russell Lucas, an expert on Middle East affairs at Michigan State University, says the Biden administration can at least slow down the supply of weapons to Saudi Arabia and no other supplier will be able to compensate quickly.
US dependence on oil
It is not that the distance between America and Saudi Arabia is showing for the first time. Even before this, after the attacks of September 11, 2001, there were efforts to increase the distance between the two countries.
But oil came in the way of these efforts. Many steps are being taken around the world regarding climate change, but America remains at the center of criticism on the oil front.
US officials have repeatedly said that they produce more oil than Saudi Arabia.
But the business of oil in America is in the hands of private companies and controlling their production is a more difficult task.
"It is completely wrong to say that the US can reduce the impact of OPEC Plus countries' production reduction decisions by increasing their production. We are dependent on these countries until then," says Annelie Schelin, research fellow at the Quincy Institute for Responsible Statecraft. Will continue as long as we need oil."
However, Anneli Schelin also says that Saudi Arabia is doing itself a loss in terms of oil by retreating from America's trusted source.