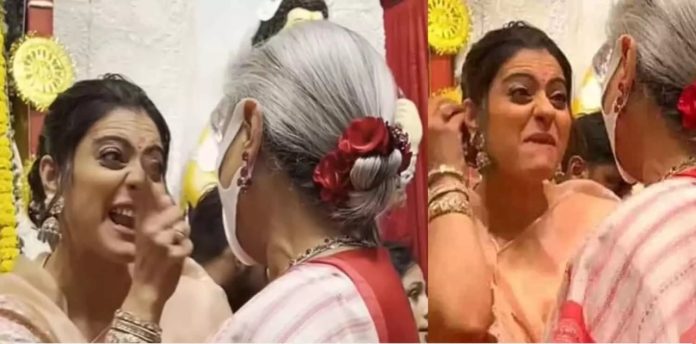 Actress Kajol is known for her tremendous style as well as her best films. The actress has done more than one film. Kajol often wins the hearts of people from her dressing sense to her childish antics. Kajol, who is always in the headlines due to her bubbly style, is rarely seen on the film screen these days, but she keeps on seeing her fans at some event, sometimes somewhere. Recently, the actress has started getting trolled on social media.
Kajol and Jaya Bachchan came to see their mother
Actually, the festival of Navratri has just ended and during these holy festivals people were reaching to see the mother. Along with the general public, big celebrities were gathering for the darshan. During this, Kajol and Jaya Bachchan also came to see the mother. Then Kajol talked to Jaya Bachchan in such a way that she has started getting trolled on social media.
Kajol and her family organized Durga Puja
Like every year Bollywood actress Kajol and her family organized Durga Puja in which many celebs like Ranbir Kapoor, Rani Mukerji, Mouni Roy were seen. Recently, a video of Kajol and Jaya Bachchan talking about is becoming increasingly viral on social media. After seeing this, people's anger has erupted towards the actress. It can be seen in this video that Jaya Bachchan is wearing a mask due to the corona epidemic.
Also Read – Shweta Tiwari showed tremendous style at the age of 41, the simplicity of the actress made her intoxicated
Actress trolled on social media
At the same time, seeing this, Kajol tells Jaya that 'the mask will have to be removed'. Fans are not stopping laughing after seeing Kajol's expression in the video. Also, people are commenting a lot on this video and giving their different reactions. Seeing the video, many fans are trolling Kajol for talking badly to Jaya Bachchan. Although the actress organizes Durga Puja every year on Navratri. All the celebs also participate in this puja.