Hasin Jahan misbehaved in train: A case of misbehavior with the wife of Indian team's best fast bowler Mohammed Shami has come to the fore. After which his wife Haseen Jahan has once again become a part of the headlines. Wife Hasin Jahan has accused the train ticket checking staff of misbehaving. According to the information, Haseen was going from Katihar to Kolkata. During this, this matter has come up with him.
Had to take help of railways
According to Hasin Jahan, when he was treated badly, he informed the Railways about this, after which he was brought to Kolkata amid security. Hasin Jahan has given information about this entire matter through her social media account.
Haseen Jahan writes – I had gone to Bihar for a relative's wedding. Where there was no flight facility. Jogbani was going back to Kolkata by train. I had the top 6 number seat. The number seven seat was vacant. There were other passengers too. A passenger told me that you should sleep in the number 7 seat. I went to that seat and fell asleep.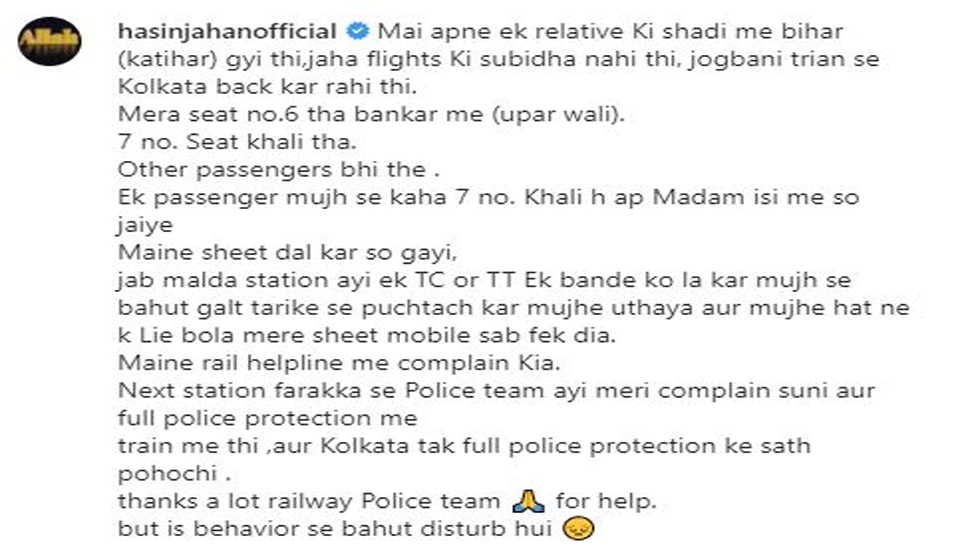 Hasin Jahan said that when I came to Malda station, TC or TT questioned me very wrongly about a fellow and asked me to get up. All my sheets and mobile were thrown. I complained on the rail helpline. The police team came to the next station and I was taken to Kolkata with protection. Thanks to the Railway Police team for helping.
Police said this thing
According to a media report, Chief Public Relations Officer Eklavya Chakraborty told that no official complaint has been registered with the Railways in this matter so far. However, he has assured to take appropriate action in view of the matter. Let us tell you that Haseen Jahan is living separately from Mohammed Shami. He had accused Shami of domestic violence.