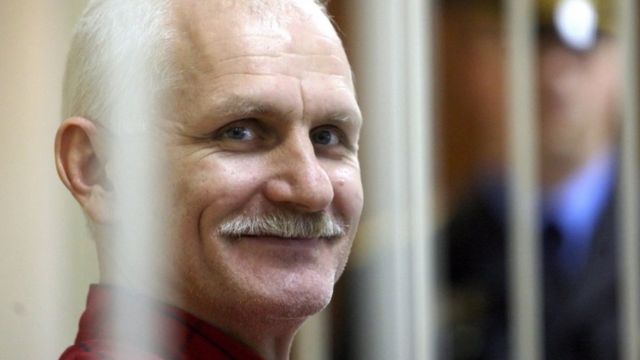 The Nobel Peace Prizes for the year 2022 have been announced.
This year the award has been jointly announced to be given to Belarusian human rights activist Ales Bilyatsky, Russia's human rights organization 'Memorial' and Ukraine's human rights organization 'Civil Liberties'.
With the announcement of the Nobel Peace Prize, the Nobel Prize Committee said in its statement, "Peace Prize recipients and institutions represent civil society in their respective countries. Worked for protection.
"They have done a great job documenting cases of war crimes and abuse of power. They show the importance of civil society for peace and democracy," the committee said.
Belarus has criticized the award of the Nobel Prize to Bialiatsky. One of the Ministry of Foreign Affairs of Belarus Spokesman In a post on social media, wrote that the founders of this esteemed award must be getting restless with this decision today.
The Ukrainian President's Chief of Staff welcomed the announcement of the Center for Civil Liberties award and wrote on social media that Ukrainian citizens have been the "chief architects of peace".
A Nobel Diploma which is a unique art work.
a Nobel medal,There are different designs.
cash prize , 10 million Swedish krona i.e. 9,11,000 dollars.
If there is more than one winner in the same category IThe amount of the name is divided.
The awards are given on 10 December, the day Alfred Nobel died.
Born on 25 September 1962 in Karelia, Russia, Ales Bilyatsky is actually of Belarusian origin.
His parents were from Belarus, but moved to Russia in search of a good job. His family returned to Belarus in 1964 and settled in Svetlahorsk. Bialiatsky's studies took place in Belarus itself.
In 1984, he was called to serve in the army in the Sverdolovsk region of Russia, where he served in the Anti-Tank Battalion. After working for some time in the army, he continued his further studies.
Since the mid-1980s, Bialiatsky has been campaigning nonviolently for democratic freedom and the importance of civil society in Belarus.
He has been an active member of national level human rights campaigns, due to which he was arrested several times. In the year 2011, Poland and Lithuania handed him a list of citizens of Belarus whose accounts are in their banks. After this Bialiatsky was arrested, he was sentenced to 4 years and 5 months.
According to the United Nations Human Rights Organization, Bialiatsky is a political prisoner who was arrested on 14 July 2021. He was accused of tax evasion.
In July 2022, the court dismissed the criminal tax evasion charges against him, but he was not released from custody as he was also accused of illegal cross-border smuggling.
In the year 2020, there were massive protests in the country regarding rigging of elections. The protesters alleged that the elections were rigged to keep Lukashenko in power. After this Bialiatsky was taken into custody.
In 1996, together with some other people, Bialiatsky founded a human rights organization named Viasna. The organization is headquartered in Minsk and has branches in many cities of Belarus. The purpose of this organization is to develop civil society in the country, to improve the human rights situation and to help Belarus follow the international human rights agreements agreed upon.
Belarus is called 'the last dictatorship of Europe'. According to Right Livelihood, allegations of election rigging, suppression of opposition voices and imposing restrictions on civil society were made during President Alexander Lukashenko's era. Lukashenko is considered close to Russian President Vladimir Putin.
He has written books like 'Literature Ant Nation' and 'Jogging Along Lake Geneva Shore'.
Ales Bialiatsky had previously been nominated for the Nobel Peace Prize twice, in 2006 and 2007.
Russia's human rights organization 'Memorial'
Memorial is one of the oldest civil rights organizations in Russia. A year after its closure, it was awarded the Nobel Peace Prize.
When it was closed in December 2021, it was criticized internationally.
Memorial was one of the organizations that wrote reports about the crimes committed during Stalin's regime and the deaths of people in the Gulag labor camps. However, the officials alleged that the organization has contemplated government orders.
Officials said that the organization did not put a "foreign agent" disclaimer in some of the posts on social media, which was a legal obligation for it.
The organization had been bringing up stories of victims during the Soviet era of political repression for nearly three decades. Authorities warned it in 2006 and 2014 and included it in the list of "foreign agents" accused of receiving money from abroad.
In 1987, when Mikhail Gorbachoff's Perestroika was implementing reform programs on a large scale in the country, a scientist named Andrey Sakharoff established the memorial.
The aim of him and his colleagues in this work was to bring out a true picture of the repression during the era of Joseph Stalin, who was the leader of the Soviet Union from 1929 to 1953.
In the year 1990, a team from Memorial visited labor camps set up in the Gulag during that time where thousands of people were forced into labor. From there he brought a stone (Solovetsky Stone) to commemorate the incident which was kept in the Lubyanka Square in Moscow. He said that this stone will remind people of the painful history of Russia.
In recent months, this organization has been engaged in the work of investigating cases of human rights abuses in Russia. For this, in 1991, the organization separately established an organization named Center for Human Rights. This organization started working to provide legal help to political prisoners and their families in the country.
Ukraine's human rights organization 'Center for Civil Liberties'
The organization Center for Civil Liberties came into existence on 30 May 2007. This organization was formed by human rights activists from nine countries that had separated from Soviet Russia. The headquarters of this organization is in Kiev.
This organization works for the protection of human rights, republic and brotherhood in Ukraine and Eurasia.
The head of the organization, Alexandra Matviychuk, said in a Facebook post that voices for human rights were not heard from our area.
He said that Russia should be thrown out of the Security Council for repeatedly violating the UN Charter. At the same time, the United Nations and other countries need to provide justice to the victims of war crimes.
This organization has been investigating cases of political repression in the Donbass and Crimea. Crimea used to be part of Ukraine, it was occupied by Russia.
The organization began documenting Russian war crimes during the Russo-Ukraine War in recent months.