Washington : Finance Minister Ishaq Dar in the Government of Pakistan is currently in the US. When he reached here, a person started abusing him at the airport of the capital Washington. Now the video of this incident is going viral on social media in which a man can be seen abusing and abusing the Pakistan Finance Minister. This is the second such incident with the second minister of Shahbaz Sharif's cabinet in recent times. Earlier, Pakistan's Information Minister Maryam Aurangzeb was surrounded by some Pakistani citizens in London and was fiercely scolded. Ishaq Dar has arrived in the US to attend the annual meetings of the IMF and the World Bank.

It can be seen in the video that when Ishaq Dar reached Washington airport, a man started walking towards him calling him a 'liar' and a 'thief'. Dar also replied to this and on the contrary started calling the person a 'liar'. When the man called him a 'chor', a person accompanying the minister got enraged and started abusing him. Earlier, Maryam Aurangzeb was surrounded by Imran supporters in a London coffee shop and shouted 'chorni-chorni' slogans.

Blackout in Pakistan: Blackout in Pakistan, power failure in many cities including Karachi-Lahore, people in darkness
Supporters of Imran and Shahbaz face to face
According to Pakistani news website Geo News, it is currently not clear what was the political leanings of the man who misbehaved with Dar. Shahbaz Sharif ousted Imran Khan from power by bringing a no-confidence motion in April. Since then, supporters of PTI (Imran's party) and PML-N (Shahbaz Sharif's party) are face to face in many countries. There have been many clashes between the supporters of both the parties abroad. Sharing the video of the Pakistani minister's trouble on Twitter, people are writing that 'Imran Khan has fulfilled the dream of many Indians.'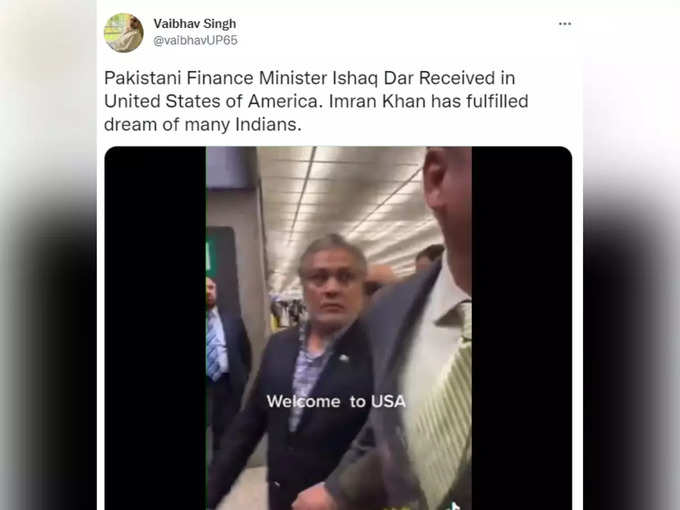 Chor-chor slogans against Shahbaz Sharif
Not only the minister of Pakistan, Prime Minister Shahbaz Sharif himself has had to face such a situation on foreign soil. When he reached Saudi Arabia for the first time after becoming the Prime Minister, people shouted slogans against him. Shahbaz had reached the Masjid-e-Nawabi in Medina where the crowd started shouting 'chor-chor'. Some people were also arrested in the case.