Efrem Gabrib & Thomas Nadi & Ranga Cyrilal & Becky Dale
bbc news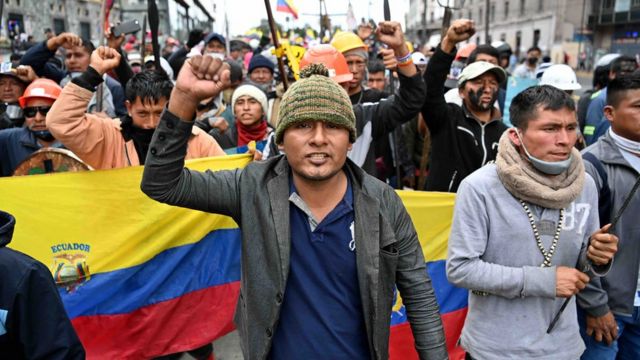 Due to rising inflation, life has been affected all over the world. People from many countries have taken to the streets to protest the skyrocketing prices of food, fuel and other essentials.
Rising fuel prices affect our everyday life in many ways. From freight to private transport, fuel prices leave their impact. Because of these, the cost of food, electricity bill and the cost of keeping the house cold and warm increases.
Protesters around the world are calling for change. People want petrol prices to come down. In many countries there have been peaceful demonstrations and in many places the government has also been attacked. In many places people have also paid a big price for this.
16-year-old Khadija Bah was standing at the door of her house when suddenly a bullet hit her.
Khadija had been gazing at a furious crowd just a few meters away from her house for several days. These people were protesting against the rising fuel prices.
But on August 10, this ongoing demonstration in a small African country, Sierra Leone, turned violent. During the clash between the police and the protesters, a bullet suddenly hit Khadija. She fell down and took her last breath.
Khadija's mother, Maria Sesse, says that she still does not believe in her daughter's death. Khadija wanted to become a nurse when she grew up.
Maria says, "I am very sad. I raised my daughter with great difficulty. Now I have lost her. These are very painful situations for me."
Such demonstrations and violence are not common in Sierra Leone.
But in August this year, 25 people died there, of whom five were police officers. All of them died during a clash between protesters and police in the country's capital, Freetown.
Rising prices of petrol and diesel not only affect the transport, but due to this the transportation of goods becomes expensive and the prices of food items also increase.
Fuel prices in Sierra Leone have doubled since March. Because of this, the prices of food items are increasing wildly.
In the country facing inflation, in July this year, the central bank tried to instill people's confidence in the economy by issuing new notes.
In the end, the government had to impose a curfew in the entire city to stop the violent demonstrations. Also internet services had to be limited.
Sierra Leone's President Julius Mada Boyo later said the demonstrations were in fact to remove him from power. But the protesters told the BBC that this was not the case at all and they took to the streets against inflation.
But it is not only Sierra Leone that is facing this impact of inflation. Similar conflicts are going on in many other places in the world.
Global crisis of petrol
The Armed Conflict Location and Event Data Project (Eclade) collects data on protests around the world. By analyzing this data, the BBC has found that between January and September this year, there have been demonstrations on the prices of food and fuel in more than 90 countries.
In a third of these countries, there were no demonstrations on the issue of fuel in the year 2021. For example, there were no demonstrations in Spain in 2021, but this year there have been 335 demonstrations in March alone.
Your device may not support this visualization
In the last nine months, there have been demonstrations somewhere in every continent of the world.
So far this year there have been 400 demonstrations against the hike in petrol prices in Indonesia. There have been 200 demonstrations in Italy in the first eight months of this year. In comparison, there were only two performances last year. There have been more than a thousand demonstrations in Ecuador this year in June alone.
Henry Wilkinson is the Chief Intelligence Officer at Dragonfly. This company works in the field of security and intelligence. According to him, the places of protest are surprising.
Wilkinson told the BBC: "We're seeing protests this time in places that didn't happen before. Ukraine's war has had huge side effects. If that war ends, the global crisis will be largely resolved." "
Are petrol prices rising only because of Ukraine?
No. There are three main reasons for the increase in the price of petrol in the world.
crude oil (crude oil), Crude oil was cheap at the start of the Kovid crisis as many businesses closed temporarily and energy demand had plummeted. But as soon as life became normal, the demand for energy increased, so the prices started running upwards.
U.S. Dollar, Currently, the US dollar, the British pound, is at its top level against the euro (currency of European countries), yuan (currency of China) and yen (currency of Japan). The crude oil from which petrol is made is paid in US dollars. If the local currency depreciates against the dollar, obviously fuel prices will also increase.
Ukraine-Russia War, Due to this war, many countries have banned the import of Russian oil. So the prices for other producing countries have gone up.
from economic to political instability
Of the 91 countries that saw volatility between fuel prices, Sri Lanka made a lot of headlines. Thousands of protesters entered the President's residence. President Gotabaya Rajapaksa had to leave his post after heavy protests.
With the highest inflation rate in the entire Asian continent, Sri Lanka is now seeing skyrocketing prices of everything from fuel to medicine and food.
Vimala Disanayake runs a vegetable shop in a suburb of Colombo. She tells that her family is barely able to survive now.
He said, "The price of everything is rising by tearing the roof. The price of everything has increased but the income has not increased."
"I have three children. Inflation has increased so much that now the school rent for each child is Rs.100. So, in total, Rs.600 goes into rent every day."
Vimla says that now she does not have enough money to get petrol in her small lorry. She is now able to bring her goods from the vegetable market only by public transport.
"The prices have gone up so much that my customers don't want to spend anything. People who used to buy a kilo of vegetables now ask for 100 grams and 200 grams. And people who used to travel in cars now come here on foot."
no end of inflation
Governments around the world are trying to find a solution to the economic crisis of their country. Meanwhile, demonstrations are also taking place. Many people have to pay the price for this.
Research by the BBC has shown that in just the last nine months, more than 80 people have lost their lives due to the protests. The people who died are from countries such as Argentina, Ecuador, Guinea, Haiti, Kazakhstan, Panama, Peru, South Africa and Sierra Leone.
On the other hand, the streets are quiet in Sierra Leone's Freetown. Most of the shops have opened. Things seem to be getting back to normal.
But life will never be the same for Khadija's mother and father.
She says, "My daughter was very promising. Now she is not."