Moscow
Superpower Russia stunned the whole world on Saturday by practicing rain of super-destructive missiles from land, air and sea amid the ongoing tension in Ukraine. Russian missiles included conventional missiles as well as two hypersonic missiles, which no country in the world has yet to break. These Russian missiles are capable of dropping nuclear bombs in any corner of the world, so that any city can be turned into a pile of ash in an instant.
The country's President Vladimir Putin and Belarusian dictator Lukashenko were also present in the Kremlin during this nuclear power demonstration of Russia. At the beginning of this exercise, Russia fired missiles from a Russian base located in the northwestern region of the country. A few seconds later, another missile was launched with the help of a submarine in the Barents Sea. Both these missiles hit their target located thousands of kilometers away. These missiles did not have explosives so there was no casualty.


Putin Nuclear Briefcase: This briefcase runs like a shadow with Putin, can destroy the whole world
Know which missiles Russia tested
The missiles that Russia tested include Yars mobile intercontinental missile, Sineva (sea-launched ballistic missile), Tu-95 bomber-assisted air-launched cruise missile, Caliber (submarine-launched cruise missile) , Iskander surface-launched cruise missiles. Apart from this, Russia also gave a strong message to the world by testing its hypersonic missiles Kinjal and Zircon called Brahmastra. While Kinjal was fired from a MiG 31 fighter jet, Zircon was fired from a warship.
The Russian Defense Ministry has released the video of the test of these missiles. In a video, Russian General Valery Gerasimov is seen telling Putin, "The main objective of this exercise is to train the Strategic Offensive Force so that the defeat of the enemy can be guaranteed by all means." The Russian presidential office said warships and submarines in the North and Black Seas targeted sea and land targets with Caliber cruise missiles and Zircon hypersonic missiles.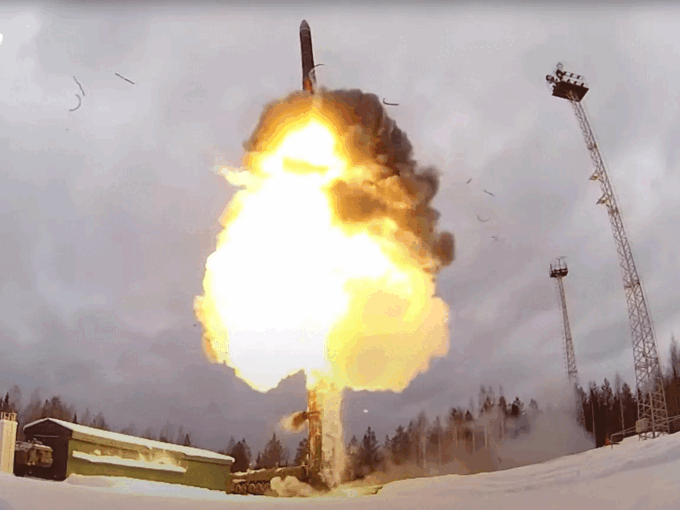 MiG-31 planes fired Kinjal hypersonic missile
In addition, Russian troops fired Iskander ground-based cruise missiles from the Kapustin Yar test site in southern Russia. The Russian Defense Ministry released a video showing how MiG-31 aircraft hit ground targets with the Kinzhal hypersonic missile. The RS-24 Yars Thermonuclear Intercontinental Ballistic Missile was also seen during the test. The Russian presidential office said all missiles were successful in hitting their targets.
Zircon is not broken by any country
According to Russia's Defense Ministry, the Zircon missile is capable of attacking at 7 times the speed of sound, or Mach 7. Russia plans to equip its army with hypersonic missiles. Russian President Vladimir Putin said in the year 2018 that this missile can strike any part of the world and can also dodge US-made defense systems. It is believed that this missile has the power to destroy its enemy up to 1000 km.

Know how dangerous Iskander missile is
Russia's Iskander missile system consists of short-range ballistic missiles. It was commissioned into the Russian Army in 2006. The system is currently commissioned in the Russian Army, the Armenian Army and the Algerian Army. This missile can carry nuclear and non-nuclear warheads from 480 to 700 kg. Its missiles can fly at a speed of Mach 5.9.