Astana (Kazakhstan), ANI: Russian President Vladimir Putin addressed the ongoing 6th CICA summit in Kazakhstan on Thursday. During this, he described Afghanistan as one of the biggest security challenges in Asia. Putin called for normalization in Afghanistan by using the resources of the Shanghai Cooperation Organization and its regional counter-terrorism bodies.
Targeting America on Afghanistan
Putin has invited all Asian countries to join the International Counter-Terrorist Data Bank, according to official statements. During the summit, Putin also targeted America fiercely. He took a dig at the withdrawal of US forces from Afghanistan and the Taliban's capture of the country's power. He said that even after 20 years of US and NATO presence in Afghanistan, the country is still unable to deal with the terrorist threat independently. Explosions are still happening here. Putin called the US and NATO presence in Afghanistan a failed policy.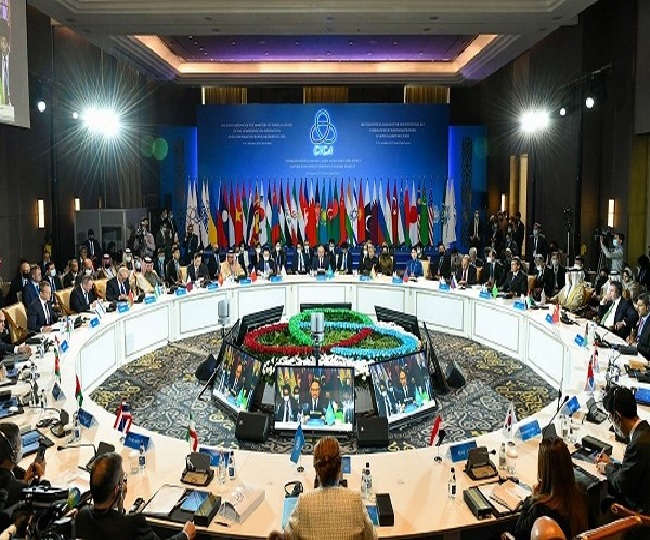 Also read: Ukraine's discussion in the United Nations and Pakistan's Kashmir rage, Lekhi also gave advice in Sika's meeting
Russian countries, drivers of economic development
Putin said that Russia was a founding country of the CICA Business Council. He said that Russia is working hard with other Asian countries to create a system of equal and indivisible security based on the universally recognized principles of international law and the United Nations Charter. During the summit, Putin described Russian countries as the drivers of economic development. They also called for creating an open trade and investment cooperation space for the development and prosperity of Asia, and for broadening and deepening cooperation ties in various economic fields.
Also read: Russia warned, said – if Ukraine joins NATO, there will be a world war, missiles rained on 40 cities
Edited By: Amit Singh