Wedding season is going on in Bollywood these days. After Vicky-Katrina, Alia-Ranbir and Richa-Ali, now the news has come that Rakul Preet Singh is also going to take seven rounds with her boyfriend and actor-producer Jackky Bhagnani. It was also said that the two would get married in 2023. But in the meantime, Rakul Preet Singh herself has tweeted and called these reports a rumour.
A source was quoted in media reports as saying that Rakul Preet Singh and Jackky Bhagnani will get married in 2023 and it is confirmed. Also that both of them love each other very much and both believe in marriage. But in the meantime, Rakul Preet wrote in a funny tone on Twitter that she does not know anything about this news related to her life.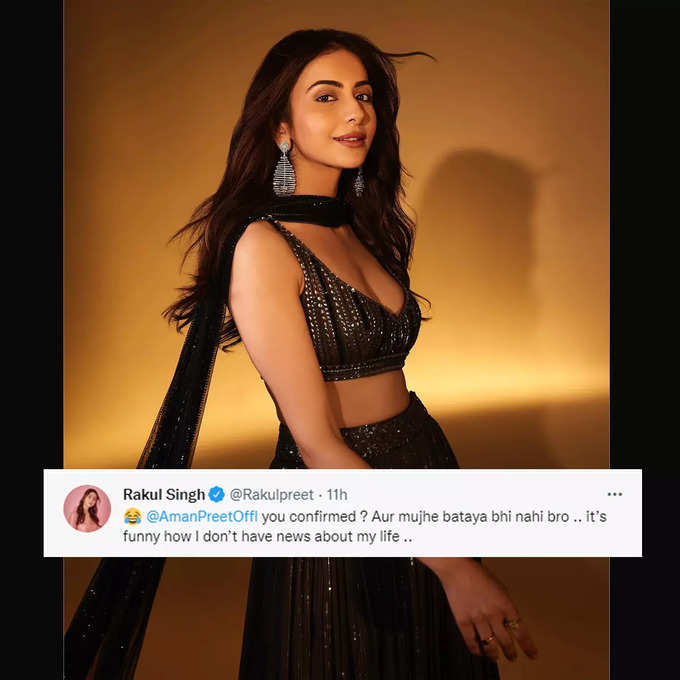 Tagging her brother Aman on Twitter, Rakul Preet wrote, 'Aman, have you confirmed? And didn't even tell me bro… how funny it is that I don't know about my life.'
Grand celebration was also said
It is worth noting that earlier reports said that nothing is confirmed about the date or month of marriage from both the families. But the families of both Rakul Preet Singh and Jackky Bhagnani have started preparations for the wedding. The report further states that Jackky Bhagnani's father Vasu Bhagnani is a well-known producer of the industry, so he is making special preparations to make this marriage grand.
Rakul Preet's brother Aman said this on marriage
Rakul Preet's brother Aman was also discussed in the reports. Aman said on this, 'Rakul has worked together in some projects of Jackky Bhagnani. Surely you have to get married. But no firm decision has been taken in this regard yet. When Rakul herself decides this, she will definitely share her happiness with the fans and the world. Marriage is the climax of any relationship. Jackky Bhagnani is one of the top producers of Indian cinema and has many projects in his mind right now. The truth is that both are very busy right now. They have their own goals.

Confirmed dating in 2021
Well, last year in October 2021, for the first time, Rakul Preet Singh expressed her love for Jackie on Instagram. Rakul showed a lot of love for Jackie by writing a photo and thank you note on her birthday.

Rakul celebrates birthday with Jackie
Rakul Preet Singh and Jackky Bhagnani have since been seen together in many public places. Recently, on October 10, Rakul Preet has celebrated her birthday. Jackie is also seen with him in the pictures of this celebration. In such a situation, it is also expected that Rakul will share the news of marriage first.