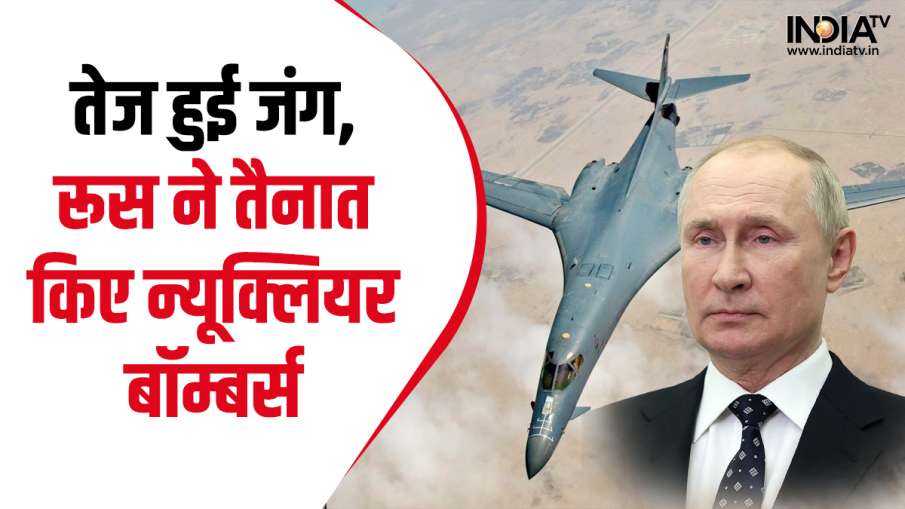 Highlights
Tu-160 jet heaviest warplane
Frustrated Russia may rain bombs on the border
Russia threatens world war
Russia Ukraine War News: The war between Russia and Ukraine has now intensified. Media reports suggest that Russia now wants to take some 'big' action. That's why Russian President Vladimir Putin has deployed 11 nuclear bombers just 20 miles from the NATO border. Russia has become more furious after the blast on the Crimean bridge in the past. He intensified attacks on Ukraine. After the blast on the Crimea Bridge, Putin even threatened World War III.
The war between Ukraine and Russia, which started on 24 February, does not seem to be reaching a turning point. According to media reports, the report released by American satellite operator Planet Labs said that the deployment of Russian TU-160 and TU-95 strategic nuclear bombers has increased less than 20 miles from the Norwegian border. It is being told that these 11 nuclear bombers are capable of carrying nuclear weapons. According to the report, these pictures were taken on October 7. Satellite images show 7 Tu-160 bombers and 4 Tu-95 aircraft at the Russian airbase Olenya on the Kolsky Peninsula. Whereas 2 days later in a photo one of the Tu-160 bombers appeared ready to take off on the runway.
Tu-160 jet heaviest warplane
The Tu-160 jet is the largest and heaviest warplane ever built, capable of flying 7,500 miles non-stop. These bombers can carry 12 short-range nuclear missiles. Russia's Air Force also has some of the largest aircraft capable of carrying cruise missiles and massive nuclear warheads.
After the explosion of the Crimea bridge, the bomb may rain on the Russian border
Defense sources believe that Putin may bomb the border to send a big message to the West. Because after the explosion of the Crimea bridge, Putin has warned many times that he will give a befitting reply to Kyiv for this terror act. Russia has fired more than 100 missiles at Ukrainian cities after the attack on the Crimea Bridge.
Russia threatens third world war
Ukraine is trying to join NATO amid Russian attacks. In such a situation, Russia has reacted strongly to Ukraine's joining NATO. Russian Security Council deputy secretary Alexander Venediktov said Ukraine knew that if it joined NATO, it would turn the war into a third world war. Alexander Venediktov, who is said to be close to Putin, said that even NATO members themselves understand the consequences of taking such a step.
Latest World News