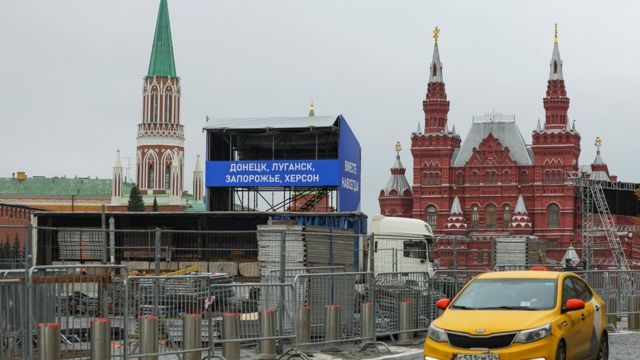 Russian President Vladimir Putin will formally merge four regions of Ukraine with his country during a signing ceremony on Friday. The decision was taken after the results of Russia's first-of-its-kind referendum in these four regions.
Countries in the West, including Ukraine, are calling this referendum a 'sham' and calling it an excuse to grab Ukraine's land.
Russian-backed officials earlier claimed that the five-day referendum had received massive public support.
The so-called polls on the referendum were held in Luhansk, Donetsk in the east and in Zaporizhzhya, Kherson in the south.
During the signing ceremony on Friday, the Russian President will give an important speech in the Kremlin.
A stage has been set up in Moscow's Red Square. On the hoardings around there, these four areas of Ukraine have been described as part of Russia. There is also a plan to organize a concert here in the evening.
It is reminiscent of Russia's annexation of Crimea in 2014, a no-confidence referendum announced by the Kremlin and then President Putin's winning speech in parliament.
Russia formally annexed Crimea on March 18, 2014. That occupation of Crimea never gained acceptance from the larger international community.
What will happen on Friday?
Ukrainian President Volodymyr Zelensky said "pseudo-referendums" are useless and cannot change the truth. "The territorial integrity of Ukraine will be re-established and our reaction to the recognition of the results of the Russian referendum will be very strong," he said.
There has been no independent monitoring of the four regions where Russia has held the referendum, and photographs that have surfaced show armed soldiers with election officials going from house to house.
"All those areas will be annexed to Russia during a signing ceremony in St. George's Hall of the Grand Kremlin Palace on Friday at 12:00 GMT (5:00 PM IST)," spokesman Dmitry Peskov said.
During this, two Russian-backed separatist leaders from Ukraine's eastern region and two Russian-appointed officials from the south will sign two agreements.
As in the case of Crimea, the annexation will be officially ratified next week in both houses of the Russian parliament. Russian President Vladimir Putin is expected to address the upper house of parliament on October 4, three days before his 70th birthday.
US, EU will take action
The United States will impose new sanctions on Russia for holding referendums in four regions of Ukraine, while members of the European Union are also planning to take new action, which will also include imposing sanctions on anyone who has taken part in the vote there.
Germany's Foreign Minister Annalena Bierbock said on Thursday that people from Ukraine's occupied territories were intimidated from their homes and offices and some were brought at gunpoint for this referendum. "It is against free and fair elections. And it is also against peace. This is a dictatorial peace," she says.
The referendum was started in 15 percent of Ukraine's areas on Friday with only a few days' notice. Russian state media argued that the armed forces were used for security purposes, but it was clear that it served to intimidate residents.
A woman in Inerhodar told the BBC, "You have to give the answer verbally and the soldiers keep marking it on the paper."
It does not have complete control over the four areas that Russia has decided to occupy. While most of Luhansk is in the hands of Russia, it has only 60 percent of Donetsk.
Seven months after the Russian army attacked Ukraine, the war in all areas from north to east and south is going on more or less in the border areas. The capital of the southern region of Zaporizhzhya is completely under the control of the Ukrainian government, while retaliation is going on from the Ukrainian side in Kherson.
Although Russian-appointed officials have been talking about annexation for the past several months, it seems that many of the successes that Ukraine had achieved in the month of September have so far tied the Kremlin's hand in declaring the occupation.
Ukraine's military has recaptured a large belt in the northeast and said on Thursday that Ukrainian forces had surrounded Russian forces in Leyman, a key city in the strategically important Donetsk.
Russian citizens leaving the country
Last week Vladimir Putin announced the use of all weapons, including nuclear weapons, in a war with Ukraine to protect (as he believes) Russian territory. By including the Ukrainian occupied territories in his country, he will be able to start the debate that Western weapons are being attacked along the Russian border. They will do so in the hope that some countries can stop military aid to Kiev.
However, Ukraine's foreign minister has warned that invalid voting in those four areas will have no effect on the battlefield.
Putin has also admitted that he made a mistake in sending thousands of soldiers to the border. About 2,400 demonstrators have been arrested in protests in dozens of Russian cities regarding this war, and a large number of people were seen leaving the country on Russia's borders.
Kazakhstan alone has reported the arrival of 98,000 Russians and long lines of people have formed along the border with Georgia. Finland has announced that from Friday it will ban tourists from Russia or those Russians who want to travel through their country to the European country.