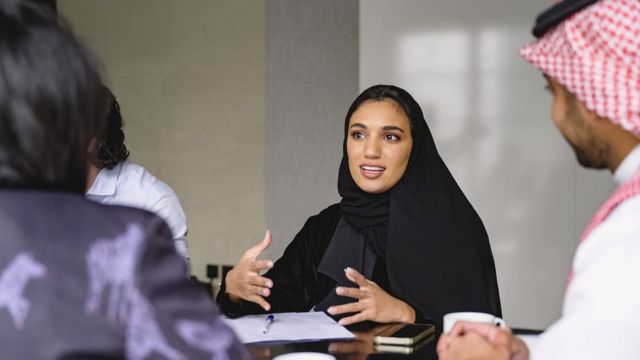 Saudi Arabia has decided to employ 40 percent of the local people in the country's consultancy business.
Saudi Arabia's Ministry of Human Resources and Social Affairs has decided on Tuesday to increase it to 35 percent by 6 April 2023 next year and 40 percent by 25 March 2024 next year.
This decision is expected to have an impact on many sectors. Especially it has been estimated to have a direct impact on areas like Finance Consultant Expert, Business Advisory Expert, Cyber ​​Security Consultant Expert, Project Management Manager, Project Management Engineer, Project Management Specialist.
Where on the one hand it is expected to increase opportunities for local people in government jobs. At the same time, it will not have immediate benefits in the eyes of the experts.
Finance Minister Muhammad al-Jadaan issued a ministerial decision to amend the terms of consultancy services to ensure 40 percent jobs in consultancy companies to local people.
Saudi companies have been under pressure for a long time to hire Saudi citizens instead of foreign workers.
unemployment in saudi arabia
Saudi Arabia's Crown Prince and Prime Minister Mohammed bin Salman, who has been making significant changes in the country's economy during the last few years, has set a target of reducing the unemployment rate to seven percent by 2030 on his agenda.
Salman wants to accelerate economic growth and create new jobs for his citizens. A large number of jobs to the local people are also part of this.
The unemployment rate in Saudi Arabia was 12.8% in 2017. According to the new data released on the website of the Ministry of Statistics last month, this rate has come down to 9.7% at this time.
Saudi Arabia: Foreign in job
Saudi Arabia ranks fourth in the world after the US, Russia and Germany in terms of employing foreigners.
More than 70 lakh migrants work here in the private sector.
Domestic workers (domestic workers) work in 68% of the households in Saudi Arabia.
In 2017, visas for domestic workers were increased by 14%.
More than one million domestic workers work in Saudi Arabia.
Saudis do not like to work in these fields
Four years ago in Saudi Arabia, more pressure was started to keep workers of Saudi origin in different sectors. Then there was some impact on the jobs of foreign workers working in the field of salesmen, bakery, furniture and electronics.
Before that, in the jewelery sector also, people of Saudi Arabia were asked to replace foreigners. Then there was a lot of upheaval in this sector as well.
Let us tell you here that the workers of India and the Philippines in Saudi Arabia have been doing such things which the people of Saudi do not like to do.
According to a report by Wall Street General, the workers behind kitchen, construction and store counters are Indians or the Philippines. Saudi people do not like to do this work.
The Arab News says that Saudis want shorter working hours and at the same time do not want to work in shifts. According to this report, Saudi people ask for twice the salary than trained workers from abroad.
Indians in West Asia
The largest migrant group of Indian origin lives in West Asian countries.
According to the figures of 2019 before the corona epidemic, as of 2019, 1.75 crore Indians were living abroad as migrants. Then they accounted for 6.4 percent of the world's migrants, which is the largest share of any country.
Of these, the largest share of Indian diaspora is in six countries of West Asia.
According to the 2019 figures, the largest number of Indian expatriates are in the UAE. After this comes the place of America, Saudi Arabia, Oman.
According to the figures from 1990 to 2019, about 12 to 13 percent of the total expatriates of India live in Saudi Arabia.
Therefore, this decision of the Saudi Arabian government is believed to have some effect on the Indian expatriates.
Accountants, teachers, doctors and engineers were brought under its purview after the second phase of Saudization was implemented earlier this year.
According to a report by the Indian Ministry of External Affairs, there were more than 2.5 million Indians living in Saudi Arabia, but since the implementation of the Saudiization plan in 2011, a large number of Indians have been returning from there.
Indians returning from Saudi
Recently, information about the return of Indians from West Asian countries including Saudi Arabia was given in the Lok Sabha.
It was told that about 4 lakh 15 thousand people had returned from Saudi Arabia, Kuwait, Oman, Qatar, Bahrain and Jordan during this period.
In the Lok Sabha, Minister of State for External Affairs V Muraleedharan had told that a large number of Indians have returned from West Asian countries between June 2020 and December 2021. These include 1,18,064 people who returned from Saudi Arabia.
However, the Government of India also told in the past that 141,172 Indians have also gone to work in six West Asian countries including Saudi Arabia during this period.
What is the impact of Saudization?
While the Saudi government has a goal of controlling the rising unemployment in the country through the policy of Saudization, in the eyes of experts, it will not have a far-reaching effect on reducing unemployment.
Koren Yung, a scholar at the Arab Gulf States Institute in Washington, told The Arab News, "It is not easy for the Saudi labor force to shift to the current structure of the service sector. It could take more than ten years. It is a matter of cultural shifting. It is not easy for Saudis to work in the service, retail and construction sectors."
At the same time, columnist Mohammed Baswani in Saudi Gazette newspaper wrote, "Companies say Saudi people are lazy and they do not want to work. We need to change the concept by first making Saudi people able to work." Saudization is a bogus policy that needs to end."
The state of the world economy and Saudi Arabia
The International Monetary Fund has downgraded the forecast for the world economy for 2023. Things like the Ukraine war started by Russia, inflationary pressures, interest rates and the impact of the Corona epidemic on the whole world have been cited as the reason.
On this Tuesday, the IMF in its forecast has predicted a further decline in the growth rate of the global economy next year. Next year it is forecast to be 2.7 percent. Three months ago in July, the IMF had forecast it to be 2.9%.
Its forecast for this year remains at 3.2%.
The report said that persistent market vulnerabilities, lack of liquidity, inflation and the efforts of central banks of various countries around the world to increase interest rates to fight them, make the situation of the global economy very volatile and risky. Huh.
At the same time, the International Monetary Fund has lowered Saudi Arabia's annual global output forecast for the fourth quarter of 2022 from 4.5 percent in July to 2.4 percent in October compared to last year.
However, this estimate for 2023 remains unchanged at 3.7 percent.
Whereas the International Monetary Fund has not changed its forecast figure for Saudi Arabia's production in 2022 and it remains at 7.6 percent. At the same time, it was estimated to be 3.7 percent next year, in which no changes have been made yet.
The GDP of the Kingdom is estimated to increase by 2.4 percent in 2023, then it has been estimated to increase in the next year i.e. 2024. The IMF has estimated this at 3.8%.
(Copy – Abhijeet Srivastava)