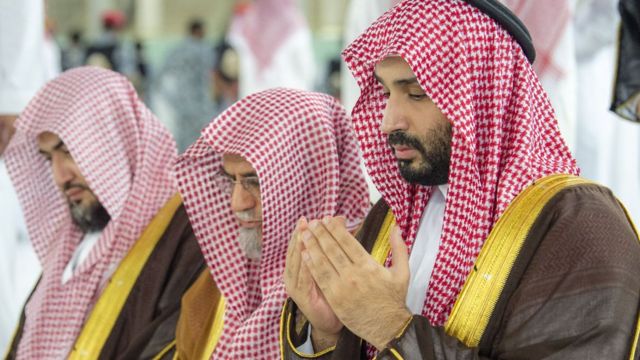 Threatening video of a relative of Saudi Crown Prince goes viral
US and Saudi Arabia's 80-year partnership in danger
Biden is angry with the decision of the Saudi-led OPEC Plus countries
Saudi Crown Prince refuses to bow down
Talk of the Republican Party in America benefiting from Saudi's stand
Bernie Sanders calls for strict action against Saudi
A video of Saud Al-Shalan, cousin of Saudi Arabia's Crown Prince Mohammed bin Salman, is going viral.
In this video, Saud al-Shalan is making violent threats against Western countries. In recent days, the United States has expressed strong displeasure over the decision of the Saudi Arabia-led Organization of Oil Producing Countries OPEC Plus to cut oil.
It is being said within America that Saudi Arabia should not forgive this time and the time has come to take tough decisions against it.
In response, Saud al-Shalan is seen in a video in English and French threatening the West, saying, "If anyone challenges the existence of the Kingdom of Saudi Arabia, we are all ready for sacrifice and jihad." The video is becoming increasingly viral on social media.
Saudi Arabia's human rights lawyer Abdullah Aloudh from the Middle East Eye said that Saud al-Shalan is a tribal leader and the grandson of Saudi Arabia's founder King Abdul Aziz.
America and Saudi Arabia partnership in trouble
The summit of the G-20 countries is going to be held in Indonesia from 15 November. There are 20 largest economies of the world in this group. It will also be attended by US President Joe Biden and Saudi Crown Prince Mohammed bin Salman.
On Sunday, it has been made clear by the Biden administration that there is no plan for President Biden to meet the Crown Prince at the G20 summit. US National Security Adviser Jack Sullivan told CNN that there are no plans to meet. The White House says that the decision of OPEC Plus is in Russia's interest.
Relations between Saudi Arabia and the US have reached the worst in recent times. It is being said that the partnership of the last 80 years between the two countries is going through a very bad phase.
OPEC Plus, the Organization of the Oil Producing Countries led by Saudi Arabia, decided to cut oil production. America is irritated by this decision.
The decision to cut oil production will further increase the prices. Oil prices are already on fire due to Russia's attack on Ukraine. America had tried a lot to convince Saudi Arabia not to cut oil production. Even US President Joe Biden, denying all the adverse situations, visited Saudi Arabia in July this year. But both the countries have failed to understand each other's side.
OPEC Plus's decision to cut oil production is being seen in the mirror of the Ukraine war. Russia is also in OPEC Plus. America feels that Saudi Arabia has cheated. Russia has cut off natural gas supplies to Europe and winter has arrived. America felt that Saudi Arabia would not allow the price of oil to rise. The US had also urged Saudi Arabia through the UAE to postpone the decision to cut oil production.
Saudi Arabia with Russia?
America feels that Saudi Arabia is with Russia. The decision to cut oil production will increase oil prices in the international market and will benefit Russia's economy. On the other hand, the countries of America and Europe are imposing the toughest sanctions against Russia in the case of attack on Ukraine so that its economy can be weakened.
The issue of Saudi Arabia is also reflected in the domestic politics of America. The leaders of the Democratic Party in America already have a negative opinion about Saudi Arabia. In 2019, Joe Biden announced the isolation of Saudi Arabia in the presidential election campaign. Now the Democrats leaders in the US Congress are talking about teaching Saudi Arabia a lesson.
Saudi Arabia's relations with America were very good during the reign of Donald Trump. Bloomberg wrote in its report, "There is also an opinion within the Democratic Party that Saudi Arabia is helping the Republican Party in next month's congressional election. Trump is once again trying to come to power in America.
Democratic Party Senator Bernie Sanders has fiercely targeted Saudi Arabia in an interview given to well-known journalist Mehdi Hassan in MSNBC.
Bernie Sanders said, "Saudi Arabia treats women as third-class citizens. Tortures civilians and now Ukraine is taking Putin's side in the war. Now we must withdraw the troops from Saudi Arabia. They should stop giving weapons. Along with this, the arbitrariness of raising oil prices should also end.
Bernie Sanders has said, "The oil and gas industry is making a lot of money. Same is the case with pharma and food industry. Due to the immense greed of corporate houses, inflation has reached the seventh sky and common people are troubled by its impact.
Saudi logic
Saudi Arabia's argument is different. Saudi officially says that this is an economic decision of his. However, analysts say that this is a strategic decision of Saudi Arabia.
It is being said that the goal of this decision is not against America, but Russia will benefit from it. Saudi Arabia has been trying for decades to reduce its economy's dependence on oil exports. It is also trying to establish itself by reducing oil exports.
"Saudi Arabia is not thinking about Ukraine," wrote Hussein Ibish, senior resident scholar at the Arab Gulf States Institute in Washington. It is in the same way that the countries of Asia and Africa are neither supporting nor opposing anyone in Russia and Ukraine. But in America's politics, the Democratic Party feels that the Republican Party will benefit from this stand of Saudi in the upcoming by-election.
"The lack of trust in both the countries is clearly visible. The US hoped that Saudi would help it to control the rising oil prices. Saudi Arabia, on the other hand, wants military support from America but feels that America's attention is now shifting towards Europe and China.
Hussain Ibish wrote, "Saudi and America both need each other. Only the US can provide the security that Saudi wants. On the other hand, Saudi is the only reliable partner to maintain America's dominance in the Persian Gulf. The next meeting of OPEC Plus is on December 4 and Saudi has the opportunity to take a balanced decision on prices.
Kuwait, Bahrain and Iraq were also not in favor
The Wall Street Journal wrote in its report, "Biden's visit to Saudi in July has not made any significant impact on Crown Prince Mohammed bin Salman. The crown prince has told his advisers he is in no mood to sacrifice much for the Biden administration. The Biden administration's stance on the war in Yemen does not match that of Saudi Arabia. When Biden visited Saudi Arabia in July, the crown prince decided to increase oil production by five million barrels a day. But a day later, the increase in oil production by five lakh barrels was increased to one lakh barrels per day.
According to the Wall Street Journal report, Kuwait, Bahrain and Iraq were not in favor of cutting oil production. Their argument was that it would face a recession and the demand for oil would also be affected. But eventually all these countries also showed unity with OPEC Plus. Russia has supported Saudi and said that the decision to cut oil production is balanced. US lawmakers are considering bringing a bill against giving arms to Saudi Arabia.
Some US lawmakers are demanding the withdrawal of American troops from Saudi Arabia. Leaders of both parties in the Senate are supporting a bill under which OPEC+ countries can be declared illegal to raise the price of oil in an arbitrary manner. President Biden said on Tuesday last week that the US should think about relations with Saudi Arabia.