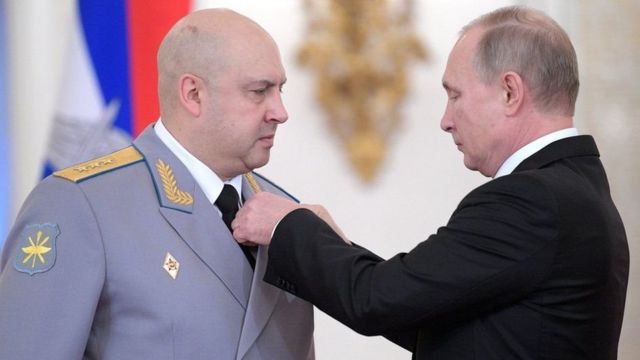 Russian President Vladimir Putin on Saturday handed over command of the Ukraine war to a key military officer. The Russian government has said that Sergei Suvovikin has been appointed 'commander of joint troops in the field of special military operations'.
Let us tell you that Russia has been calling the Ukraine war since the beginning and not a war, but a special military operation. With this decision taken hours after the truck bombing on the bridge connecting Crimea with Russia, Russia has given an important indication related to its strategy regarding this war.
The bridge was seriously damaged in this bombing. Simultaneously, seven fuel tanks caught fire. However, Ukraine did not take any responsibility for the attack.
Russia retaliated
Russia launched a savage attack on Ukraine's capital Kiev on Monday, nearly 48 hours after the bridge exploded. Russian President Vladimir Putin called the missile strikes a response to "terrorist activity" for which he blamed the Zelensky government.
According to Sarah Rainsford, the BBC correspondent in Eastern Europe, the attack was also on Putin's side to attack elements in his own camp who were uncomfortable with Russian losses in the war. And were constantly demanding strict measures.
Russian officials and TV anchors, who until a few days ago seemed disheartened and despondent, are seen expressing happiness on social media after the attack. At the same time, Ukraine is immersed in mourning for those killed in these blasts on Monday.
Who is Sergei Suvovikin
Born in Siberia, 56-year-old Sergei Suvovikin is known among his friends as 'General Armageddon'.
His career in the Russian army has progressed very rapidly. From Afghanistan to Chechnya, Tajikistan and Syria, the world has seen their brutality and barbarism. Russia considers him a strict military leader.
In the war in Chechnya, he publicly stated that "three extremists would be killed for one dead soldier", according to the Russian news agency Tass.
Before becoming a general of the Russian army in August 2017, he was in command of the Syrian war.
According to the news agency Tass, in the year 2017, Sergei Survovikin, leading the troops present in Syria, occupied most of the area, including the main transport routes and oil fields etc.
In September 2017, he was declared Commander-in-Chief of the Russian Aerospace Force, on the basis of which he was held responsible for the airstrikes that devastated the Syrian city of Aleppo.
A month later, Putin honored Sergei with the 'Hero of the Russian Federation' award for his outstanding work in Syria.
Survovikin's exploits also include the killings of pro-democracy protesters during the 1991 coup.
According to Tass, he was arrested for these murders as brutal. But Russian President Boris Yeltsin ordered his release.
focus on ukraine
According to BBC security correspondent Frank Gardner, Survovikin is already leading troops in the "south" of Ukraine. In such a situation, it is not yet clear what will change with this appointment.
In Ukraine, Russia is competing with a real army, which has been armed and trained by NATO countries. And in this war the Russian army is continuously losing ground and prestige.
Russia has lost many of its generals on this front and many military officers have been fired for their failure.
At the same time, there are many elements in Russia who are demanding tough and aggressive steps to tilt Ukraine.
Russian frustration about this war has reached its peak after the explosion on the bridge connecting Crimea with Russia.
Sarah Rainsford says that giving command of the army in Ukraine to Survovikin is to be answered by Putin to aggressive elements.
They have been demanding for a long time to attack the infrastructure of Ukrainian cities. Not only this, such elements are demanding that if the Ukrainian army cannot be defeated on the battlefield, then the Ukrainian people should be forced to kneel in the winter.
Vladimir Solovyov, known as a propagandist, has said that it was better for Russia to be afraid of it, than to make fun of it.
Solovyov also asked a question, "When will we finally start fighting?"
Gregory Yudin, a member of the Moscow School of Economics and Social Sciences, on Monday termed the swift attacks as a compulsion aimed at solving Putin's internal problems.
Yudin wrote on Twitter that it seems, the Russian President has accepted the aggressive idea that you have to instill the fear of death in his mind to defeat your adversary.
Former President Dmitry Medvedev, once considered the moderate face of the Russian government, has warned that these attacks are only the first installment and that more attacks could be carried out in the coming days.
Frank Gardner admits, "It is clear that his forces are scattered on different fronts. If Suvovikin tries to reshape this war, he will focus on one place and exert too much force."