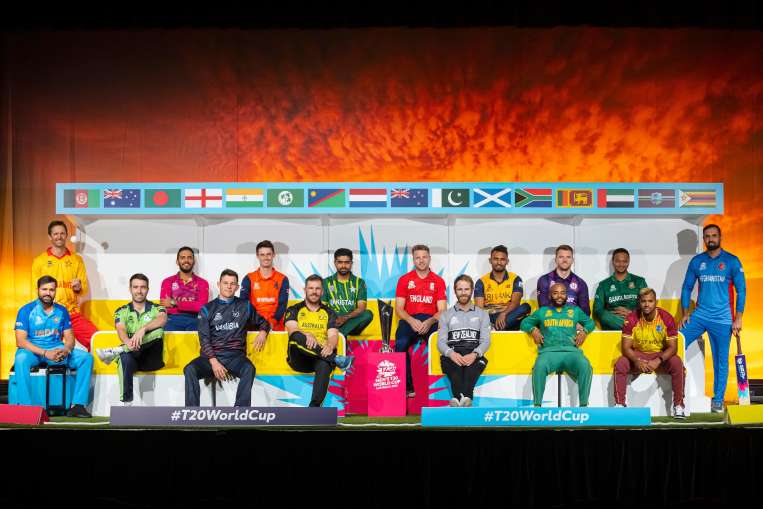 Highlights
ICC shared picture before World Cup
Fans were furious after seeing Rohit Sharma sitting in the corner in the picture.
India will play first match against Pakistan in World Cup
T20 World Cup 2022: Now only one day is left for the start of T20 World Cup. All the teams have reached Australia for the World Cup. A total of 16 countries are participating in this World Cup. Before the World Cup, the ICC has shared pictures of all the team captains together on social media. India captain Rohit Sharma is also seen in this picture. Rohit is made completely different in this picture. In this picture all the players are either sitting or standing on the sofa. But Rohit Sharma is sitting on something like a box. The fans of the Indian team are furious over this. Let's have a look at the reaction of the fans on this picture.
A fan wrote that Rohit Sharma has been made to sit on the ice box.
A fan addressed Rohit's picture as a clown.
A fan tweeted and compared the picture of Virat Kohli from the 2019 World Cup with this picture.
First encounter with Pakistan
India has to play its first match in the T20 World Cup against Pakistan on 23 October at the Melbourne Cricket Ground. India is one of the first teams to reach Australia for the World Cup. In the last T20 World Cup, Pakistan defeated India by 10 wickets. Since then 2 matches have been played between the two teams. Out of which India has won one and Pakistan team has won one. The Indian team would like to start the tournament with a win in this World Cup by winning the match against Pakistan. India have to play against Bangladesh, South Africa and the winning team of the qualifiers in the Super 12. India has played a total of 35 T20 Internationals since this last World Cup. Out of which he has won 26 matches. India is currently at the first place in the ICC T20 rankings.
Also read:
After all, BCCI agreed, Team India ready to play series on Pakistan soil after years!
'He didn't even play a match', people furious over the selection of Mohammed Shami in the team
T20 World Cup 2022: Raina's big claim, these 2 players will win the World Cup together with Team India
Latest Cricket News