Ryan Massoud
Correspondent, BBC Bangla Service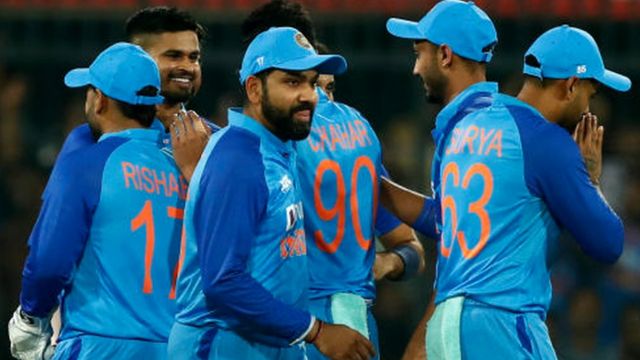 India's cricket team is a big contender to win the T20 World Cup title to be held in Australia. The reason is his batting, spin bowling and team experience.
At present, the Indian team is also number one in the International Cricket Council (ICC) rankings.
However, despite being ahead in the statistics, in the T20 World Cup held in UAE last year, the Indian team was eliminated in the group stage itself.
Now after a year, the Indian team is getting this opportunity to forget that memory on the land of Australia.
The batting lineup of the Indian cricket team is considered to be the best in the world.
In the top 10 highest scorers last year, three batsmen are from India – Suryakumar Yadav, Rohit Sharma and KL Rahul.
India's opening pair is Rohit Sharma and KL Rahul and after this comes former captain Virat Kohli at number three.
These three players have the ability to change the course of any match. It can be estimated from this that Rohit Sharma's strike rate is 147, Virat Kohli's strike rate is 139 and KL Rahul's is 138.
Is Indian team afraid of defeat?
But on many occasions, India's top order has also failed. India's batting, which looks strong on paper, has proved to be very weak at times. In the 2019 ODI World Cup, India's team lost in the semi-finals.
So after losing the group stage match against Pakistan in 2021, India's team could not recover, so this year India's condition was the same in the Asia Cup. After losing to Pakistan and Sri Lanka, India's team failed to make it to the finals.
Former England captain Nasser Hussain says that the Indian team is afraid of defeat on big occasions. India's team has not won a title in any ICC tournament since 2013.
But what is the reason for this when India has many famous cricketers and good batsmen.
In response to this, in a conversation with the ICC website, Nasir Hussain says that India's team is afraid of losing and it is also sitting in the players' minds that their performance is being praised and people are keeping an eye on them.
After the failure in the 2021 T20 World Cup, former Indian coach Ravi Shastri had said that India plays too much cricket.
There is a lot of discussion about IPL and it is assumed that India's team will play the best T20 cricket.
But Shastri had said at that time that players get very tired while playing international cricket and IPL.
He had also said that fatigue could be seen in the Indian players in the 2021 World Cup.
Now two more teams have been added to IPL. This means that the number of matches has also increased.
Ravi Shastri had said in a TV interview – Spark was needed in the Indian team. But she was not visible in the team.
However, since that time India's top three players have changed their techniques.
Before becoming the coach of Rahul Dravid, India's top three players used to try to score runs without losing wickets, but now these three players score runs at a fast pace.
Suryakumar Yadav
Suryakumar Yadav is proving to be the trump card for India at this time.
Cricket commentator Harsh Bhogle recently wrote in a tweet – When Suryakumar is batting, he cannot take his eyes off a single ball.
Former Australia captain Ricky Ponting also recently said that Suryakumar Yadav bats like AB de Villiers, he can hit shots anywhere.
Suryakumar Yadav is in excellent form at this time. He has hit 55 sixes in the last one year. He is currently the second highest scorer. While Mohammad Rizwan is at number one. However, Rizwan has hit only 33 sixes in this period.
The difference is clear. Suryakumar Yadav likes to hit sixes. In T20 Internationals, Suryakumar Yadav hits fours on an average every three and a half balls.
So far Suryakumar Yadav has scored 1045 runs in T20 Internationals. He has scored these runs by playing only 591 balls.
However, he had to wait a long time to join the Indian team. He played his first international match at the age of 31. In the last one year, he has scored one century and nine half-centuries in 32 innings.
Eyes on Hardik Pandya
Apart from Suryakumar Yadav, India's eye will also be on Hardik Pandya. Hardik Pandya can play a big role in Australia.
Hardik Pandya bats well on fast bowling. After the injury in the year 2018, his career graph went down a bit.
But now he has made a great comeback. Hardik Pandya was the captain of Gujarat Lions in this year's IPL. Hardik performed well and his team also won the IPL title.
Hardik Pandya is very important for India considering the Australian pitch.
There are many good cricketers in the Indian cricket team. But there are also some questions. Like the case of Dinesh Karthik and Rishabh Pant.
Both are wicket-keeper batsmen of India. It is becoming difficult for the team management that who or both of them should be given a place in the playing XI and also that the opposition team and wicket should also be taken care of.
The absence of Ravindra Jadeja is also a problem for India.
Ravindra Jadeja is considered one of the best all-rounders in India. He suffered an injury in August-September and then after the Asia Cup, he had to leave the World Cup team.
However, former India coach Ravi Shastri believes that India should not think about the players who are not available. He believes that more match winners will come out from India.
In this episode, the name of Axar Patel is also coming to the fore, who can perform better with the ball as well as with the bat.
India's biggest concern
Jasprit Bumrah's absence increased India's concern after Ravindra Jadeja. Bumrah also left the team due to injury.
Former Indian cricketer Wasim Jaffer says that Bumrah is a bowler whose place no one else can replace.
He says that India can only try to make up for the loss caused by his absence.
In the absence of Bumrah, India replaced Mohammad Siraj, Mohammed Shami and Shardul Thakur as reserve players and finally Shami got Bumrah's place.
India's team is good and experienced too. Hardly anyone will deny this. But when it comes to ICC tournaments, India's team cannot be called very successful. Now it remains to be seen whether this time India's team proves to be a better team not only on paper but also on the field.