shubham kishore
BBC correspondent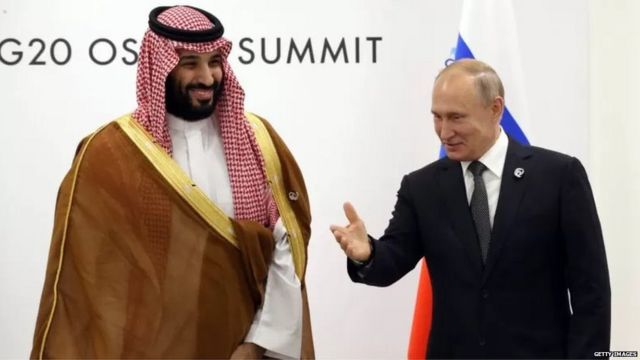 It seems that the steps taken by Saudi Arabia in the last one month have made America stand against it.
On the other hand, both Russia and Ukraine have thanked Saudi Arabia on different occasions.
At a time when Russia and Ukraine are at loggerheads, and countries of the West against Russia, Saudi Arabia is looking at both countries.
What is the reason for this?
Chronology of Changing Relationships
15 July 2022: Said during the visit of Joe Biden – Saudi has understood our needs and hope that steps will be taken towards better relations in the coming weeks.
3 October 2022: Ukrainian President Zelensky thanked Saudi Arabia for releasing 215 people from Ukraine.
5 October 2022: The OPEC+ meeting decided that oil production would be reduced by two million barrels per day.
5 October 2022On this, the US response came like this, "It is clear that OPEC + is with Russia."
6 October 2022: Biden described Saudi Arabia's decision as disappointing.
9 October 2022: Russia thanked OPEC+ for agreeing to cut supplies and fighting against America's "bad" policies.
Saudi Arab politics or attempt to profit
Russia is describing agreeing to reduce oil production as an answer given to America, but many experts call it a step taken only for profit.
According to Bel Cahill, Senior Fellow of the Center for Strategic and International Studies, Saudi Arabia wants to control oil prices by doing so and wants to ensure that the country does not fall into recession.
Talking to the news agency Reuters, he said, "It has been the worst year so far in recent years in terms of macroeconomics."
"They know this will annoy America, but they have to manage the market as well."
Talmiz Ahmed, who was India's ambassador to Saudi Arabia, also believes that America wants to increase the production of oil for political reasons, but Saudi Arabia is taking decisions purely on the basis of the market.
Speaking to the BBC, he said, "Saudi Arabia says that OPEC Plus production is linked to market conditions, so when they feel demand is low, they will reduce their production. They do not want production to be high and This led to a fall in prices."
Saudi Arabia and OPEC+ countries predict that the global economy is heading towards recession and the demand for oil may decrease.
Ahmed says, "America wants to keep increasing production, it will bring down prices. Mid-term elections are going to be held in America in November, President Biden thinks that if prices go up, it may be difficult for him in the election."
This can have a direct impact on America's oil reserve. According to a report in the newspaper The New York Times, Biden has already given permission to extract a lot of oil from the Strategic Petroleum Reserve, and the reserve has the least oil left in the past four decades. In the event of a natural disaster like a storm or a war, the situation can get worse.
Is this an inclination towards Russia?
It is constantly being said from America that the inclination of Saudi Arabia has increased towards Russia.
White House press secretary Carine-Jean-Pierre said that "it is clear that OPEC+ is with Russia. She said she would elaborate later on how this would affect US-Saudi relations."
Russia has also welcomed the decision of OPEC+. But Saudi minister Adil al-Zubair said in a statement to Fox News: "Saudi Arabia does not politicize oil or oil decisions."
Talmiz Ahmed also believes that it would be wrong to see the OPEC+ decision as a Saudi inclination.
He says, "The statements that are coming from America, they are like a threat that if you do not do what we want, then we can harm you. This is a wrong approach."
However, he says that this also does not mean that Saudi Arabia has become soft on Russia.
Ahmed says, "From 1945 to last year, Saudi was a supporter of the US, in every way. Saudi knew that America guaranteed their security. But this perception has changed in the four years of Trump."
"At the same time, Saudi Arabia has become a mature power. It no longer has the same nervousness as before. Its stance on foreign policies is now full of confidence. They have now started talks with Iran and Turkey as well. In July when Biden When they arrived, they thought that things would be the way they wanted, that was the wrong attitude."
Biden hoped to "take some steps in the coming weeks" after his tour.
Ahmed says, "I don't think they are leaning towards Russia. The way India takes decisions with political autonomy, Saudi Arabia is doing the same thing now."
On whose side is Saudi Arabia in the war between Russia and Ukraine?
During the Russo-Ukraine war, Saudi Arabia mediated the release of Ukrainian prisoners, for which Ukrainian President Zelensky also thanked.
Ahmed believes that this shows that Saudi Arabia is not with anyone in this war.
He says, "Saudi Arabia will do nothing to support anyone in the war. That's why it is not in support of anyone, nor is it opposing anyone. In a situation like the release of prisoners, he will play his role in mediation. limited to."
Jamal Khashojizzy case of
It has been written in many American newspapers that Saudi Crown Prince Mohammed bin Salman of America did not like the stand of Jamal Khashoggi.
Political expert Dan Eberhart wrote in an article for Forbes, "Relationship between Biden and Saudi Crown Prince Mohammed Bill Salman is bad, plus the White House resumes efforts on a nuclear deal with Iran, Iran and Saudi Arabia." Russia is more important to Saudi than America at the moment.
Ahmed believes that the decisions taken for Saudi Arabia are a sign of its financial strength, and the matter has not had much impact.
What is America's choice?
Political commentator Eberhart believes that America now has no choice but to increase production.
But the US government has not said anything about this. Venezuela was a major oil producer in the 90s, but after that the industry deteriorated due to lack of investment, corruption and mismanagement. The sanctions imposed by the Trump administration made the situation worse.
However, National Security Council spokeswoman Adrienne Waston has said that unless Venezuela takes corrective steps, "US sanctions policy will not change."