Paul Adam
BBC correspondent, from Kiev (Ukraine)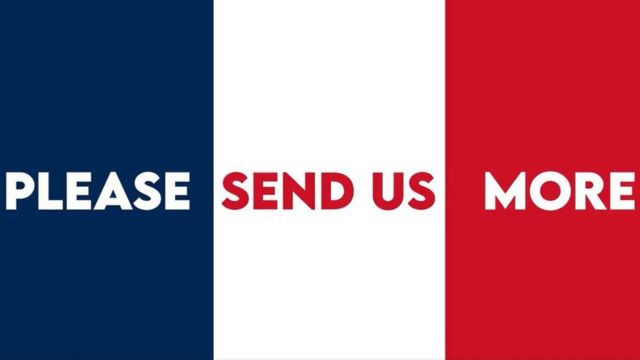 Eight months later, the Ukraine war still hasn't yielded results. Ukraine is succeeding in retaliatory strikes, while on other fronts Russian forces are maintaining their dominance. But this war on the Internet seems to be completely one-sided.
"This country belongs to meme makers. If it was a war of memes, we would have won," says Olena, a Kiev-based entrepreneur leading a team of social media volunteers.
Olenna is not his real name. Olena and her team do very sensitive work for the Ukrainian military and for this reason they urged to hide their identity.
His team works round the clock, he issues a response within an hour to the news received from any part of the country. He creates impactful videos with music for readers and viewers within and outside the ministry's country.
When President Zelensky gave his speeches in foreign parliaments citing Ukraine's history, Olena's five-member international team built their messages around it.
In this video roses, chocolates, the sky of Paris as well as cannons were shown. Perhaps it was inevitably accompanied by the music of the Sergey Gainsbourg and Jane Burkin song 'Je Teme Moi Non Plus'.
It had a message of the bromance between Macron and Zelensky, but it was also thought-provoking and cheeky.
thank you meme
Olenna says that her most Favorite thank you video is for Sweden, Sweden has given Karl Gustav rocket launchers to Ukraine. A rocket launcher worth about twenty thousand dollars can destroy Russia's $ 4.5 million T-90 tank.
She says, "It's all worth the money."
And what's the music on it? By now you must have guessed it.
Eba Song – Money, Money Money
Due to the efforts of Olena's team, the Ministry of Defense now has 1.5 million followers worldwide on Twitter. Many of the videos have been viewed over a million times.
By far his most popular video was posted in August after several successful attacks on Russian bases in Crimea. It has been viewed 22 lakh times.
The video mocked Russians visiting Crimea for a holiday and was accompanied by music from the song Cruel Summer.
"We want to show the world that Ukraine can win this war because no one wants to invest in the losing side," says Olena.
But another team of Olena is engaged in destructive work. She makes videos highlighting the losses Russia suffered in the war so as to lower the confidence of the invading forces.
Russian audience on target
Thousands of videos are posted on social media of the casualties being caused to the Russian military. In such a situation, Olena's team has no shortage of content.
But after repeated efforts, they have come to know that what kind of videos are successful and which videos are not successful.
"We started posting pictures and videos of Russian soldiers killed, but later we realized it wasn't working because it was uniting the Russian people against us," says Olena.
After this his team started posting pictures of Ukrainian civilians being killed to awaken the humanity and conscience of Russian soldiers, but this too did not have much effect.
"We realized that he was really proud of it. He wasn't criticizing it at all. Then we realized we had to do it smarter," says Olena.
Volunteers now monitor Russia's social media feeds. We see the weakness of Russia in specific parts of the country and then target it and create our content.
"If you do this in Saratov, you should know what's going on in Saratov. If you're doing this in Nizhny Novograd, you should know what's going on there," says Olena.
It is very difficult to know the effect of this work, but Vladimir Putin's order to recruit new soldiers has provided a lot of material to the volunteers.
Olena says, "We were waiting for military recruitment in Russia. We knew it would shake their confidence a lot."
Olena's team gets the most content on Telegram. She calls it a treasure.
The volunteers who create content for the Ministry of Defense are just a small part of a huge, vibrant, fiercely patriotic and wildly irreverent community, who sometimes react to events on the ground with astonishing speed.
There are also many such Telegram channels whose number of followers is in lakhs.
There is one such channel named Ukrainian Offensive. 96485 people follow it.
The slogan of this channel is "Waging an information war on the civil meme front since 2014".
Apart from military updates on this channel, apart from Russia, sometimes western media are also trolled. The BBC is also involved in this.
Like other channels, this channel also does not hesitate to show gruesome scenes of war. Videos of bodies of slain Russian soldiers are widely shared here.
Recently, when the Kerch Bridge connecting Crimea to Russia was attacked, Ukraine's cyber army celebrated with great enthusiasm and the Internet was flooded with memes.
But Ukraine has not become an army of digital ninjas just like that. The fighting in the Donbass region for eight years has given people ample opportunities to hone their skills.
Now people know not only to expose fake information but also to create humorous content to increase the confidence of their people.
Ihor Soloway, head of Ukraine's Center for Information and Strategic Security, says the current social media environment reflects a rare fusion of official and popular sentiment.
He says, "We are probably seeing this for the first time in history when the citizens of the country are with the government and are also helping it."
"Army is doing its job while on the other hand society is creating content, showing its creativity. Because everyone is feeling themselves responsible for the future."
How is Russia responding to Ukraine?
Russia has been recognized as a stronghold of troll forms and scammers with links to the Kremlin, but it is surprising that Russia is not able to give enough answers to Ukraine.
This month, two famous Russian pranksters fooled Ukrainian Foreign Minister Dmitry Kuleba. Kuleba seemed to be talking to Michael McFaul, the former US ambassador to Moscow.
Parts of it were also broadcast on Russian state media. In this, Kuleba was seen admitting that Ukraine was responsible for the recent attacks in Crimea and Russia.
However, this prank was done before the attack on Kerch Bridge on 8 October.
Olena says that if Russia has such a creative Internet army, she has not seen it yet.
"The Russians haven't been able to do anything interesting yet. There's no humour, no beauty, no pain, no compassion," she says.