A mysterious boat was found near the coast of the Black Sea of ​​Crimea. This boat was present near the Russian naval base located in Sevastopol. The boat was caught at the end of last month. It is a small and unmanned boat, which is not known who built it. Although this boat has been discovered by Russian marines only.
It is being shared on Russian social media platforms as a conspiracy of Ukraine. It is a fast moving drone boat in water. Which is made from a commercial speedboat. In fact, many warships were standing at the Russian Naval Base in Sevastopol for the last three weeks. It is believed that Ukraine was about to sabotage Russian warships by carrying out a deadly attack with this mysterious boat.
It is not known where this mysterious boat was made. But it was laden with explosives. It is an Explosive Uncrewed Surface Vessel. Or you can call it Unmanned Surface Vessel (USV). That is, an unmanned but explosives-laden speedboat.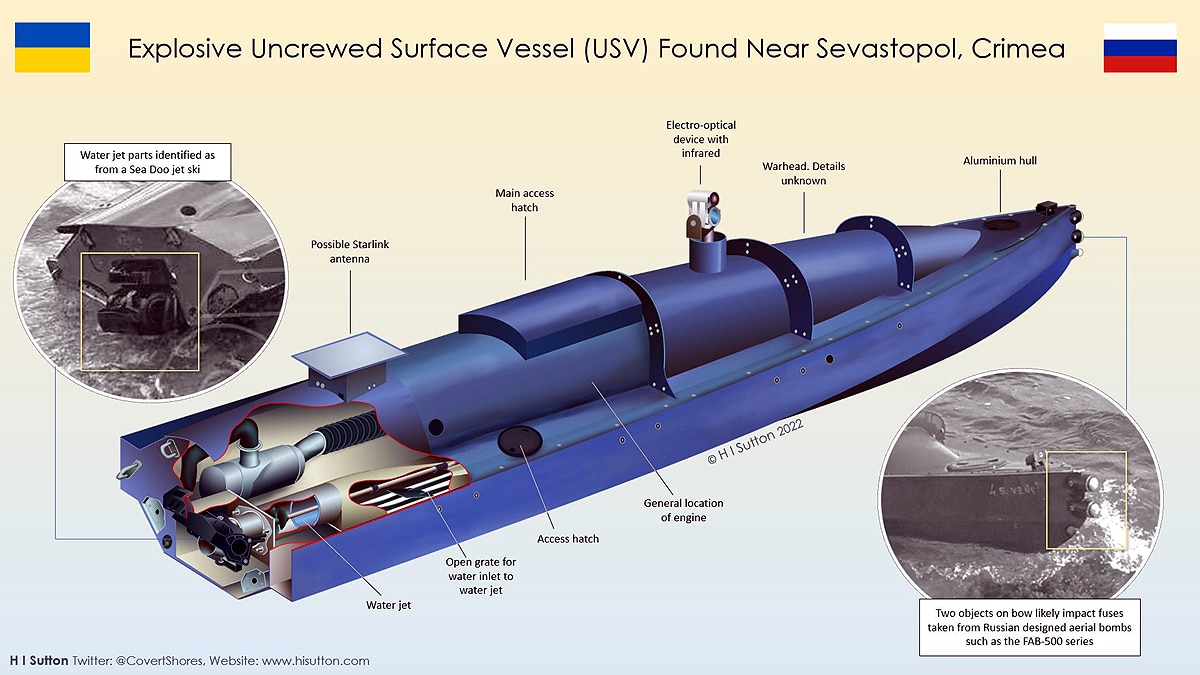 The speed is 112 kilometers per hour
When the boat and its viral pictures were examined, it was found that it is a boat made from indigenous jugaad. It has thrust reversers from either the GTX or the Pro model. The Sea-Doo matches the design boat. That is, the waterjet can be of a speed boat with this design. See-Doo is made in Canada. It is well liked. It uses a three-cylinder gasoline engine. That is, this speedboat can run at a speed of 112 kilometers per hour.
The second special thing is how it explodes. A new method has been used to explode in this marine drone. Two round button-like structures are made on the front of the boat. Which would have activated the explosive kept inside the boat after hitting anything. That is, these are impact fuses. As was done in the boat of the FAB-500 of the time of the Soviet Union. That is, both the shells hit the warship and exploded.
History of such intelligence attack boats
Usually such boats are made from fiberglass or similar material. But marine drones loaded with explosives are made from aluminum. This is not the first time that Ukraine is using such a weapon. Earlier, LTTE in Sri Lanka and Mussolini in Italy have used such weapons. Apart from this, such boats were also used during the Houthi movement in Yemen in the year 2016. The terrorist organization Al Qaeda also uses such bots.
In the year 2017, one such drone boat collided with the Royal Saudi Navy's frigate Al Medina. The explosion that resulted in the death of two marines. Later, the government of Saudi Arabia blamed the Houthi movement for this. From 1980 to 2000, a team of the Sri Lankan militant organization LTTE was the Sea Tigers. He had made many such explosive boats. But these boats were driven by suicidal Sea Tigers. He used to give his life by going to the enemy, he used to create destruction by blasting. On 20 September 1994, two such boats collided with the Sri Lankan warship SLNS Sagarawardena, after which that warship sank in the sea.
The concept of such a boat came from Italy
In fact, the concept of such fast moving explosive speed boats or explosive drones came from Italy itself. This boat was first used the most during the time of Mussolini during the Second World War. Then with the help of a similar suicide boat, the British cruiser HMS York was blown up on 26 March 1941. After World War II, Israel blew up the Egyptian flagship Emir Farouk on 22 October 1948 with a similar dangerous boat.
Suspected Ukrainian Explosive Sea Drone Made From Recreational Watercraft Parts – USNI Newshttps://t.co/NUVUltIhqv pic.twitter.com/rhD3hKyY6D

— US Naval Institute (@NavalInstitute) October 11, 2022
These small size suicide boats or drones are not detected while coming in the sea at night. Their speed is also very fast. Therefore it is also difficult to attack them. The discovery of an explosive drone boat in Sevastopol, near Crimea, suggests that the Russian Navy was making some preparations there. Which has been slowed down a bit after getting this boat.