Sarah Rainsford
BBC correspondent, Eastern Europe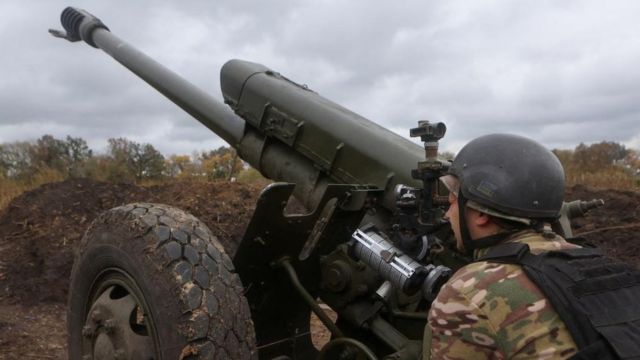 "Truth is with us and truth is our strength."
Russian President Vladimir Putin said this after the merger of four large territories of Ukraine with Russia last week at a grand ceremony held at Moscow's famous Red Square.
They have said – "Victory will be ours!"
But in the real world the situation looks completely different.
Putin has signed illegal treaties to annex the territories of eastern Ukraine with Russia. But Ukrainian forces are advancing in the territory occupied by Russia.
Hundreds of Russian youth are seen fleeing Russia instead of joining the army to fight the war. And the situation in the war zone is getting so bad that Putin and his supporters seem to be changing their goals.
It was previously claimed that the purpose of this struggle was to free Ukraine from believers in Nazi ideology and to protect the Russian-speaking people. But now an attempt is being made to show this struggle as a fight for existence against the West. Actually this is the truth.
Putin entangled in his own woven web
Anton Barbeshin, editor of the Russian news website Riddle Russia, admits he is "in the dark". It seems that Putin is not able to see everything that is actually happening.
Barbashin admits that the strong Western support and Ukrainian resistance to Ukraine has surprised Putin.
Putin, who has been in power in Russia for the last twenty years, is now seventy years old. But it seems that he is falling victim to his own system. His dictatorial attitude is keeping him away from important intelligence information.
Tatyana Stenovaya, head of analyst firm R.Politic, explains this position, saying, "You can't challenge their views."
She says, "Everyone who works with Putin knows his perspective on the world and Ukraine, and understands his expectations. They cannot give him information that is contrary to Putin's view. And thus this system runs."
The world in the eyes of Putin
Vladimir Putin, in his recent speech from the Kremlin, the center of Russian power, has put forward his view of the new world order.
In this new global order, Russia is a powerful country that the Western world has been forced to respect and Ukraine is once again under Russia.
And Ukraine is Putin's battleground to put this system on the ground.
Putin's ambitions may seem illusory, but he doesn't seem to be in a position to back down.
Anton Barbashin admits, "The plans of the Russian government do not seem to be working on the ground. And it seems that Putin has no plan B but to throw his people into the war in Ukraine. His hopes are on this point." Rest assured that they can only stop the progress of Ukraine with numbers.
force people to war
Throwing people into war almost forcibly is a big change in itself.
Vladimir Putin has been calling his attack a "special military operation". And showing it in a way that it is a limited and short-lived struggle.
As long as the campaign was not directly affecting the people, many Russians agreed and supported this argument.
But after the decision to mobilize the reserve troops of the Russian army, the meaning of this war for the people has changed. What was so far a distant event has now turned into a very near and personal risk.
Local leaders of Russia are trying to recruit people in the army on the lines of the old Soviet leaders.
"It's a big event," says Anton Barbashin. For most people in Russia, the war started only a few weeks ago.
"The people who died in the early months were from border areas and small places. But widespread military mobilization would change that and the coffins would come to Moscow and St. Petersburg."
'Very bad' conditions
Since the decision to mobilize, social media have been seeing posts of wives and mothers of new soldiers who were not sent to the border during the initial mobilization.
Some of these posts and videos have been sent by the Russian youth themselves which show the bad conditions of the war. In the information revealed in the video, bad food, old weapons and lack of medical facilities are coming to the fore.
Women are talking about sending sanitary towels to men to put in shoes and bandages to tie on wounds.
The governor of a Russian region named Kirsk has described the situation in many troops as very bad and there is also a shortage of military clothing in many places.
With this information coming out, Vladimir Putin's claims in which he had talked about turning the Russian army into a professional military force in which patriotic citizens would like to serve.
But at present, the wives of most of the soldiers are seen standing with the army.
Anton Barbeshin tweeted this week, writing, "We are at a position right now where the majority of the Russian community believes 'Russia is a great power facing NATO in Ukraine.' And sending socks, bandages and toothbrushes to the soldiers at the front is a sign of patriotism."
But after the difficulties in military mobilization and the embarrassment of the Russian army came to the fore, other Russian celebrities have also started speaking openly.
He was caught and imprisoned when liberal elements condemned the attack on Ukraine. Many such people are still in jail.
It is also illegal to call this campaign a war. The term has now become common among Kremlin supporters. But criticism of Russia's military command continues.
MP Andrey Kartapolov this week told the Defense Ministry to stop lying about the challenges facing Russia because people are not stupid.
Margarita Simonyan, editor of RT TV, says that under the Russian ruler Stalin, 'cowardly' and 'incompetent' generals were punished.
But at the moment this attack has not been publicly questioned. Nor has Vladimir Putin been questioned.
Margarita Simonyan calls him boss and describes the annexation of Ukrainian territory with Russia as a historic success.
Tatyana Stenovaya also says, "The war is not being opposed politically at this time."
"Those who are opposing military mobilization are trying to run away. Some people are trying to leave the country. Others are in hiding. But we don't see any kind of political protest erupting "
But this situation can change, if the Russian government continues to throw the army in spite of the continuous defeat.
"Putin has to show that he is winning some sort of victory."
However, Putin has told this week that the situation in the areas which have been merged with Russia is turbulent. But attempts are being made to collectively hold Western countries responsible for Russia's failures.
Russian state media anchors are showing the annexation of Ukraine's land as a great event and preparing the country for war.
One such anchor Vladimir Solovyov has said, "We are at war with the devils, they are nothing less than this."
"It's not about Ukraine," he says. The West's objective is clear – government change and Russia's fragmentation so that Russia ceases to exist.
Vladimir Putin accepts this truth. And for this reason it is a moment of weakness, a moment of danger for Russia.
Tatyana Stenovaya says, "This war is a question of existence for both Russia and Putin, so it must be won."
She says, "They have nuclear weapons. I hope that at some point the West will step back as the threat of the use of nuclear weapons increases."
Tatyana isn't the only one who has felt Putin's tough stance.
"It seems that Putin believes this is the last battle of the Russian Empire and a wider war with the West," says Anton Barbashin.
And "we are now on the verge of ending the war, whether Russia wins or not."
And Vladimir Putin wants the Western world to accept this truth.