Moscow, ap. A Russian bomber, which was on exercise, crashed on Monday over the coastal city of the Sea of ​​Azov. Due to engine failure, the plane went out of control in the air and caught fire, after which it landed in a residential area. This caused a fire in a nine-storey building. Six people have died in the fire, with six people missing, more than a dozen people are reported to have been scorched. The death toll is expected to rise. Both the pilots of the plane are safe. One of its engines caught fire when a Russian bomber Su-34 was flying over the port city of Yeysk. Seeing the situation becoming uncontrollable, both the pilots of the aircraft jumped out of the plane through parachutes. But the plane crashed into a nearby residential area.
Massive fire broke out in nine-storey building
Thousands of liters of fuel filled the plane caught fire in a nine-storey building. It has been told that this building has been burnt down. Around 17 other multi-storey buildings were damaged in the accident. Regional Governor Veniamin Kondratyev said that every effort was being made to extinguish the fire. The injured are being evacuated to the hospital. President Vladimir Putin has instructed ministers of health and emergencies to go to the scene immediately. The Russian Air Force has a major base in the city of Yeysk, with a population of 90 thousand. The crash of the Su-34 has sparked concern over missiles fitted in it, as the state-of-the-art Russian aircraft deploys highly sensitive weapons.
WATCH: Large fire after military plane crashes into apartment building in western Russia pic.twitter.com/lcblao98LS

— BNO News (@BNONews)
October 17, 2022
Characteristics of the Su-34 aircraft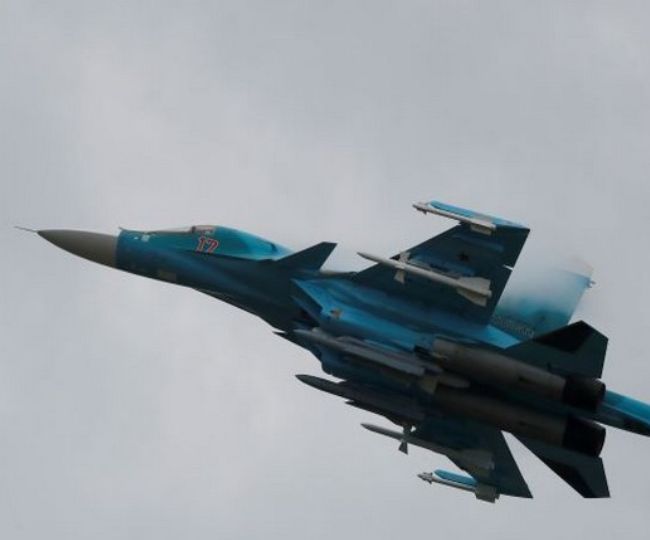 The Russian bomber Su-34 is a twin-engine supersonic bomber. Nuclear weapons can also be attacked from this aircraft. It is capable of attacking by covering long distances at high speed. That is why this aircraft is filled with much more fuel than normal fighter planes. It is considered one of the finest aircraft of the Russian Air Force. This is the tenth incident of Russian fighter jets crashing off the battlefield during the Ukraine war.
Also read- Amidst the war with Russia, the Defense Ministry of Ukraine tweeted, saying that the color is changing, we will accept it by winning
Ukraine Russia War: Russia again launches air strikes on Ukraine, many people killed
Edited By: Mahen Khanna