Actor Vijay Deverakonda, who is popular all over the country with the movie 'Arjun Reddy', is promoting the upcoming movie 'Liger' vigorously these days. Directed by Puri Jagannath, the film also stars Ananya Panday. Both were in Hyderabad last week and during the press meet, Vijay did something, after which he got a lot of humiliation. He put both his feet on the table in front of the journalist. Now his photos are going viral on social media. However, as the matter escalated, the actor reacted to it and gave a befitting reply.
Vijay Deverakonda's bad behavior with journalist?
Vijay Deverakonda and Ananya Pandey's film 'Liger' is releasing in theaters on August 25. This movie is being released in many languages ​​including Hindi. Last week the team of the film was in Hyderabad, where the press meet took place. Meanwhile, a journalist told Vijay that he was able to openly talk to him during the release of 'Taxiwala'. However, are no longer able to do so. On this, Vijay tried to comfort her and asked her to raise her legs to talk comfortably. Then he raised his feet and said, 'Let's talk openly.' Hearing this, everyone present there laughed.

Ananya Pandey intro in Telugu in the promotion of 'Liger', Vijay Deverakonda hinted when she got stuck in the middle
Vijay's criticism
However, it is being said that Vijay Deverakonda has a lot of attitude inside. He was criticized everywhere for raising his legs. After this, he also reacted to this controversy on Twitter.
replied on twitter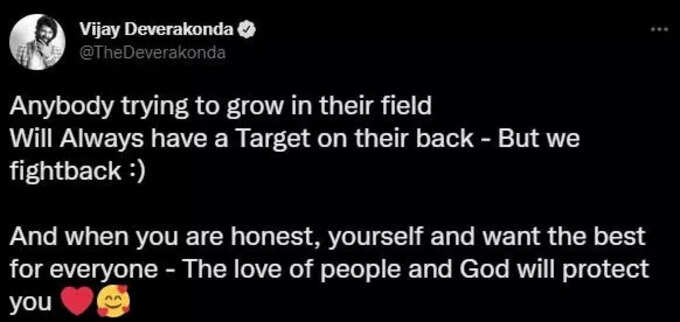 Vijay wrote on social media, 'Whoever is trying to advance in his field, he is always targeted behind his back. But we fight. And when you are honest, you want the best for yourself and everyone. People's love and God's blessings protect you.'

Vijay Deverakonda Video: Uncontrollable crowd watching Vijay Deverakonda in Patna, event had to be canceled midway
Bollywood debut with 'Liger'
Puri Jagannath has directed this film. It is a sports drama movie starring Vijay and Ananya in lead roles. Vijay plays the character of a boxer, while Ananya is his girlfriend. It will have Mike Tyson in a cameo. It is jointly produced by Puri Jagannadh, Karan Johar and Charmme Kaur.