Hugo Bachega, John Simpson
BBC correspondent from Kiev, Ukraine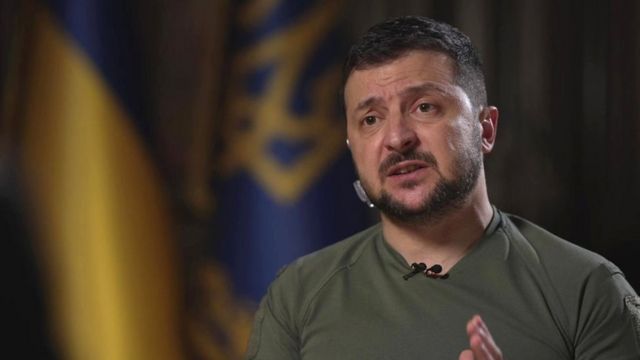 Ukrainian President Volodymyr Zelensky has said Russian officials are "preparing their people" for possible use of nuclear weapons. However, he does not believe that Russia is ready to use nuclear weapons.
BBC In an interview with President Zelensky, he denied that he ordered the attack on Russia. He said that his statement has been 'mistranslated'.
"You have to take defensive measures to protect yourself, these are not attacks," he said, referring to the sanctions.
In recent weeks, Ukrainian forces have launched swift attacks and liberated several Russian-held areas. The Russian army had to retreat from all the places it had occupied for several weeks.
Ukraine says its forces have stepped up attacks on Russia after Russia occupied parts of four of its territories.
Ukraine has rejected the inclusion of parts of the country in Russia as "illegal". After which the possibility of further stretching of this war, which has been going on for seven months, has increased.
President Putin and other senior Russian officials say they can use small-sized 'tactical weapons', ie nuclear weapons, to defend these areas. However, Western officials have said that no evidence has been found that Russia is preparing to do so.
In an interview given at the presidential office in Kiev, President Zelensky said, "They have begun to prepare their society. This is very dangerous."
"They are not ready to use these weapons but they are giving information about it. They do not know yet whether they will use them or not. I think it is dangerous to even talk about it. "
He said, "What we know is that the people who are powerful in Russia love life and that's why I think, as some experts say, the possibility of using nuclear weapons is not that strong yet. They understand That after using them it will be difficult to change course again, not only their history but they themselves and their identity are also at stake."
In an online program held on Thursday, Zelensky vehemently denied that he has called for attacks on Russia. The Ukrainian president claimed that the word he said for it in Ukrainian was "mistranslated".
In this case, Dmitry Peskov, a spokesman for the Russian President's office, said, "It was an appeal to start another world war."
At the same time, Russian Foreign Minister Sergei Lavroff said that this statement shows that Russia was the right decision to launch a campaign against Ukraine.
President Zelensky said, "After that they (Russia) understood it in their own way and derived their own meanings."
'More sanctions should be imposed on Russia'
Shortly before the BBC interviewed Zelensky, US President Joe Biden warned about Russia's nuclear threat.
Biden said, "Russian's threat to use nuclear weapons after the Cuban missile crisis of the Cold War era has brought the world closer to doom."
President Zelensky said it was time to act against it because Russia's threat "could put the whole earth at risk".
They claim that Russia has taken "its initiative" by taking over the Zaporizhia nuclear plant. He says the Zaporizhia nuclear plant is Europe's largest nuclear plant and Putin wants to make it Russian property.
Zelensky said that the work of this nuclear plant was being looked after by the employees of Ukraine but about 500 Russian soldiers were also present there.
"The world needs to put an end to Russia's antics as soon as possible. Such sanctions should be imposed on it in such cases that it is forced to leave the nuclear plant," he said.
In this war with Russia, the Ukrainian army is getting the help of advanced weapons from the western countries, with the help of which the Ukrainian army is advancing in the east and south and recapturing the villages and cities that Russia had occupied. has been.
What parts of Ukraine is occupied by Russia
In the last week of September, Russian President Vladimir Putin signed documents on the annexation of four new regions of Ukraine into Russia. After this, the process of formally including these areas in Russia has started.
These areas are Donetsk, Luhansk, Kherson and some areas of Zoporizia. He claims that this step has been taken after holding a referendum in these areas.
The United Nations and most countries of the international world have considered this referendum of Russia illegal.
In 2014, Russia took control of Ukraine's Crimea peninsula. This area is still under his control.
Zelensky said the Russian military was giving him a "hard challenge" but Ukraine was getting weapons from its friends. "I wouldn't say it's enough," he said, "but our army is excited to move forward."
To withdraw from the occupied territories in Ukraine is a matter of great embarrassment for Russian President Putin. After this, criticism of the army has started within the country.
In the midst of retreating from the occupied territories, Putin announced the mobilization of about three lakh people in the army, after which anti-war protests started within the country. After this, many such people who wanted to avoid it started appearing on the borders in large numbers to get out of the country.
According to an estimate, there are two million 'Military Reservists' in Russia. These are the people who have taken military training under compulsory military service.
from Russian citizens zelensky appeal of
President Zelensky has appealed to the citizens of Russia to "fight for the rights of their bodies, their lives and their souls".
He said, "These mobilized children will enter the field without any experience, without any gun and protective cover. It is like throwing them on the field like fodder. But if anyone wants to be someone's fodder, then we will let them come." But if they feel that this is their life, then they have to fight for their rights.
"Putin is afraid of everything," Zelensky said.
He said, "Putin is afraid of his own people because one of these people will be able to take power in his place in the coming times. Power should be taken away from his hands, this power should be given to someone else."
Asked whether Russian President Putin would be able to tolerate the shock if Ukraine wins the war, Zelensky said, "I don't care."
The position of the army of Russia and Ukraine before the war
Ukraine has total troops – 1,096,600
Active soldiers – 196,600, Reserve soldiers – 900,000
Russia has total troops – 2,900,000
Active Soldiers – 900,000, Reserve Soldiers – 2,000,000
(Reserve soldiers also include those who have served in the Army in the last five years.)Sutra- Military Balance 2022
Russo-Ukraine War– what happened so far
Russia attacked Ukraine on 24 February 2022. He called it a special military operation. Since then the conflict between the two countries has continued.
Before this attack, there was talk of Ukraine joining the Western military organization NATO, which Russia was constantly opposing.
Russia says it has taken this step for its regional security, while Ukraine says that Russia wants to occupy it.
After the attack, Western countries have imposed many economic sanctions on Russia. This has also affected the supply of oil and gas in the world.
European countries are claiming to gradually end their dependence on gas supplies from Russia.
There have also been meetings between the two countries to end the conflict, which have proved fruitless. However, Turkey's mediation with the help of the United Nations has led to an important 'grain deal' between the two, under which grain lying in Ukrainian ports is being transported to other countries.
In recent days, Ukraine has launched rapid counter-attacks. He has liberated many areas from the occupation of Russia.