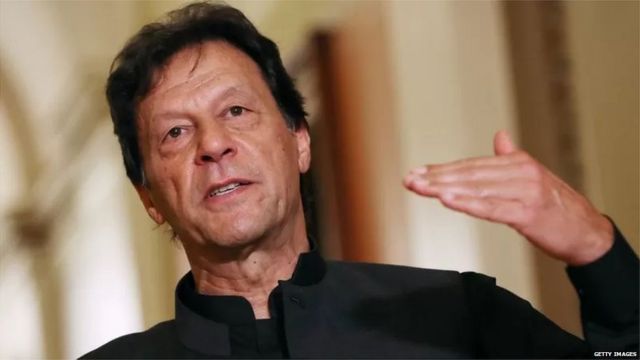 Imran Khan, former Prime Minister of Pakistan and head of Pakistan Tehreek-e-Insaf, has condemned the attack on author Salman Rushdie, calling it horrific and sad.
Imran Khan said in an interview to the British newspaper 'The Guardian' that the anger of the Islamic world over Rushdie's book 'The Satanic Verses' is understandable, but this attack cannot be justified.
When asked about the knife attack on Rushdie, he said, "I think it's terrible. Rushdie comes from a Muslim family. He knows the love, respect and faith in our hearts for the Prophet. So anger is understandable, but you cannot justify what happened.
Salman Rushdie, the author of several books including The Satanic Verses, was attacked with a knife during an event on 12 August. Parts of Salman Rushdie's 1988 book The Satanic Verses are accused of blasphemy. A fatwa has also been issued against him.
However, Imran Khan has also criticized Salman Rushdie's book 'The Satanic Verses'. He said about 10 years ago at the 2012 Kolkata Book Fair, "The issue is not what Rushdie has written. The real issue is that no one has the right to trouble the society.
On Imran Khan's statement, Salman Rushdie tweeted, "30 years ago in my Delhi lecture in 1982, Imran Khan was my fan and was 100% secular. Now my work insults their faith. Who is the real Imran?
India-Pakistan kept silent
But, there has been no statement from both India and Pakistan regarding the attack on Salman Rushdie. Salman Rushdie was born in India, but there has been no official response from here about the attack.
The Government of India or the political parties in India have kept silence on this incident. Even the leaders and eminent people of Muslim society of India have refrained from speaking on the matter of attack on Rushdie.
India's External Affairs Minister S. On a question asked about the attack on Rushdie, Jaishankar said, "I have also read about it. I believe this is an incident that the whole world has taken notice of and obviously reacted to. ,
Some leaders who have personally condemned the attack on Rushdie include CPI(M) general secretary Sitaram Yechury, Congress MP Shashi Tharoor, party's media chief Pawan Khera and Shiv Sena MP Priyanka Chaturvedi. But neither BJP nor Modi government nor Congress has given any official statement on this.
Rushdie's book controversy
Salman Rushdie, 75, was taken to the hospital soon after the attack. His condition was said to be very critical. But, after being kept on the ventilator for two days, the ventilator has been removed and he is able to talk.
Hadi Matar, accused of attacking him, has not accepted the charge, claiming that he is innocent.
Salman Rushdie was born in India and then moved to Britain and is now a US citizen. The controversy that took place after the publication of 'Satanic Verses' in 1988 also has a deep connection with India. At that time Rajiv Gandhi's government was in India. His government had decided to ban the 'Satanic Verses'. In this way India became the first country to ban this book.
At that time, Rushdie himself had written a letter to Rajiv Gandhi expressing his unhappiness over the book being banned. In an article written in 1990, he said, "The demand to ban the book is a power play of the power of Muslim votes. Congress has been dependent on this vote bank and cannot afford to lose it.
There were protests in many countries of the world including Britain regarding this book which came in the late 80s.
In 1989, a year after the publication of the book, Iran's supreme leader Ayatollah Khomeini issued a fatwa for his assassination. After this, Rushdie remained in exile for a decade. However, during this time he was being given security.
Iran said in 1998 that it would not support Rushdie's assassination, but the fatwa remained in place.
Active in the field of literature for five decades, Rushdie has faced threats and death warnings for his work.
Many books of Salman Rushdie have become very popular. These include his second book 'Midnight Children' which won the Booker Prize for the year 1981.