Author: NewsPublish Date: Fri, 07 Oct 2022 11:13 AM (IST)Updated Date: Fri, 07 Oct 2022 11:13 AM (IST)
New Delhi, Jnn. Vicky Kaushal With Shah Rukh Khan: Childhood pictures of stars from Bollywood to TV world keep going viral on social media. Fans also like the unseen pictures of the stars a lot. Not only this, the competition to identify them starts among the fans. Meanwhile, another actor's childhood picture is going viral on the internet. In this, the star is seen with Shah Rukh Khan. Bet you won't recognize that actor.
21 year old picture of this actor with Shah Rukh went viral
The picture going viral with Shah Rukh Khan is during his film 'Ashoka'. During this, a fan is seen with King Khan. This kid has grown up now and is ruling Bollywood. Let us tell you that this picture is from the shooting set of Shah Rukh's film Ashoka, which is 21 years old. Take a look at this photo carefully. A child is seen to the left of the actor, who is grabbing everyone's attention. Could you recognize it? Let us tell you that today he has become the number one actor of Bollywood. Not only this, he is married to the superhit actress of the industry.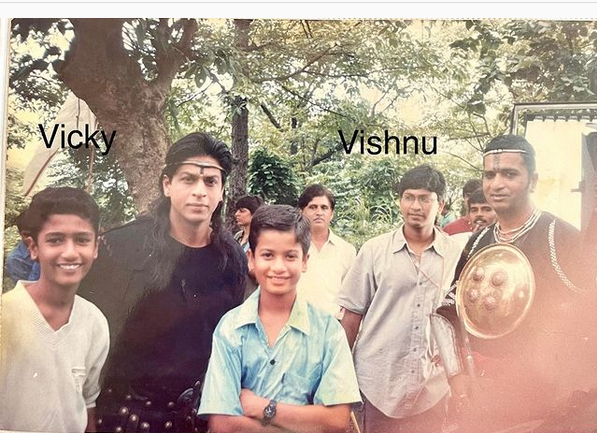 Also read: Arun Bali Death: Arun Bali dies at the age of 79, has appeared in films from Shah Rukh to Sushant
Have a special relationship with Katrina Kaif
If you have not been able to recognize this child, then let us tell you that the little maestro is none other than Bollywood star Vicky Kaushal. This picture has been shared by Vicky's father Sham Kaushal on Instagram. To the right of Shahrukh is also Vicky's brother and actor Sunny Kaushal. Both are posing smiling looking at the camera.
Also read: Deepika Padukone vowed not to return to Hollywood, this foreign actor was pricked
Special caption written with the picture
Vicky Kaushal's father Sham Kaushal wrote a special caption while posting this picture. He wrote, 'By the grace of God this picture was taken during the shooting of Ashoka in Film City in 2001. Vishnu Vardhan was the assistant director and Vicky was studying in class 8. No one ever imagined that one day Vicky would join the film line and win Best Director and Best Actor awards in 2022 for both Shershaah and Sardar Udham. Luck and God's blessings, Vishnuvardhana.'
Edited By: Priti Kushwaha