Seoul:
North Korea has created a sensation around the world by firing two ballistic missiles on Thursday. It was North Korea's sixth missile test in two weeks. North Korea has launched about 40 missiles within 10 months this year. Not only this, North Korea is also ready to conduct its first nuclear test since 2017. Due to this, now America, South Korea and Japan have increased their military preparedness. On Thursday, these three countries practiced defense against North Korea's missile attack. During this drill, two short-range ballistic missiles were fired towards Japan. One of them was shot down by the American aircraft carrier USS Ronald Reagan and its accompanying warships. The USS Ronald Reagan is currently based in the Korean Peninsula with its carrier fleet. In such a situation, the question arises whether North Korea has such missiles, which can hit America.
Which missiles is North Korea testing?
North Korea has been testing a variety of ballistic missiles, cruise missiles and hypersonic missiles. Hypersonic missiles fly several times faster than the speed of sound and at low altitudes to avoid radar capture. It is believed that the name of the missile recently tested over Japan was Hwasong-12. The range of this missile is 4500 km. In such a situation, Hwasong-12 is fully capable of attacking from North Korea to American Naval Base Guam. Guam is considered a symbol of American power in the Pacific Ocean.
Know North Korea's Missile Power
| | |
| --- | --- |
| missile | Range |
| nodong | 1500 kms |
| pukguxong-3 | 1900 kms |
| pukguxong-2 | 2000 kms |
| Musudan | 4000 kms |
| hwasong-12 | 4500 kms |
| hwaseong-14 | 10400 kms |
| Hwaseong-15 | 13000 kms |
| Hwaseong-17 | 15000+ Kilometers |
Can North Korea's Missiles Attack America?
The distance between North Korea and America is about 10000 km. The distance of the Guam naval base of the US Navy is only 3400 kilometers from North Korea. In such a situation, North Korea has many such missiles, which can target the US mainland and Guam. North Korea has intercontinental ballistic missiles with a range of 15,000 km. However, North Korea hardly takes the risk of attacking the US. North Korea also knows that it has no position in front of America's military might.
North Korea is testing long-range missiles. It is the longest-range missile ever fired over Japan. This could be North Korea's preparation for a nuclear test.
Joseph Byrne, Research Fellow, Royal United Services Institute
North Korea firing missiles at Japan
North Korea is also testing the Hwasong-14 ballistic missile. Its range is 8000 km. However, some studies have claimed that this North Korean missile can strike a distance of 10000 km. In such a situation, there is a danger of it reaching New York from North Korea. It is North Korea's first intercontinental ballistic missile (ICBM). North Korea also fired a medium-range missile over Japan on Tuesday. The test was done after missile fire drills by the US and South Korea. During this, a North Korean missile crashed due to a malfunction and was destroyed in the air.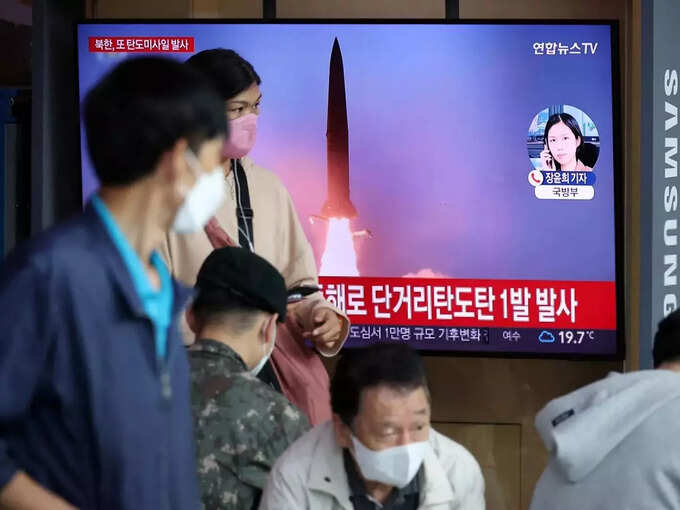 America deployed aircraft carrier
Japanese Prime Minister Fumio Kishida said it was the sixth time in a short time that the countdown has been going on since late September. This cannot be tolerated at all. The US has redeployed its aircraft carrier and carrier strike group in view of North Korea's missile test. The South Korean military said on Thursday that the US Carrier Strike Group has joined naval destroyers from South Korea and Japan in maritime missile defense training. South Korea said the training was conducted in the wake of ballistic missile provocations by (North Korea) for simultaneous target information tracking, tracking and shooting down.