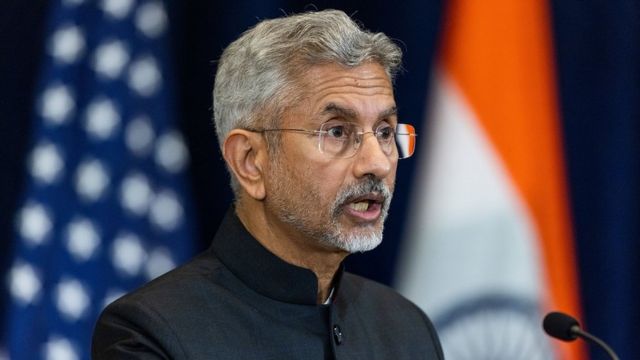 Indian External Affairs Minister S Jaishankar is known for speaking his point in a straight and outspoken manner without lagalpet. In the year 2019, when Prime Minister Narendra Modi made him the Foreign Minister, he has been talking in this style since then but in the last few months more sharpness is being seen in his words.
The last one week was similar when he had gone to America to attend the 77th annual session of the United Nations General Assembly.
During this, what he said during his speech at the United Nations Security Council, the United Nations General Assembly and then during his meeting with US Secretary of State Antony Blinken made a lot of headlines.
Jaishankar met US Secretary of State Blinken, Defense Secretary Lloyd Austin and Commerce Minister Gina Raimondo on Tuesday.
He also attended a joint press conference with US Secretary of State Blinken.
During the press conference, journalists questioned him on many issues including the Russo-Ykraine war and Jaishankar answered all the questions with impunity.
'India's national interest most important'
S Jaishankar clearly said that from whom India buys oil or weapons, it decides it keeping in mind its national interest.
It is important to mention here that after the Russian attack on Ukraine, America and Western countries are pressurizing India not to buy oil from Russia, but India is buying oil from Russia and Russia is also giving a lot of discount to India for this. Is.
The Indian Foreign Minister fiercely defended this decision of India in front of the US Secretary of State on American soil.
Jaishankar said, "We are also worried about oil prices. We are an economy with a per capita income of $ 2000. Oil prices are breaking our back."
Regarding buying weapons from Russia, he said, "Where do we buy our military equipment from is not a new issue, nor has it changed due to changes in the geopolitical situation. We would choose the same option." Which is in the interest of our nation.
In the matter of buying weapons, he said, "In terms of acquiring military equipment, we have a tradition that we buy goods from some countries. And the most important thing for us is how do we get the best deal in this competitive market can do."
Regarding the situation in Ukraine, he reiterated India's position and said that the best solution is to resort to dialogue and diplomacy to solve it.
In response, Blinken said that the US had tried its best to avert the Ukraine crisis through diplomacy.
During the meeting, Jaishankar said that the fight against extremism, extremism and fundamentalism will have to be fought together.
US support to Indian demand
Jaishankar also raised the issue of visa for Indians on this occasion. Blinken assured Jaishankar that America is very sensitive in this matter and is working to resolve it. Blinken said that the reason for the delay in getting visas for Indian citizens is the Kovid epidemic.
US Secretary of State Anthony Blinken on Tuesday stressed the need to make the United Nations Security Council (UNSC) more inclusive and increase the number of permanent members in the global body.
India has been consistently pushing for speedy action on the reforms pending in the Security Council at the United Nations. He has also presented his claim for getting permanent membership.
US Secretary of State Antony Blinken said on Tuesday that the US fully agreed with Prime Minister Narendra Modi's statement to Russian President Vladimir Putin that "this is not the time for war".
This statement of the US Secretary of State is being seen as a success of Indian foreign policy and obviously the role of both Prime Minister Narendra Modi and External Affairs Minister S Jaishankar is appreciated in this new aggressive foreign policy of India.
joint speech at the national general assembly
Before meeting the American ministers, S Jaishankar also gave a powerful speech in the 77th General Assembly of the United Nations, which was discussed a lot.
On Friday (24 September), Jaishankar addressed the UN General Assembly.
In his 15-16 minute speech, Jaishankar had strongly put India's side on extremism and the global economy, from the Russo-Ukraine war to the giving of great responsibility to India in the United Nations.
Referring to the Russia-Ukraine war, Jaishankar said, "It is in the collective interest of all of us, inside and outside the United Nations, to find a solution to this conflict at the earliest."
Strongly defending India's position in the matter, S. Jaishankar had said, "As the Ukraine conflict continues, we are often asked which side we are on? So every time our direct and honest answer is that India is at peace and will always be there. We are on that side." We are with the side that adheres to the UN Charter and its founding principles. We are with the side that talks about finding a solution through dialogue and diplomacy.
During a speech at the United Nations, S. Jaishankar also raised the demand for expansion of India's long-standing Security Council. Although he did not say anything directly on this. Describing India as a very responsible country, he said that it is ready to take big responsibilities.
Along with this, he said that India wants to ensure that 'the injustice being done to the South (countries) in the world is seen in the right way'.
This demand of India was supported by the Foreign Minister of Russia. Earlier, US President Joe Biden also supported the expansion of the Security Council.
Jaishankar did not take the name of any country directly, but in gestures, he put the neighboring countries in the dock.
He also raised the issue of cross-border terrorism without naming Pakistan and China.
'Blood stains cannot be washed off'
He said, "After bearing the brunt of cross-border terrorism for several decades, India strongly supports the 'zero tolerance' approach to it. We believe that terrorism cannot be justified on any grounds. Even rhetoric cannot wash away the stains of blood."
"The United Nations responds to terrorism by imposing sanctions on its conspirators. Those who politicize the UNSC 1267 resolution, sometimes to the extent of defending declared terrorists, are doing so at their own risk. Trust me, through this. They neither advance their interests nor advance their reputation."
This statement of Jaishankar is being considered as a direct target on Pakistan and China.
It has happened several times in recent months that India, the US and other Western countries have brought resolutions to the UN several times under Security Council Resolution 1247 to blacklist extremists operating on Pakistani soil and declare them as global terrorists. China banned it by using the veto in the United Nations.
In early September, China blocked a proposal to designate a Lashkar-e-Taiba extremist Sajid Mir as a global terrorist.
This proposal was introduced by the US in the United Nations with the help of India. Sajid Mir is considered one of the masterminds of the Mumbai attacks (2008) and the US organization FBI has placed a $ 5 million bounty on Sajid Mir.
joint national security council
What would be the attitude of External Affairs Minister Jaishankar in America was predicted at the same time when he gave a powerful speech in the United Nations Security Council.
In his speech during the briefing on Ukraine in the Security Council, he did not name China but attacked it fiercely.
Clarifying India's stand on Ukraine issue, he reiterated Prime Minister Narendra Modi's statement that Modi had said during his meeting with Putin.
Modi had said during his meeting with Russian President Putin during the SCO meeting in Samarkand that 'this is not the era of war'.
Putting the Indian side more firmly, Jaishankar said in the UN, "India reiterates emphatically that the need is to stop the ongoing war in Ukraine and return to dialogue and diplomacy. The violation of human rights or international law cannot be justified even under the circumstances. India supported an independent investigation into the Bucha incident."
'The Security Council should also think'
But on this pretext, he attacked the members of the United Nations Security Council and especially China.
He said, "Politics should never be used to avoid accountability. Not even to save the guilty from punishment. Sadly, we have seen this happen recently in this council when it comes to banning some of the most dangerous terrorists in the world. If the horrific daylight attacks are ignored and punished, this council must think about what message we are sending out. If we want to ensure credibility If so, we have to behave equally in every respect."
In fact, S Jaishankar has been emphasizing that India's foreign policy is completely independent and India is not a part of any one bloc. S Jaishankar believes that India will take any decision keeping in view its national interest. Therefore, whether it is to buy oil or weapons from Russia or to show a mirror to America on the issue of human rights, Jaishankar speaks with complete impunity.