Salman Ravi
BBC correspondent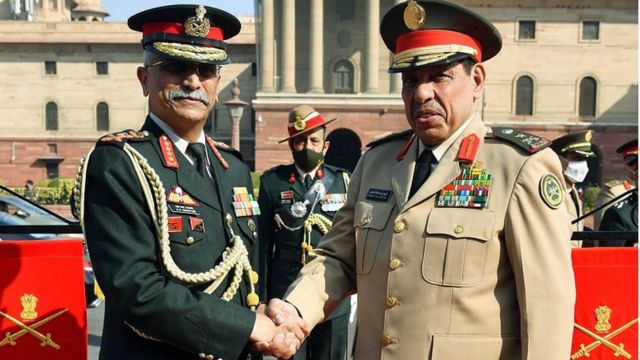 The army chief of Saudi Arabia visited India this week. His three-day visit is being described as historic as it was the first visit of a Saudi army chief to India.
Just three years ago, when Saudi Arabia's 'Crown Prince' Muhammad bin Salman came on his first visit to India, Prime Minister Narendra Modi, bypassing protocol, himself went to the airport and welcomed him with a warm embrace.
This visit of Mohammed bin Salman was not just a formality, but many messages were going through it in strategic and diplomatic circles. Mohammed bin Salman is also the Defense Minister of Saudi Arabia.
And, then after a few months, that is, in the month of October 2019, Prime Minister Narendra Modi also visited Saudi Arabia.
In the course of this visit, a 'Strategic Cooperation Council' was also established between India and Saudi Arabia.
Although the relations between Saudi Arabia and India mainly centered around oil. But strategic affairs experts feel that in the last few years, these relations have now come down to strategic cooperation other than oil.
Prime Minister Narendra Modi, while talking to the English newspaper 'Arab News' in the course of his visit to Saudi Arabia, clarified that 'Saudi Arabia and India have similar concerns regarding security'. Talking about the establishment of defense undertakings, he had also laid more emphasis on strategic cooperation between the two countries.
In December 2020, Indian Army Chief General MM Naravane reached Saudi Arabia. This was the first visit by any Indian Army Chief to Saudi Arabia.
And on Tuesday this week, the Commander of the Saudi Arabian Army, Lieutenant General Fahd bin Abdullah Mohammed Al-Mutair, also visited India. He is also the first army chief of Saudi Arabia who visited India.
What are the meanings?
Harsh V Pant, a strategic affairs expert and Head of the Department of International Affairs at King's College in London, told the BBC that India's most successful foreign policy to date is with the Gulf countries or Central Asia.
The 'Saudi Gazette' also says that despite the Corona epidemic, army officers of India and Saudi Arabia are getting training in institutions of each other's countries.
It is also a coincidence that this year is also completing 75 years of diplomatic relations established between India and Saudi Arabia. In view of this, this year the army forces of both the countries will also do joint exercises. Last year, the naval armies of both the countries also held a joint exercise.
So what is the reason that the relationship that started with oil has changed so much now?
What is the reason for the change in relationship?
Harsh Pant and strategic affairs experts like him say that the Middle East situation is focused on three things – Israel, Iran and America.
Now many Gulf countries have changed their policy regarding Israel and have restored diplomatic relations.
Pant says, "The Western countries and especially the US have started to distance themselves from Saudi Arabia regarding the case of Jamal Khashoggi. While the polarization that is happening in the Middle East has only two centers – Iran and Saudi Arabia. So. Now Saudi Arabia is strengthening itself more strategically. India is the best option for it.
Pant says that in the last three years, a lot has happened between India and Saudi Arabia regarding defense, such as sharing of intelligence information and cyber security and counter-terrorism information.
It is also being said in diplomatic circles that due to the new changes in relations, when India announced the removal of Article 370 from Jammu and Kashmir, Saudi Arabia stood with India. Apart from this, there have been many such cases when Saudi Arabia has made it clear that it will not interfere in the internal affairs of India.
India's relations with not only Saudi Arabia but also with the United Arab Emirates have changed a lot. This is the reason that at present the United Arab Emirates is also investing money in many projects in the region of Jammu and Kashmir.
status of pakistan
Harsh Pant says that there was a time when it was said that Pakistan is associated with Saudi Arabia as if it is tied to its waist.
He said, "But now, regardless of Pakistan, Saudi Arabia has started strengthening strategic relations with India. It is coming closer to India. The credit for this goes to Mohammed bin Salman and Prime Minister Narendra Modi."
Experts say that earlier India had only commercial relations with Saudi Arabia because India has been importing 18 percent 'crude oil' or crude oil from there. But now these relations are going beyond oil relations.
Indian-made missiles, drones, helicopters, armored vehicles and artillery were shown to Saudi Arabia's Army Commander Lieutenant General Fahd bin Abdullah Mohammed Al-Mutair.
The army delegation, which was accompanied by the commander of the Saudi army, was told that this time India has earmarked 25 percent of the defense budget in the country for defense-related 'start-ups' and defense related research and development.
Experts believe that in view of the current situation in the Middle East, Saudi Arabia wants to become even more strategically stronger and that too despite the distance being built from America. In such a situation, there is no cultural impediment for him to make better relations with India.
Senior journalist Manoj Joshi, knowledgeable in foreign and strategic affairs, says that this change in relations has been initiated by Saudi Arabia, which once used to have an entire brigade of Pakistan's army stationed in Saudi Arabia more than India in strategic matters.
Joshi says, "Mohammed bin Salman started making many changes. Pakistan's brigade was removed and Saudi Arabia is modernizing its army. Even the US has removed the 'Patriot missiles' stationed there. Now Saudi Arabia is working towards strengthening its post-oil economy.
He believes that Saudi Arabia also wants to build a better strategic relationship with India because it does not trust any Islamic country. According to Joshi, Saudi Arabia is now very cautious about Islamic countries because there is a strong conflict of different sects within Muslims in these countries.
Strategic experts agree that Saudi Arabia's relations with the US remained very complicated, while relations with India have always been liberal. Therefore, Saudi Arabia will take its relations with India even further and in the coming days, it also wants to invest more in India. The Indian government has also signed an agreement with Saudi oil company Aramco.
India's Deputy National Security Adviser Arvind Gupta told the BBC that Saudi Arabia is also rapidly changing its 'profile' and has identified at least 14 to 15 areas by 2030 where it is vulnerable to diversity. wants to bring
Arvind Gupta says, "Mohammed bin Salman is working fast in this direction and not only Saudi Arabia but also UAE and Gulf countries like Kuwait, Oman and Bahrain are moving forward to build better relations with India. India is also moving in this direction and this is a big diplomatic victory.