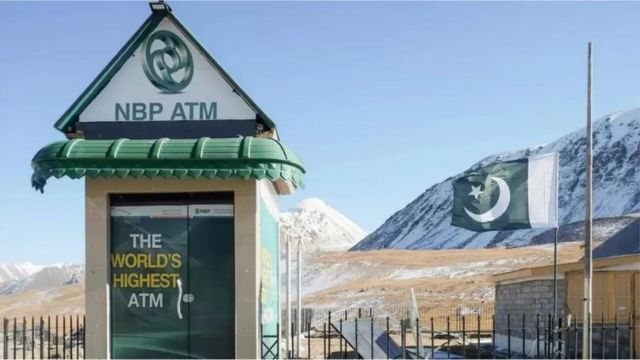 "We're going where the Pakistan border ends," I told my kids, who were busy wearing jackets over their clothes.
Showing geographical curiosity like a first class child, he asked, 'Will we go up or down?'
We were on our way to the world's highest 'cash machine' (ie ATM) located on the Khanjarab Pass border between China and Pakistan in the northern province of Gilgit-Baltistan. I wanted to show my children the beautiful tourist places of Pakistan.
Reaching this pass at a staggering height of 4693 meters is possible only through the world's most dramatic drive. The road between the snow-capped Karakoram peaks passes through the Khanjarab National Park, where Pakistan's national animal Markhor (a kind of wild goat) and snow leopard can also be seen.
Our journey started from our home in the Pakistani coastal city of Karachi and the journey involved plane, train and more than six hours from the city of Gilgit. The road till Khanjarab Pass is paved and in good condition and hence it is quite easy to drive. The car we hired for this trip was quite comfortable for our part of the needs.
But this altitude makes the journey more of a challenge.
During the 2000m climb, our local driver and tour guide told us to take dried apricots from the nearby Hunza Valley and put them under our tongue to avoid altitude sickness.
Wearing several clothes up and down, we prepared ourselves for the rapidly changing weather, which can drop to minus five degrees Celsius even in summer, with the risk of sunburns due to cold winds .
However, by the time we reached the border, the sun had set, making my children's cheeks red like tomatoes. This is a very beautiful valley. Local people describe it as an area above which there is only sky and there are clouds below.
Then why is an ATM installed in the middle of this remote mountainous area?
Recorded in the Guinness Book of World Records, this ATM machine works like any other ATM. It can be used to withdraw cash, pay utility bills and do interbank fund transfers.
But when my kids and I were battling the lack of oxygen at such a high altitude, what struck me the most was the unexpected festival-like vibe in the atmosphere, it felt like an event was taking place as people Facetime relatives. are. Posing for photos and circling the ATM to take good selfies.
Atiya Saeed, a school teacher from Karachi, had brought 39 girl students from her school here on the Pakistan-China border. He said that 'after a long time we have traveled inside Pakistan.'
Although she did not come just for the ATM, her experience in the beautiful geography, history and economics of the border area was also important for her.
This solar and wind-powered ATM machine, developed by the National Bank of Pakistan (NBP) in 2016, is being used by a limited number of people living near border crossings and border guards. Tourists consider it an honor to visit this ATM and take pictures of withdrawing money which gives new meaning to the phrase 'cold hard cash'.
The world's tallest cash machine is located on the border of the Khanjrab Pass between China and Pakistan.
Retired South African principal Ayesha Bayat, who was on vacation with her husband, jokingly said, 'My account is frozen.' He told that 'we have come from a country where we also have mountain ranges… but there is nothing like that. I am seeing beautiful views.'
Bayat's husband, Farooq, said, "Historic sites like the Eiffel Tower need to be there. These become an excuse to see the rest of the area."
But the creation of this historical sign was no small achievement. Nor is it easy to keep it active.
Shah Bibi, the officer who supervises this ATM, said that it took about four months to complete this project. The nearest NBP bank is at Sost which is 87 km away from here.
Zahid Hussain, the manager of the Sost branch, regularly visits this hilltop ATM to withdraw money, facing inclement weather, difficult mountain passes and frequent landslides.
He told that on an average about 40-50 lakh rupees are withdrawn from here within 15 days.
Meanwhile, Shah Bibi monitors the real-time data and sends it to the Sost branch. They also have to deal with emergencies related to satellite connectivity, solar power backup, cash withdrawal and stuck cards (last year high winds temporarily closed ATMs).
"It takes around two-and-a-half hours for someone on the ground to reach the ATM and repair it," Shah Bibi said.
Some people question the usefulness of ATMs in such a remote location. But Hussain says that 'we forget the people who guard our borders 24/7 (round the clock). They may be few in number, but they live in a large park and have no other means to transfer their salaries to their loved ones and families.
Only border security forces do not live here. Bakhtawar Hussain has also spent a large part of his life chasing snow leopards in the park or helping scientists and researchers who measure snow melt. He also ran a small canteen near the ATM which had to be closed due to Covid restrictions.
"I used to sell tea, coffee and biryani… It was a good time," he recalls.
Now they run a portable bathroom at the Khanjrab Pass and charge a very nominal fee for it. He has installed an oxygen tank in his car so that free first aid can be provided to the visitors.
Bakhtawar told me, "In just the last few hours I have given oxygen to three women." It was seven yesterday.
They tell that if you have eaten oily or more food before coming on the climb, then it can worsen your condition.
He has also noticed that a major problem for tourists is their card getting stuck, although he estimated that like any other ATM, this happens either very often or rarely on a given day.
If the card gets stuck, then you have to wait at least two hours here in bad weather or come again the next day.
Quietly admitting how high we were, Bakhtawar smiled and said, "It is not easy to regain such an experience."