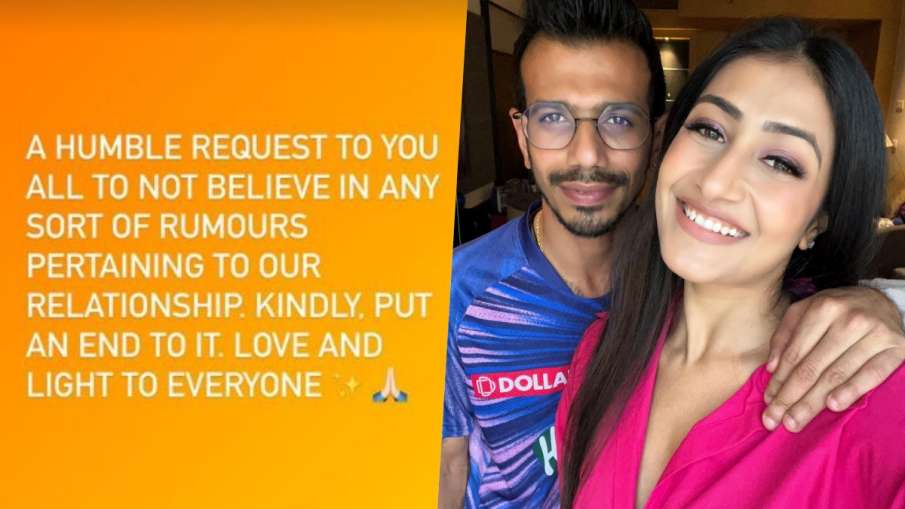 Highlights
Dhanshree Verma also reiterated Chahal's point in Insta Story
The ruckus started after Dhanashree removed the Chahal surname from Instagram.
Dhanashree and Chahal tied the knot in December 2020
Yuzvendra Chahal Dhanashree Verma: The news of a rift between Indian cricket team star Yuzvendra Chahal and his wife Dhanashree Verma started surfacing on Thursday. After this it was discussed that all is not well between the Indian cricketer and his wife. However, when this matter started gaining more momentum, Yuzvendra Chahal himself shared the story on Instagram and dismissed all these reports, calling all these things mere rumours.
Shortly after this, Chahal's wife Dhanshree Verma also shared a story on Instagram and termed these things as runoff. Dhanashree also wrote the same thing in his story which Chahal had clarified while writing in his story some time ago. Chahal wrote, "Requesting all of you not to believe the rumors about our relationship. end it here. My love to you all." Shortly after posting this, Dhanshree Verma also shared the same message on her Insta story.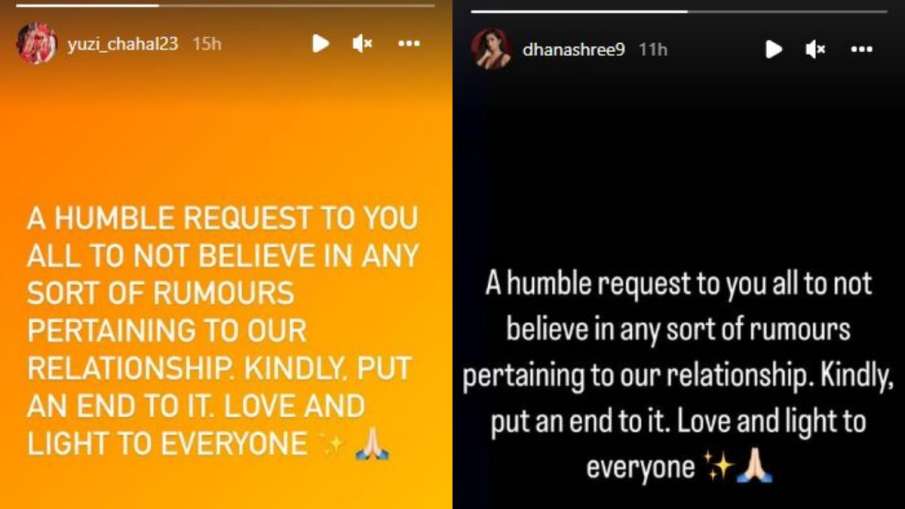 Chahal and Dhanashree's posts
Where did the controversy start?
Actually actor, dancer, choreographer Dhanashree removed his surname 'Chahal' from Instagram. Like any common married woman, Dhanashree also put her husband's Chahal surname in her name after marriage. But after just 1 year 8 months of marriage, suddenly she surprised everyone by removing her husband's surname from her name. This was the reason that after this the news of rift between the two started coming to the fore on Thursday. It is worth noting that Dhanshree, who is constantly active on social media, has shared only two videos in the last about 3 months. Recently she was also spotted with Shreyas Iyer at Suryakumar Yadav's house.
Yuzvendra Dhanashree: Yuzvendra's wife Dhanashree removed 'Chahal' surname, said Indian spinner, do not pay attention to rumours
Love happened in lockdown, then it happened 'Chat matchmaking, marriage'
Yuzvendra Chahal and Dhanashree Verma loved and liked each other even before they tied the knot. Their love blossomed during the first lockdown of Corona in 2020. The two met during an online class. Chahal used to learn dance from Dhanashree and within a few months both became friends and then this friendship turned into love. A few days later, both of them made everyone aware of their wedding plans. This whole matter was 'chat matchmaking and marriage'. Both of them stopped in August 2020 and in December 2020 they got married. In their journey of one and a half year after marriage so far, this pair has been a super hit for the fans.
Latest Cricket News